The Central Puget Sound region is predominantly urban, home to millions of people who live in relatively dense environments. But there are still quite a number of people engaging in agriculture. The 2017 Census of Agriculture (COA) found over 8,800 people in the three county area that qualified as "producers," meaning that they are in charge of farmland in one way or another.
We will look at a few measures of farming activity in the three-county area. We will also include Skagit County, which, while adjacent and growing, is still far more rural and agriculturally oriented.
The COA takes a broad definition of farms and farming. A farm is classified as any operation that brings in at least $1,000 from the sale of agricultural goods. This allows it to scoop up a large number of very small operations. Figure 1 shows the share of all farms covered in the COA by total sales of farm products.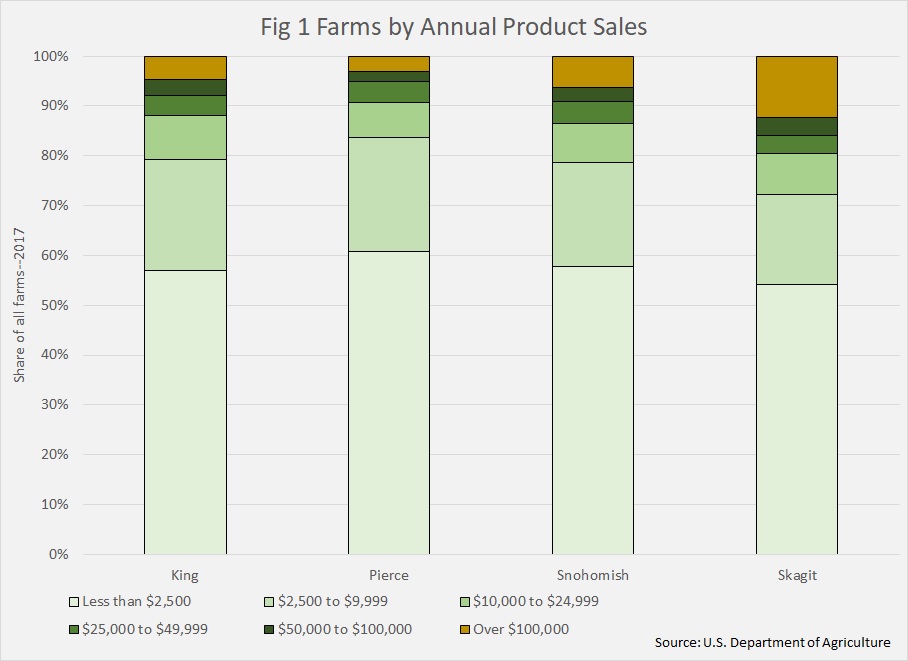 Most of the individual farms in the region would hardly qualify as viable businesses. 80 percent of the farms in the three county area bring in less than $10,000 per year in sales. Yet these small farms are selling produce, responding to the COA, and therefore confirming their self-identity as farms.
Less than 5 percent of the farms in the three county area bring in over $100,000 in sales, a figure that might begin to support a family. In contrast, 129 of Skagit County's 1,041 farms bring in over $100,000.
Figure 2 shows the breakout of farms listed in the COA by acreage.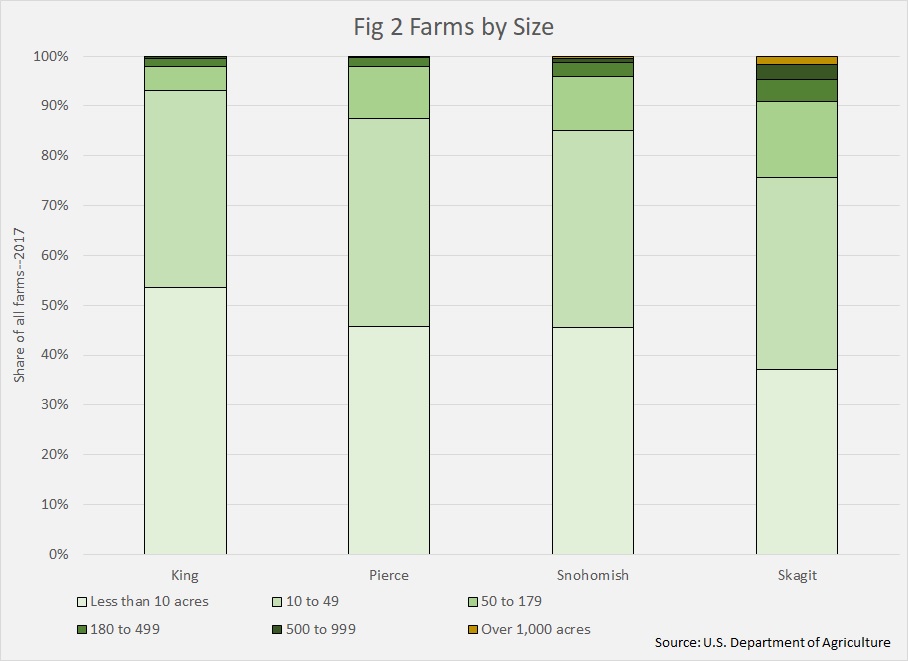 The farms are small, but not tiny. Comparing figures 1 and 2 suggests that a good deal of farmland is not in intensive production. There are a large number of farms between 10 and 50 acres, and farms of this size would have the capacity to produce more than $10,000 in output if managed intensively. The three counties together have only a dozen large farms over 1,000 acres, while Skagit county has 17 farms over 1,000 acres.
The COA provides information on the sources of farm income. Figure 3 shows farm income sources.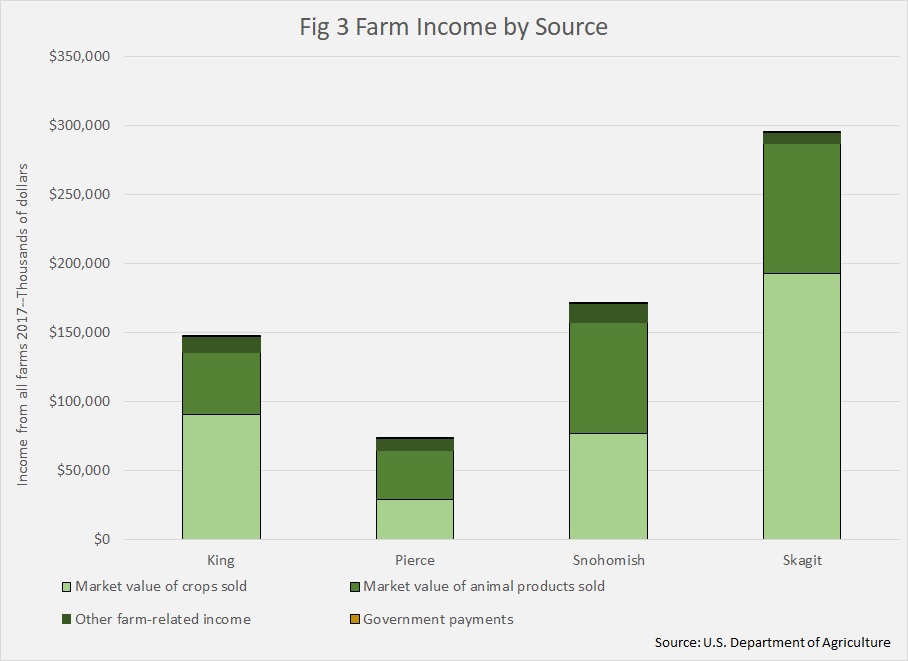 Crop production, which includes products such as landscaping stock, sod, hay and Halloween pumpkins, brings in just about half of all farm income in the three county area, and about two thirds of farm income in Skagit County. "Other farm-related income" includes visitor activities, animal boarding, training and processing services. The COA shows government payments, but these are too small to show up on the graph. In contrast, about 13 percent of farm income in wheat-producing Garfield County consists of government payments.
Small scale farming is notoriously difficult, and yet we see thousands of people in the three county area having a go at it. These are the sellers we see at farmers' markets and engaging with farm-to-table restaurants. 80 percent of farms in the three county area have no employees, and the income data suggests that for the vast majority of these producers, this is a side gig.
Looking Ahead
Public policy in Washington State and the Puget Sound area has emphasized preservation of farmlands. The COA found a total of over 150,000 acres, or 236 square miles, of farmland in the three-county area. But with an average farm size of just 30 acres (about the size of a small suburban high school campus) productivity will always be an issue. While the urbanized area does have some large, successful agricultural operations, many people who will try to earn a living on a farm adjacent to the urban area will likely make more money on hayrides and cider than on produce. This reality compels an expansive view of allowable activities and land uses in rural areas.