Even as the economy reopens, many firms are urging their employees to continue to work from home in order to reduce the risk of spreading the coronavirus. This has obvious implications for many services businesses trying to get back on their feet—people working from home don't often go out to lunch—but also for the relative risk that different workers will face. Those who can work from home face far less risk of contagion than those who must return to a workplace.
Although some firms have announced their intention to keep workers away from their facilities, there is no easy way to identify who is working from home at any one time. But working from home is not new, and the practice was increasing prior to the coronavirus shutdown. We can identify characteristics of those who had been working from home to get some idea of what occupations and employers might continue to fit with a work-from-home strategy.
The American Community Survey asks respondents about their travel time and mode to work, and one option is "work from home." Figure 1 shows the share of workers in the three-county area who reported working from home, by employer class and occupation.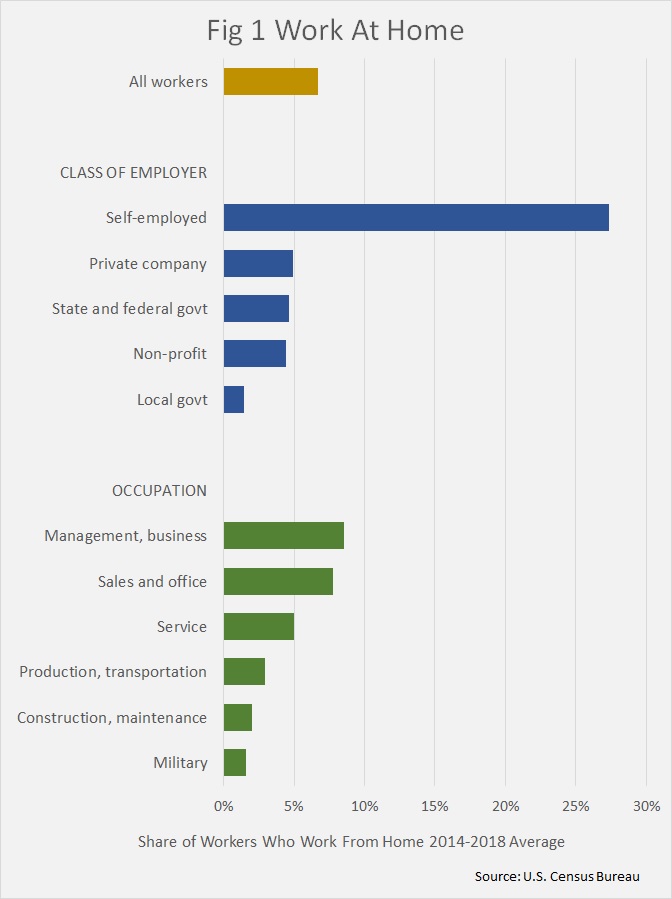 Very little is surprising in the employer data. A large share of self-employed workers work from home (note that many private practice professionals who work in offices are self-employed). Those employed at private and non-profit businesses and state and federal government agencies have been working from home at about the same rate. Local government employees are far more likely to be involved in direct service provision—teachers, first responders, public works crews—that precludes working from home.
There is more variation in the occupational data. Some business and sales functions can easily be done from home, and many self-employed people work in service businesses. While some independent transportation and construction workers may operate from home, these occupations are more typically performed from a facility.
Work from home rates vary around the region. Figure 2 shows the rate of reported work from home for residents of the Census Bureau's Public Use Microdata Areas, or PUMAs. (PUMAs are subarea of the region that have around 100,000 people in them and offer better statistical significance than individual cities.)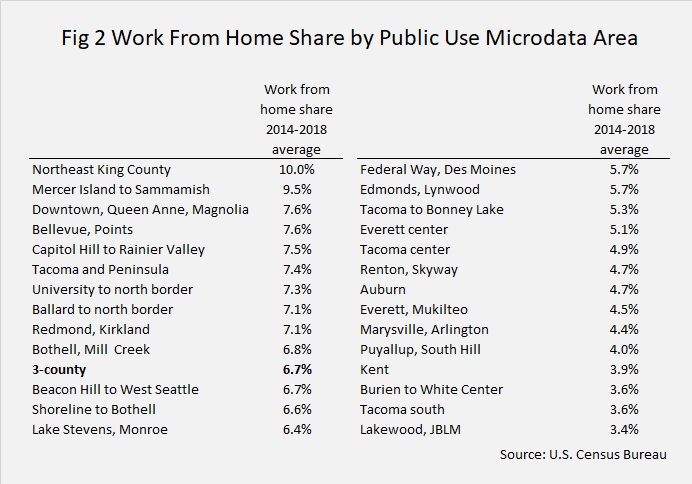 There is no clear relationship between the location of PUMAs within the region and the rate at which their residents work from home. In fact, there is no correlation at all between average commute times for a PUMA, for those who do commute, and the rate of work from home. In other words, people have not been working from home because they otherwise would face a long commute. Better to look at some other factors. Figure 3 shows the correlation between household income and the rate of working from home for the PUMAs.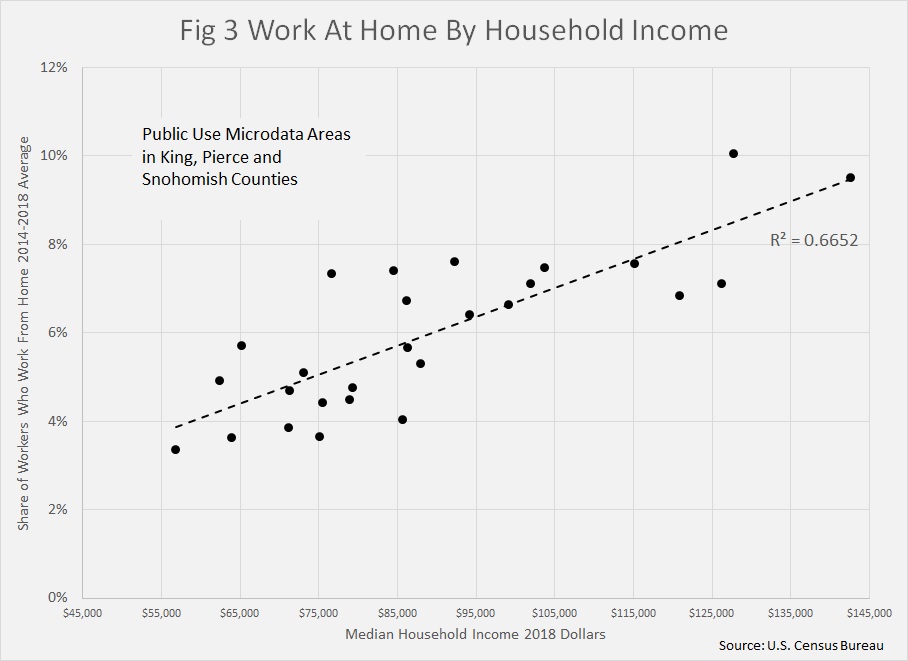 Here we see a strong relationship between income and the rate of working from home: areas with higher income households are more likely to have people working from home than areas with lower income households. Figure 4 shows a similar picture for education levels.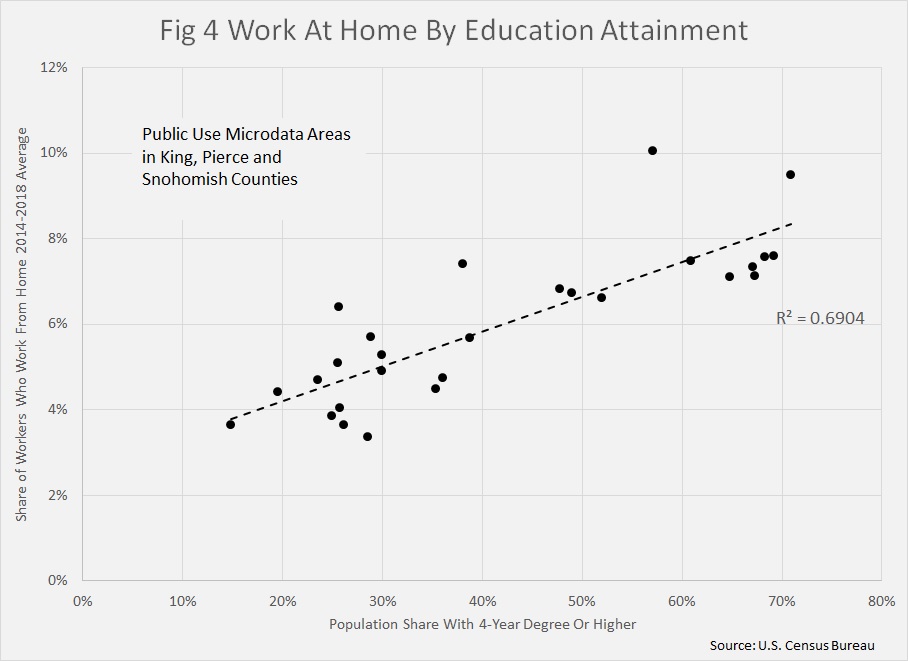 This shows that education levels have an even stronger relationship to working from home than income. Areas with high levels of college education have higher levels of working from home.
The four figures paint a clear picture: working at home has been a practice most suited to knowledge workers in business and administrative positions.
The Seattle area will be somewhat better prepared than other metro areas to embrace working at home. Of the 100 largest metro areas in the country, the Seattle area ranks 19th highest in terms of the share of workers who report working from home. Work from home rates are consistently higher in the West and South than in the Midwest and Northeast.
Looking ahead
As employers consider reopening facilities to workers, those with large numbers of knowledge workers will find it easier to allow continued work from home. Fewer people commuting and interacting in public will be good for public health, as it provides fewer disease vectors. But the skewing of the exposed workforce toward those with lower levels of education, lower incomes and more public-facing positions, raises important equity issues.
Questions going forward are:
To what degree will workers with the option of continuing to work from home do so?
What impact will continued work from home have on restaurants and retail businesses that rely on customers from nearby employers?
Will employers develop ways to allow working from home for more occupations in order to offer lower exposure to their employees?
Will restrictions on the occupancy of transit vehicles result in job shifts or more working at home, as workers who cannot afford to drive find few commuting options?