–Two thirds of regional growth has come from net in-migration
–One third of regional growth has come from natural growth
–Domestic migration to King County has turned negative
–Foreign migration into King County is large but has slowed
Seattle has been among the fastest growing areas of the country. Seattle and Denver are the only fast growing metro areas in the U.S. that are not warm in January, and Seattle is among the very few high cost metro areas that is growing. Seattle's hot economy has driven this growth, and it is not at all clear how growth patterns will change after the country returns to some semblance of normality later in 2020.
The pace of growth after the coronavirus recover begins is very uncertain. Migration had slowed in the past three years and may drop even more in the wake of the virus slowdown, as it did following the 2008 recession. Or, it may increase, as Seattle is viewed as having a strong underlying economy and as its signature industries continue to expand.
Growth comes from two sources
Population growth at any level other than planet Earth comes from two sources, known as the components of population change: natural growth and net migration. Natural growth consists of births minus deaths. Statistics usually count births by the home address of the mother and deaths by the last permanent address of the deceased. Natural growth in Washington State remains positive, with about three births for every two deaths. But natural growth is negative—more deaths than births—in 14 counties within the state.
Statewide, about two thirds of all growth comes from net in-migration: people moving into the state minus people moving out of the state. Over the past 60 years, net in-migration has accounted for about 55 percent of the state's growth. While births and deaths are easy to measure, migration is not. Several sources of data provide a usable, but not perfect, picture of migration in the state.
Figures 1 through 4 show the components of population growth for the three county region and each individual county. Natural growth for the three counties will add up to the total, but migration will not since much of the migration within the three county region consists of people moving among the three counties. (The Census Bureau's Population Estimates program only started collecting metro area data for the 2013-2014 series)
The Census Bureau, in its Population Estimates Program, provides estimates of net migration both within the U.S. and for people moving from abroad. For the six years covered in Figure 1, foreign net in-migration was slightly larger than domestic net in-migration.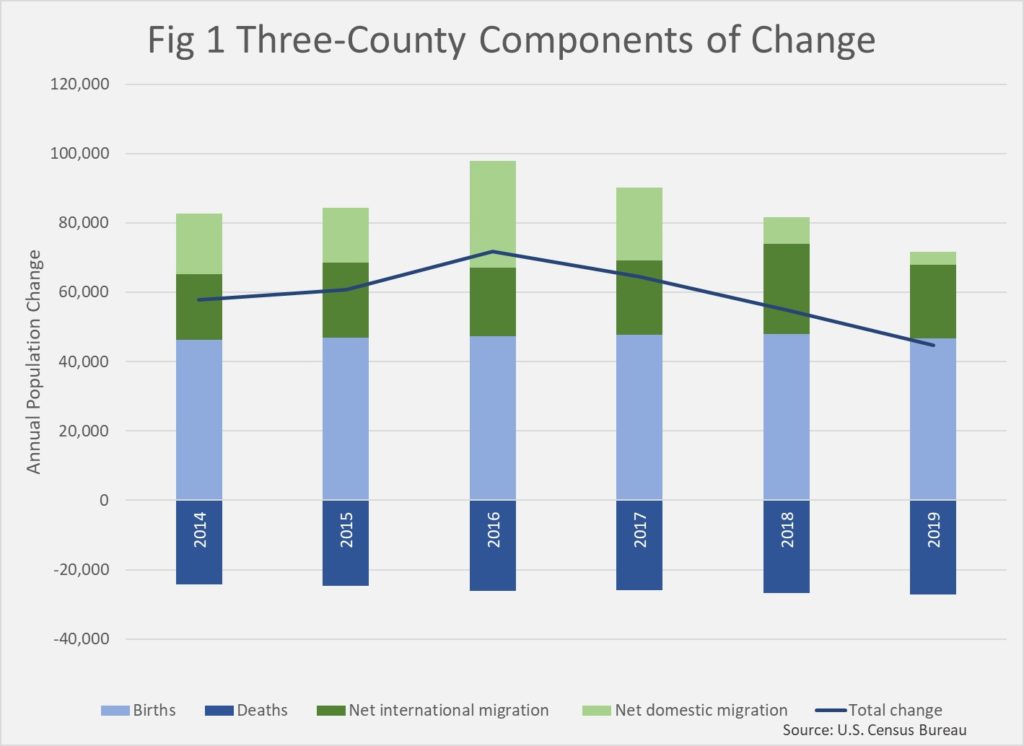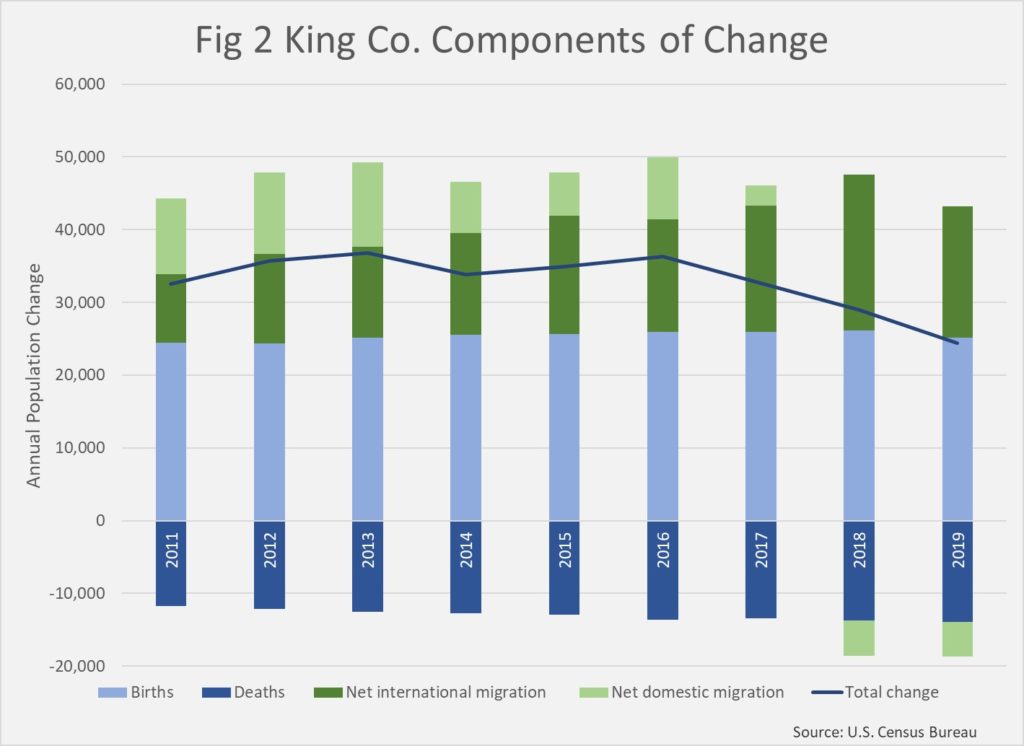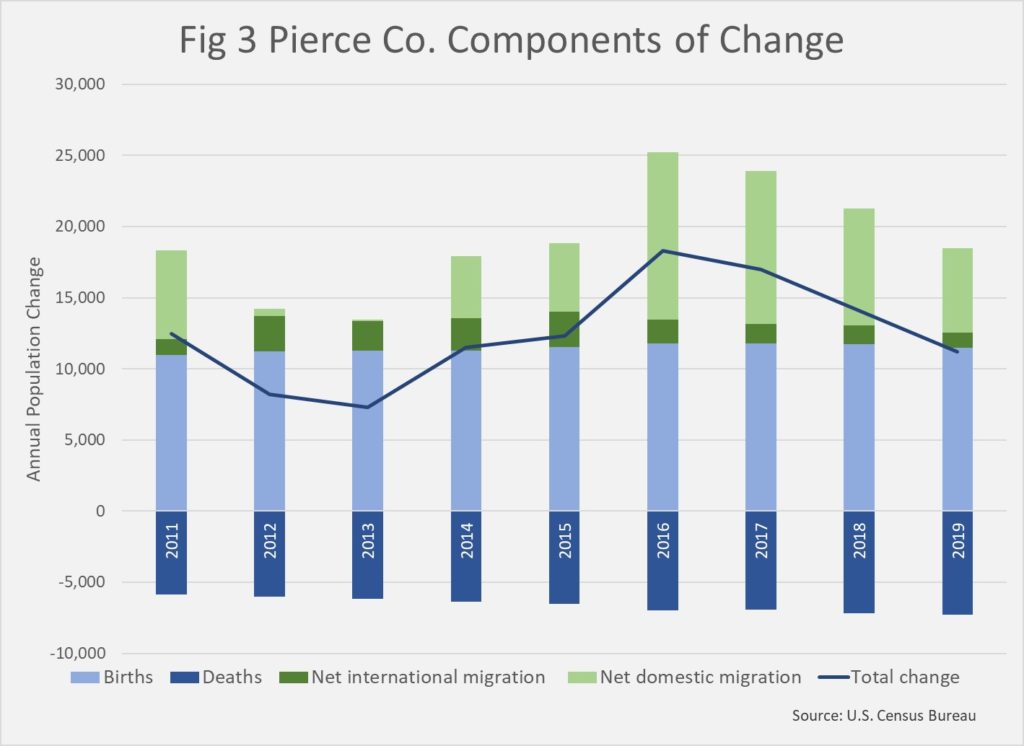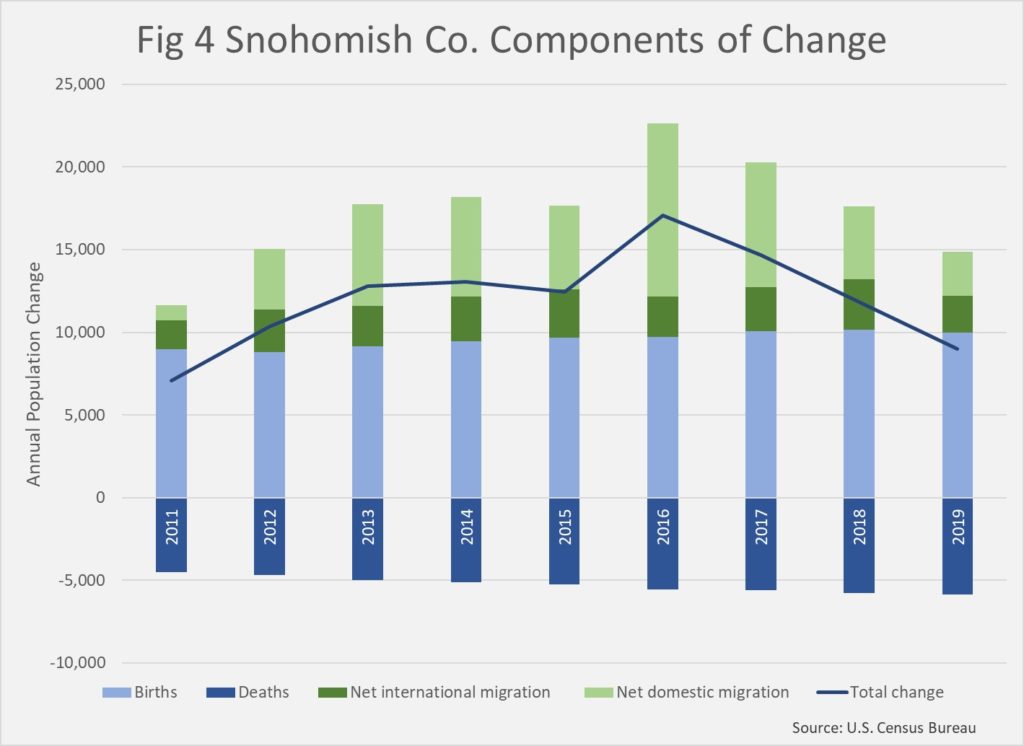 Net versus total domestic migration
It is important to note that Figures 1 through 4 show net migration, which is a combination of in-migration and out-migration. Domestic migration flows in both directions are quite large, and use of the net figure masks this. (Foreign migration flows will tend to be more lopsided, as far more people move into the U.S. from abroad than move from the U.S. to other countries.)
For example, according to Internal Revenue Service records, net migration of people into Washington State, who were listed on 2017 federal tax forms (filed during 2018), was about 30,000. But the gross migration numbers were much larger: 215,000 people moving into the state and 185,000 moving out of the state.
Figure 5 shows the total inflow and outflow of people who appear on 2017 IRS tax returns for the three counties. Note that for King County, the total flow is over 100,000 in each direction, but the net flow is slightly negative (the Census Bureau estimates a slight positive flow that year when taking other data into account).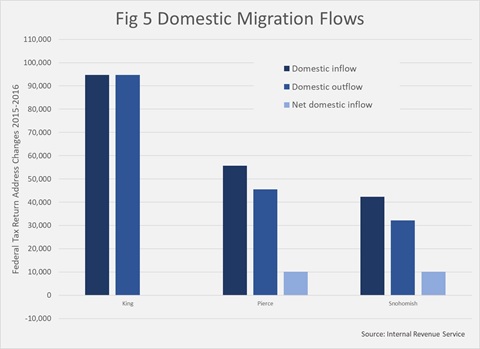 When we blame Californians for our problems, we need to remember that, although 45,000 Californians moved to Washington in 2018, 28,000 Washingtonians moved to California that year. The movement of people up and down the West Coast is ongoing and large.
Foreign and domestic migration into King County
Figure 2 shows that since 2010, migration from outside the U.S. has accounted for an increasing share of population growth in King County, while net domestic migration has fallen as a share. Between 2010 and 2011, net foreign migration accounted for 29 percent of King County's growth, and by 2019, it accounted for 74 percent of that growth. By 2018, net domestic migration had turned negative in King County, with more people moving out of the county to other parts of the U.S. than moved from other parts of the U.S. into King County. And of those moving into King County from somewhere else in the U.S., two thirds came from outside the state of Washington.
Foreign and domestic migration into Pierce and Snohomish Counties
While net foreign in-migration was coming to dominate growth in King County, it was a relatively small share of growth in the adjacent counties. In Pierce County, foreign in-migration was an important source of growth when domestic migration slowed, but by 2018, net foreign in-migration accounted for only 15 percent of county growth. Foreign in-migration has been a larger share of growth in Snohomish County—about 25 percent in 2018, but has not been growing nearly as fast as in King County.
A large share of domestic net migration into Pierce and Snohomish Counties has come from King County itself. According to IRS records, of the 31,180 people who moved into Pierce County in 2018, 35 percent came from King County. Of the 23,954 people who moved to Snohomish County that year, 49 percent came from King County. Flows into King County from the adjacent counties were much smaller.
Looking ahead
In the aftermath of the Great Recession, migration slowed dramatically. Since then, a pattern has begun to emerge in the Seattle area. People from outside of the state, many from overseas, are moving into King County, where housing prices are high and average wages are often not enough to afford appropriate housing. Those living in King County who are priced out of the local market are moving to Pierce and Snohomish counties. The phenomenon of net negative domestic migration has been seen in California cities for a number of years, and has now arrived in the Puget Sound area. Questions going forward are:
Will the coronavirus slowdown result in an overall national reduction in migration?
Will net domestic migration continue to be negative in King County?
Will geopolitical changes, such as immigration restrictions or capital export restrictions, reduce foreign immigration to the region?
Will Pierce and Snohomish counties have the capacity to continue to absorb migrants from King County in search of affordability?
Will the use of King County incomes to purchase housing in Pierce and Snohomish counties push prices beyond the reach of those working in those counties?