A couple of weeks ago, the Indexer described the undersized capacity of Washington's higher education system, including public and private institutions, noting that the system is, on a per capita basis, among the smallest in the country. At the same time, the state's economy has a voracious appetite for well-educated workers, and satisfies that appetite by importing people with college educations from around the country and around the world.
Are our young people really getting shortchanged? Are they getting insufficient opportunities to participate in the prosperous economy we have built? A 4-year college degree is almost always a prerequisite for entry into the high-wage workforce, so if the state cannot offer enough slots for 4-year degrees, maybe our students are heading out-of-state in large numbers. Maybe a big share of those young people arriving in the state with college degrees are actually our own kids returning after getting a degree somewhere else.
Figure 1 shows the share of the students who went directly from high school to college in 2018 who went out of state.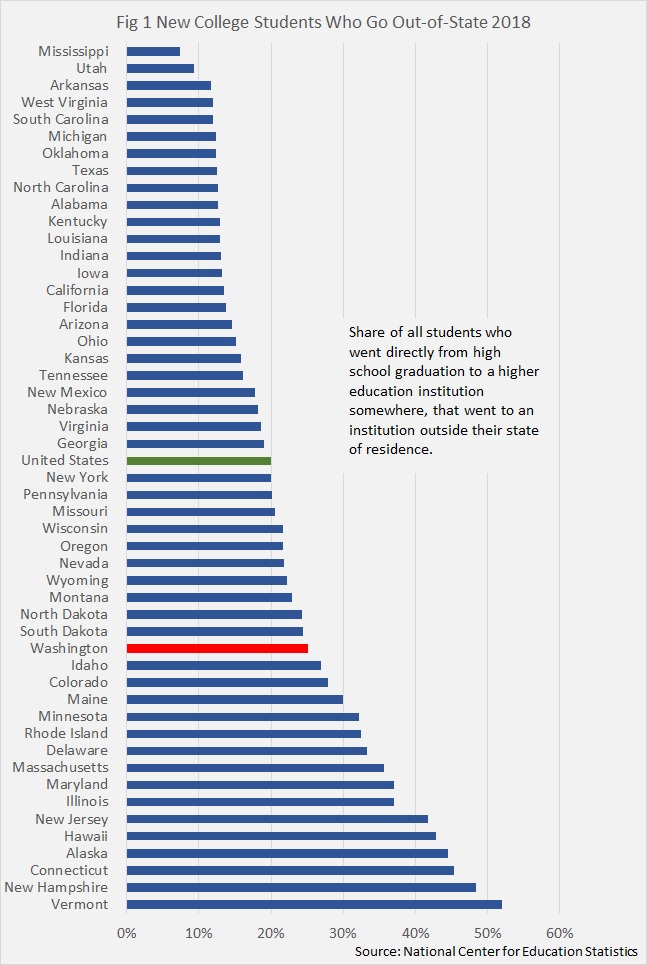 Washington is a bit above average in the share of its college-bound students who go out-of-state for college. But movement between states works both ways. We need to know how many seats at our state's institutions are occupied by students from outside of Washington. Figure 2 shows the share of the first-time college students in a state that come from out-of-state.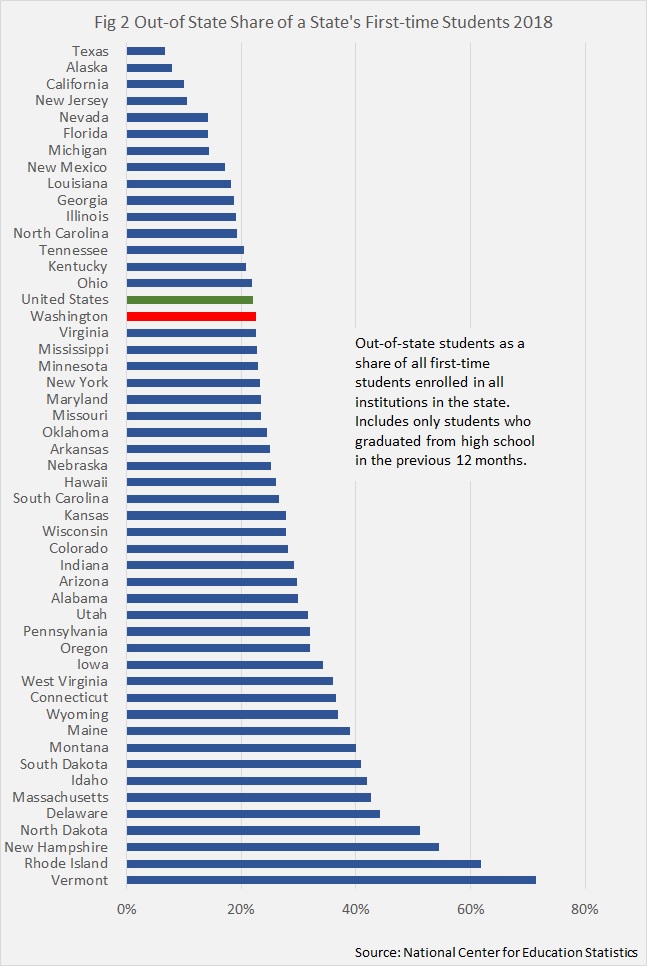 Washington is almost exactly at the national average, with just over 20 percent of students coming from other states. Remember, this data includes both public and private institutions, and private colleges and universities often have unique programs that recruit students from broad areas of the country. Many private institutions actively recruit international students.
So how does Washington measure up in the total flow of students around the country? One measure is to consider the relationship of imported students to exported students. Figure 3 shows the net gain of students to each state as a share of their annual new students.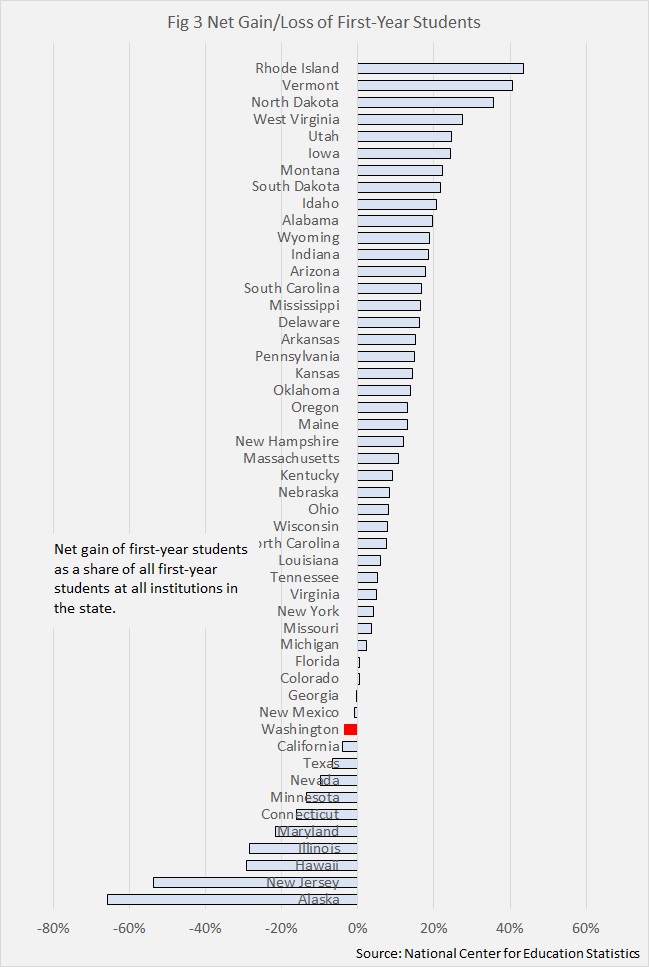 Washington experiences a slight net loss of students. Out of about 36,000 Washington high school graduates in 2018 who went directly on to higher education, about 1,200 more went out of state than students from other states came to Washington colleges. For Washington's students to have an equal shot at higher education, that number would need to be closer to 9,000, doubling the number of students going out of state.
This is a long way of saying that going out-of-state has not been much of a solution to the problem of too few seats in Washington's public and private higher education network. The fact is the share of Washington high school graduates who go on to higher education is low. Figure 4 shows the share of 2018 high school graduates, by state, who went directly on to higher education.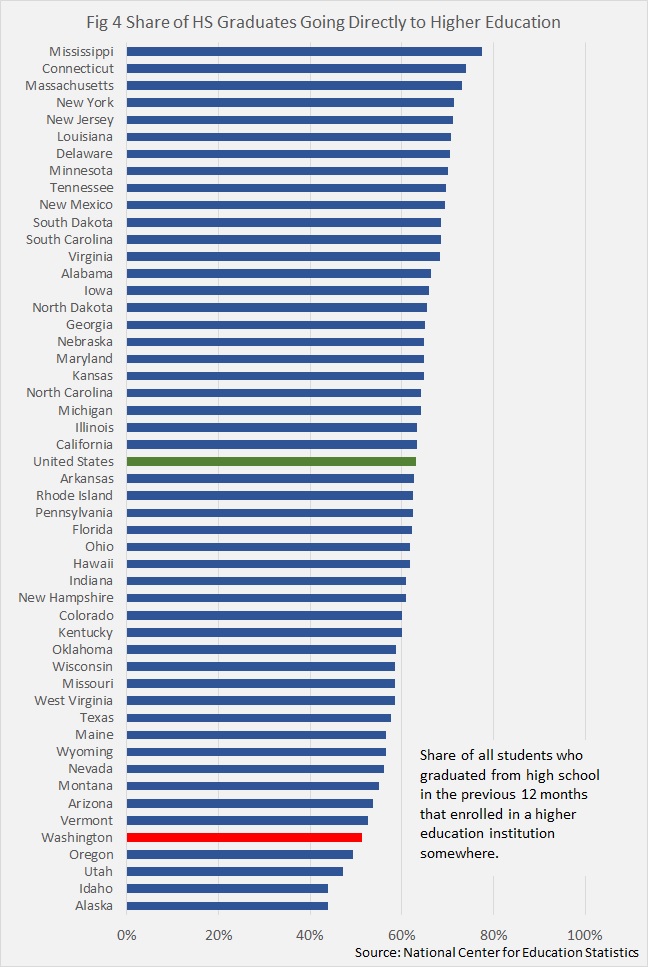 At 51 percent, Washington has among the lowest rates of enrollment by recent graduates. The Washington State Superintendent of Public Instruction has figures showing closer to 60 percent of recent high school graduates continuing their schooling, but that measure has no national context. And even if it were true, Washington would still be below the national average.
We need to be careful at this point before we begin to assign causality. Does an undersized system automatically lead to an undereducated population? It seems likely, but there could be other explanations. Next we will look at enrollment rates in institutions (are we filling the seats we have?) and enrollment rates by school districts and areas of the state.
Looking Ahead
The degree to which the state's employers need to look outside the state for the talent they need is concerning. Certainly, technology firms will look around the world for the absolute best engineers and scientists. But there are plenty of jobs and careers that do not require national recruiting if the talent can be located in-state. If we are to reduce our appetite for out-of-state talent we will not only need more slots in our higher education system, we will need to ensure that Washington's high school graduates are prepared to occupy them successfully.