Two weeks ago we looked at the cost of providing diesel transit service on land—bus and heavy rail—and now we will look at the economics of two more parts of the public transit system: paratransit services and ferries.
Paratransit
Paratransit services, typically vans that provide on-demand rides, are required by the Americans With Disabilities Act (ADA). Most services for people with disabilities are provided on regular transit vehicles equipped with lifts, preferential seating and places to secure wheelchairs. But some people have a type or level of disability that prevents them from using regular transit service, and for these riders, agencies are required to provide special services. Some agencies operate these services themselves, and others contract with private sector providers.
Figures 1 and 2 show the cost and revenue profiles for the paratransit services of six agencies in the Puget Sound region.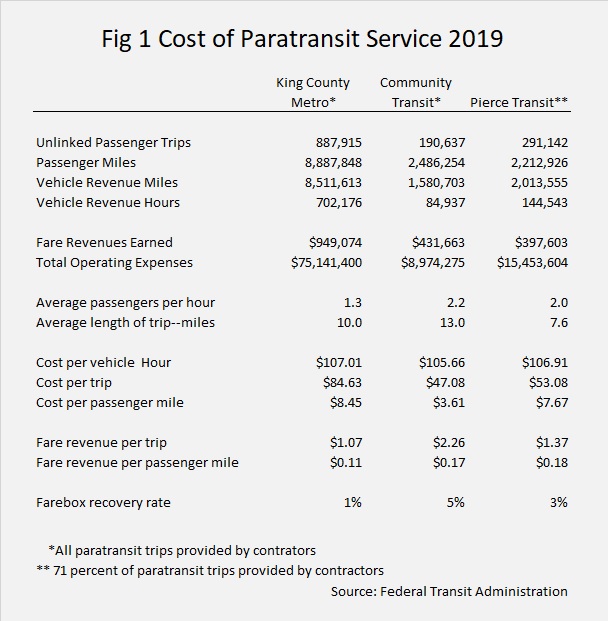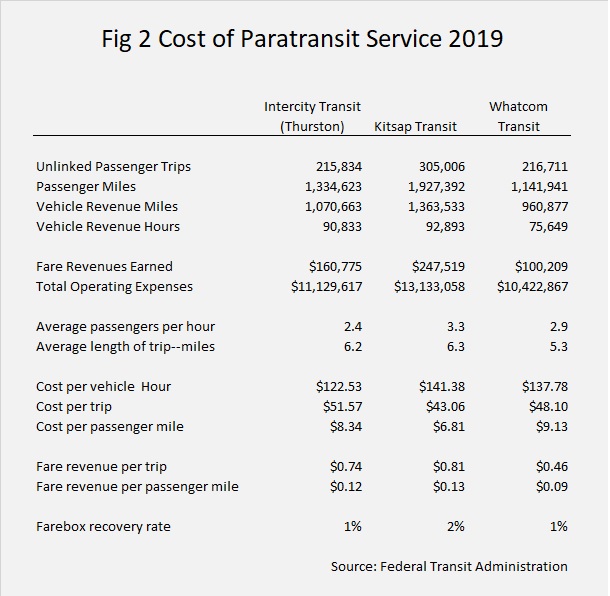 A couple of things jump out. First, these are very expensive rides. Simply dividing the total cost of running the paratransit network (either in-house or through a contract) by the number of rides provided, yields a cost per ride that is far higher than any other transit service. At nearly $85 per ride, King County metro has the most expensive service, with the other agencies quite a bit lower, but still expensive. Metro's cost per hour is comparable or lower than the other agencies, but it serves far fewer passengers per hour and gives relatively long rides.
The second thing that jumps out is the very low rate of farebox recovery. While all the agencies do charge some fares for this service, they contribute almost nothing to the overall cost of providing the service.
Ferries
When we looked at energy use by mode, ferries turned out to be quite a bit more energy intensive than land-based modes on a per-passenger basis. But how about their overall costs? Figure 3 shows the cost of ferry service provided by four agencies that operate on Puget Sound. (Kitsap Transit's cross-sound ferries are quite a bit different from their local service on Sinclair Inlet)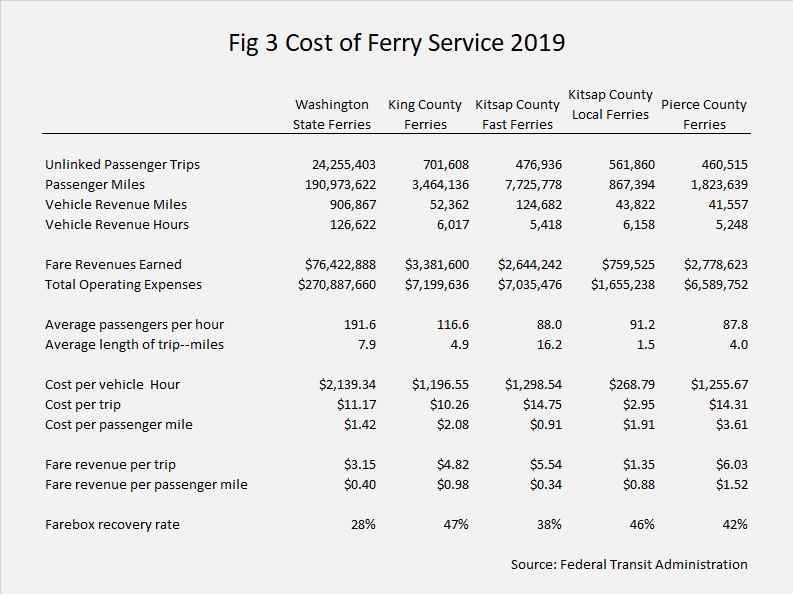 Ferries turn out to be pretty good performers. They carry a large number of passengers per trip and charge high enough fares to cover a good share of their costs. Farebox recovery rates for ferry services are higher than almost all bus-based transit systems. The higher fuel costs are balanced by lower labor costs, as the ratio of crew to passengers is lower than the ratio of operators to bus riders. These system also have fewer people riding on discounted fares, so average fares remain high.
Looking Ahead
As an increasing share of the population lives well into their later years, when more will face disabilities, demand for paratransit services will increase. The cost of providing these services, on a per-ride basis, is probably not scalable at current rates. Should we be spending an average of $85 per ride in King County? Some creativity, within the context of the ADA, is probably warranted.
Passenger ferry service has been expanding on Puget Sound, outside of the traditional Washington State Ferry system. The King County and Kitsap County ferries have proven successful with long-haul commuters. The Kitsap services, in particular, offer easier commutes from the affordable areas across the Sound, offering families more choices of where to live.