When we flash an Orca card at the box on the bus or train platform, we are pretty sure that it is probably not getting dinged for the full cost of our trip, especially if we have a seat to ourselves.
The cost of providing transit services is covered by a combination of farebox revenue (although not many people still drop coins in an actual box) and taxes. Washington State allows transit agencies to tax their constituents for up to 0.9 percent of sales tax, and Sound Transit has additional taxes to cover its operations. A few agencies around the state, like Island County, don't charge any fares at all, but most try to collect something toward their costs.
Figures 1 and 2 show the funding profile of the larger transit agencies around the Puget Sound area for diesel-powered vehicles.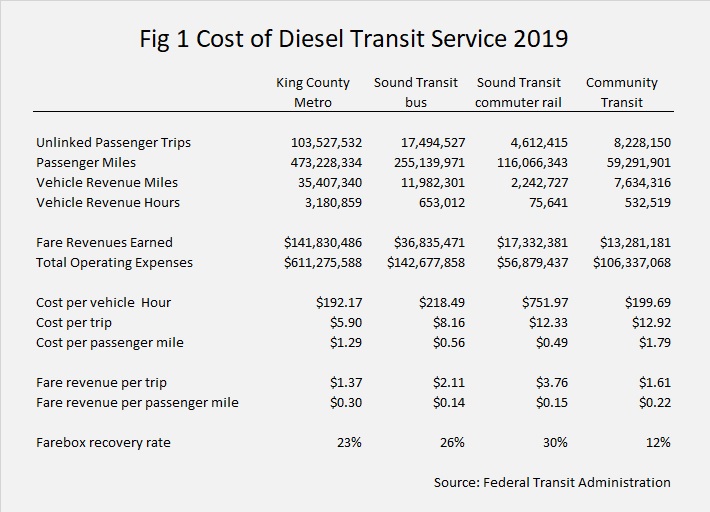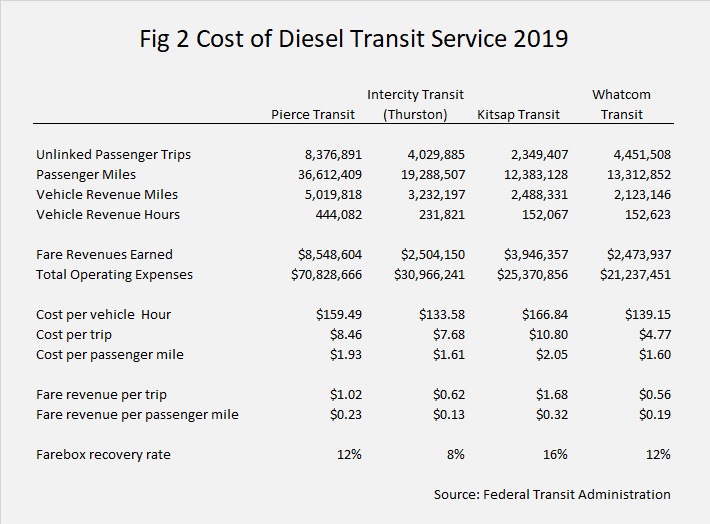 The key metric here is the farebox recovery rate: what percentage of the cost of an providing service is covered by payment of fares. King County metro and Sound Transit recover between 20 and 30 percent of their costs, while the smaller agencies recover much less.
The problem with this metric, however, is that it presents only an average, and there is wide variation among routes. Dense urban routes in Seattle, or packed short commuter routes on Sound Transit, are profitable based on fares, while mid-day service in low density areas brings in little revenue. The rate of deadheading also has an impact, as fuel is being used and operators being paid, but no revenue is being collected. In less urbanized areas, transit is less a commuter tool and more of a service for the transit dependent, many of whom will pay little or no fare.
For King County Metro, the farebox recovery picture was improving, but took a turn for the worse a few years ago. Figure 3 shows the farebox revenue, operating expenses and recovery rate for Metro since 2010.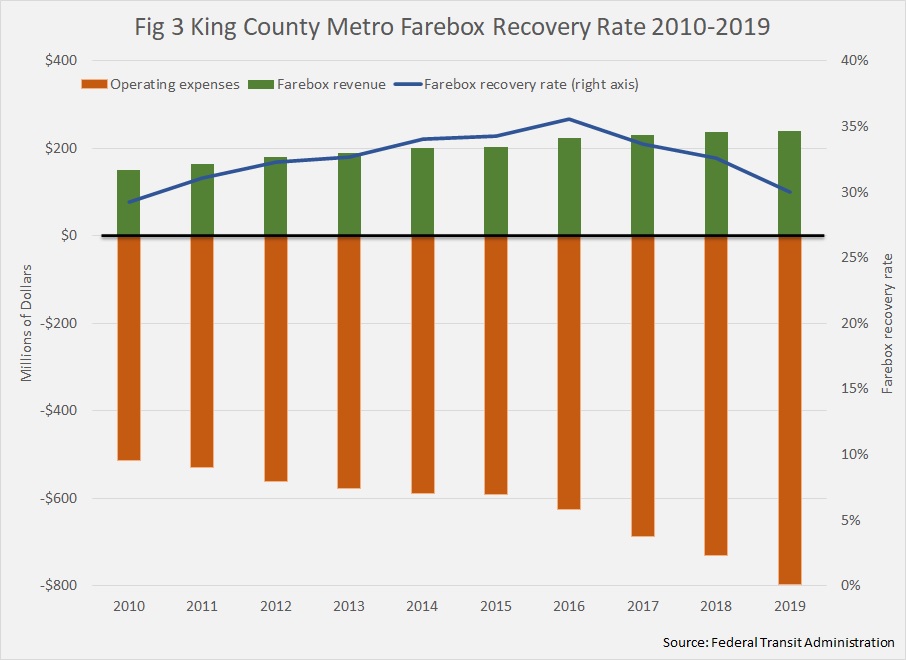 While Metro has reaped steadily increasing fare revenue, its costs began to climb faster, and the recovery rate started sinking in 2017. But Metro was not the only agency to see its cost rise during this period. Figure 4 shows the cost per trip for the four large agencies in current dollars.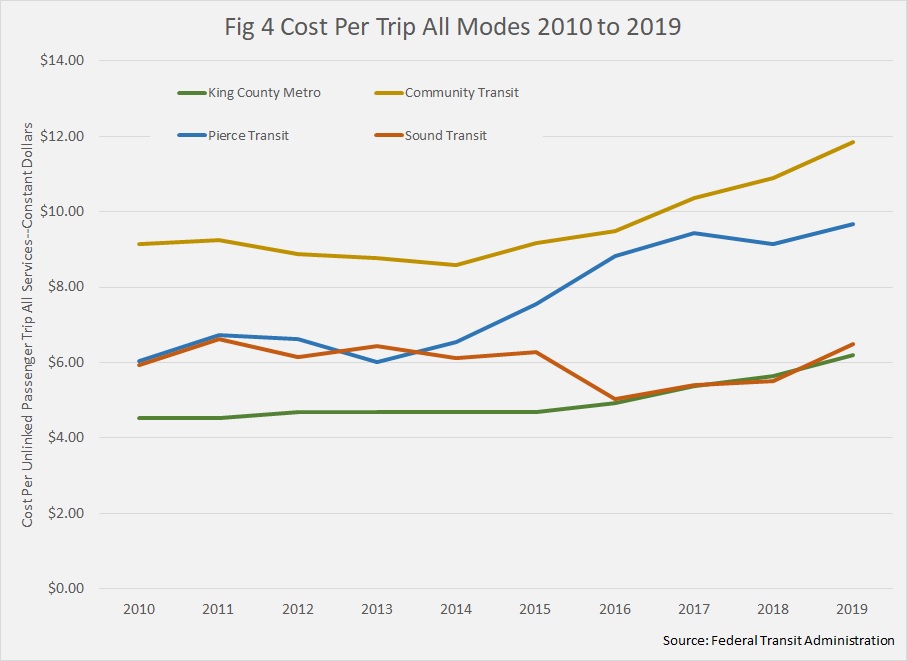 Since 2016, all agencies have seen significant increases in their per-trip cost. Sound Transit saw its per-trip costs drop in 2016 as it opened the new light rail line on Capital Hill, which has high ridership over a short distance, and therefore pulled the average cost per ride down.
There are, undoubtedly, good reasons for these cost increases. We are just reporting the data that the agencies send to the Federal Transit Administration, which does not come with explanations. But increased costs are a concern when the region has made a major commitment to transit as part of its land uses policies. The cost per passenger mile seen in figures 1 and 2 is upwards of four times the cost per mile typically associated with operating a car (not including parking). Adding new transit riders is expensive and getting more so.
Looking Ahead
The irony of the pandemic is that the agencies that had poor performance on farebox recovery are in a better position to weather the drop in ridership. True, sale taxes are down, but not nearly as much as fare revenue, which was cut to zero during the height of the pandemic. As we have noted before, it will take time for agencies to recover their ridership and retool their service for whatever new realities emerge in the post-pandemic world.