In his 2002 book, The Rise of the Creative Class, Richard Florida argued that for cities to succeed they need to attract the "creative class" of workers and industries, and to do that, they would need to improve the amenities they offer. This set off a flurry of economic development plans to improve the built and cultural environments in ways that would attract the newly emerging Millennial generation. Big emphasis on Bohemian themes.
Has this strategy worked? If Florida's approach were valid, we would tend to see greater growth in cities that offer a high level of amenities. These regions would attract high-growth technology-based businesses that, in turn, have high multiplier effects and generate a large number of local service jobs.
Growth and amenity value
To see if this happened, we can look at growth rates of metro areas compared to their level of amenities, as identified by the work highlighted in the Indexer last week. That article used a "willingness to pay" index developed by David Albouy, and his colleagues1. This index is based on the cost of living premium (mostly housing, but other factors as well) an individual pays to enjoy the amenities of a place, or the cost of living discount they get for living in a less attractive place. An index value above zero indicates an above-average cost, and therefore, an above average level of amenities. An index value below zero indicates that there are fewer amenities that residents are willing to pay for and that the cost of living will be low. And, it is important to note, it does not matter what the amenities are—natural, built, cultural—as long as people are willing to pay for them.
Figure 1 shows 270 metro areas in the U.S. according to their population growth from 2010 to 2019 and their willingness to pay index. The size of the bubbles indicates population size in 2019. Seattle is in red.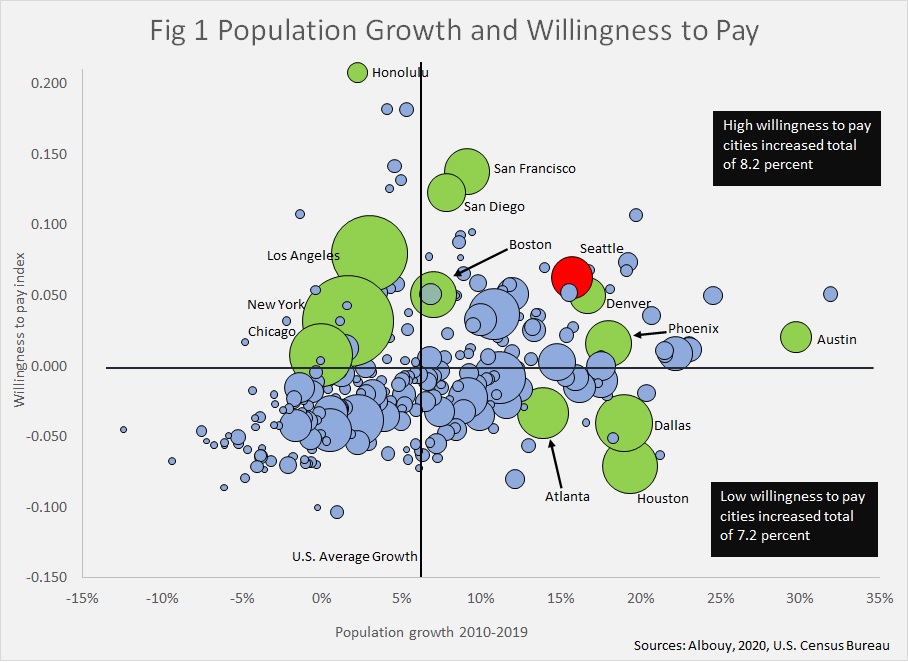 If Florida was right, and the key to success is to offer a high level of amenities, we would see the regions above the horizontal line growing faster than those below. That is only slightly the case. The total population of the regions above the line increased by 9.2 million, or 8.2 percent. The total population of the region's below the horizontal line, the less amenity-rich places, increased by 8.5 million, or 7.1 percent.
So, the high amenity regions did grow somewhat more than the low amenity regions, but not by a whole lot. Plenty of Americans moved to places like Atlanta, Dallas and Houston, where they could enjoy a lifestyle that many might consider "low amenity" but that leaves more money in their bank account after they pay the basic costs of living. The slow growth of many of the very high amenity cities suggests that not everyone is willing to pay extra for high level natural, built and cultural amenities.
It is certainly possible that high amenity places would grow faster if they had less restrictive development policies. Berkeley economist Enrico Morretti has argued that development restrictions in the Bay Area have inhibited growth there and even held back economic growth nationally. But as has been seen in Seattle, which has experienced a housing boom, the cost of living in an attractive area will not necessarily drop a great deal as new housing is built. It is possible that more development just attracts more high wage industries, the employees of which support continued high prices. This is the Superstar City theory.
Housing affordability
If Albouy's methodology is correct, we should see an inverse relationship between housing affordability and amenity values. After all, one of the principal ways we pay for attractive amenities (or don't pay in low amenity places) is through housing prices. High amenity places should have high prices relative to wages, and therefore low affordability.
The National Association of Homebuilders has developed a Housing Opportunity Index (HOI) for 218 metro areas in the country. This index indicates the percentage of homes sold that would have been affordable at the median income. An HOI above 50 indicates a favorable market for affordability. Figure 2 plots the HOI and the willingness to pay index for those metro areas.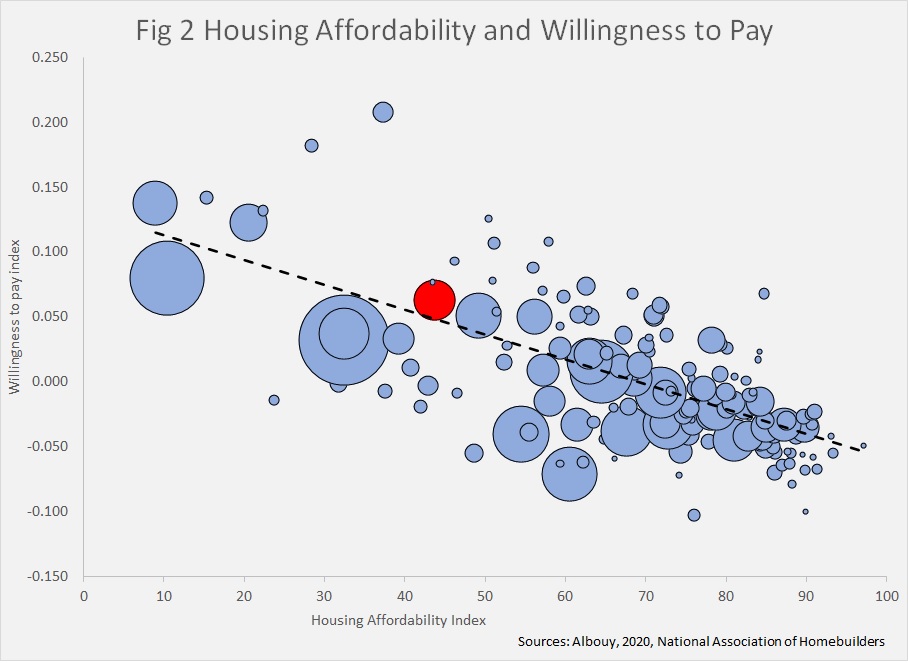 This shows a strong inverse correlation between housing affordability and willingness to pay. The R-squared value of the unweighted plot is 0.46, which is strong, but not definitive. Most of the large bubbles are relatively close to the trend line, however, so a weighted correlation would be stronger. Seattle (the red bubble) sits just above the trend line, indicating that it is slightly more affordable than might be expected.
But also note, the Albouy data is based on work done in the early 2000s, so the relative position of regions will likely have changed. As noted in last week's post, the bubbles are always moving, as regions become more or less prosperous, as fashions change, as amenities improve or deteriorate.
Choices, choices, choices
Figures 1 and 2 validate the central point of the theory of spatial equilibrium: everyone makes their own choices about what is important to them. An almost equal number of people have chosen to live in a region that offers a high level of amenities at a high price, as have chosen to live in an area that offers a less attractive amenity package, but at a lower cost. Figure 2 emphasizes that for those who are looking for value in homes, there are plenty of places that are reasonably affordable and offer a moderate level of amenity value. Chicago, for example, has a positive amenity value and an HOI of 64, meaning that the majority of homes are affordable at median incomes.
Looking ahead
Seattle offers a unique amenity package to its residents. It has strong cultural features and an attractive natural environment. Leaders should be concerned about the recovery of the cultural sphere in the wake of the coronavirus, as many of the arts and entertainment institutions that make Seattle attractive have been struggling. If cultural life in Seattle does not recover adequately, we could see a decline in the value of the overall amenity package of the region.