–Unemployment is far more likely for workers without college degrees
–Unemployment is somewhat more likely for non-white workers
–Unemployment is somewhat more likely for the youngest workers.
First-time unemployment claims continued to roll in last week at a very high rate, with about 100,000 new claims filed during the week that ended May 2. Figure 1 shows the weekly first-time claims by broad sectors. Compared to the early weeks of the crisis, we see a couple of things.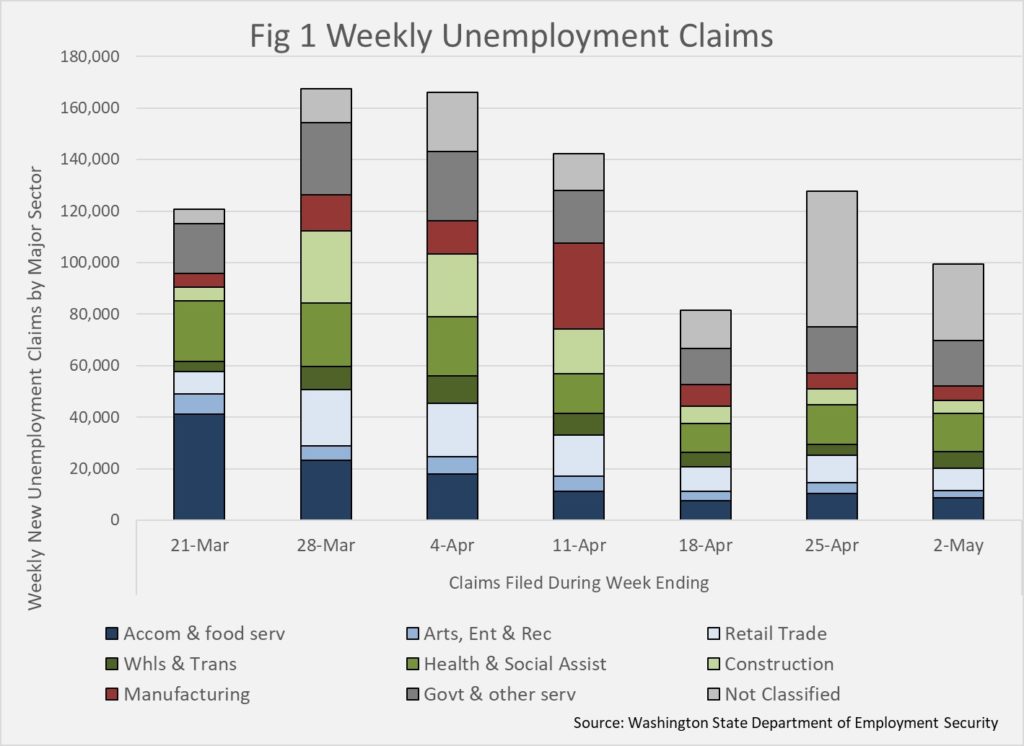 First, the sectors that were affected most immediately, such as accommodations and food service and retail, have seen claims slow quite a bit. Those businesses that were going to reduce or close operations have largely done so by now. Similarly, manufacturing and construction, which are now getting back to work, have seen far fewer claims in recent weeks. At the same time, two sectors continue to bleed steadily. Health and social service operations have slowed as non-COVID patients stay away from medical facilities. Government and other services continue to shrink as work dries up (government itself currently adds very little to unemployment). A report last week shows that office occupations have been hit harder than might be obvious. A large number of new claims are again listed as "not classified" which likely reflects the addition of self-employed and less consistent workers to the pool.
Layoffs and furloughs have fallen unevenly on the workforce in many ways. This earlier report show the unevenness across sectors, and this report shows the unevenness across occupations. Now let's consider three basic demographic divides.
Education
Figure 2 shows the impact of layoffs by education level in the state and region. Unemployment claims are more likely to have been filed by a person without a college degree. Those with a high school diploma, but no further education, are much more likely to have been separated in the last six weeks. This reflects the occupations and sectors most affected: hospitality, retail, construction, manufacturing, all of which have a large share of positions that require a high school diploma, but no additional education.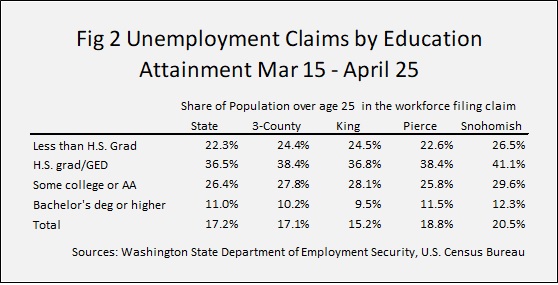 Figure 3 shows just how imbalanced this impact is in the three-county region.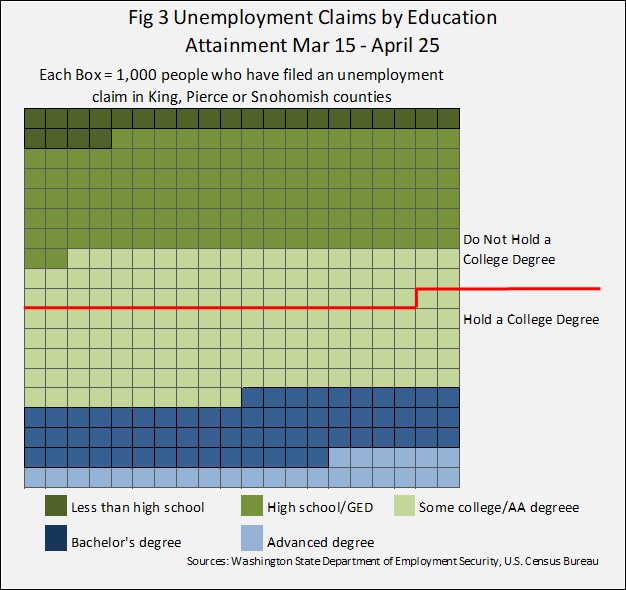 Each green box represents 1,000 people who have filed an unemployment claim in King, Pierce or Snohomish county and do not have a college degree. Each blue box represents 1,000 unemployment filers who have a degree. The red line shows where the green and blue sections would divide if the impact of unemployment were even among those with and without 4-year degrees. Nearly half of all workers over age 25 in the region have a college degree, but only 24 percent of those filing have a degree.
Race and ethnicity
Unemployment has fallen harder on some but not all racial and ethnic groups, as seen in Figure 4.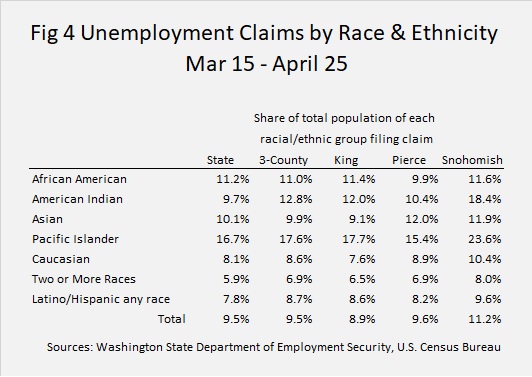 About 8 percent of the state's white population (all people, not just those in the workforce) has filed a claim, while 11 percent of the state's African American population has, with American Indian and Asian populations falling between those two. The Hispanic/Latino population has experienced less unemployment statewide, but a higher level in King and Snohomish counties, likely a result of large representation in the hospitality sector. The Pacific Islander population shows very high rates of unemployment, but caution is in order since that population is small enough that error margins are high in measuring the base population.
Unemployment by race and ethnicity is complicated. It has been noted nationally that many of the jobs deemed essential, and therefore not subject to shutdown and unemployment, are held by minorities. At the same time, many of these jobs, such as transit workers and food processers, expose employees to danger of infection. It is not always clear that lower unemployment has been a good thing for everyone.
Age
Layoffs have affected the young more than middle aged and older workers. Figure 5 shows the share of each age bracket in the workforce that has filed an unemployment claim.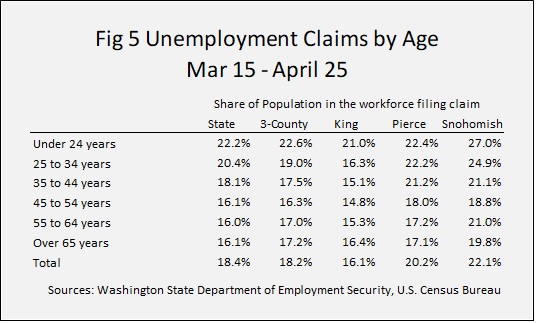 Many of the sectors most effected, such as hospitality and retail, skew toward a younger workforce. And many organizations have a "last-in-first-out" approach to layoffs, which would see younger workers tending to be laid off first. At the same time, older workers generally have a more difficult time getting re-employed, so even though their numbers are somewhat lower, the medium and long term impacts of layoffs may turn out to be larger for older workers as a group.
As noted in the discussion above about race, the impact of layoffs can seem ambiguous. On the one hand, no one likes to lose their job and face an uncertain future. But not every job can be done from home, and no one wants to go to work in an environment that feels unsafe. The expanded unemployment benefits that are available today mean that laid off workers are not necessarily in dire financial straits, and if they have children out of school, unemployment may be the best overall status for them. Many, however, must deal with the anxiety of not knowing whether their old job will be waiting for them when their employer reopens or ramps up.
Looking forward
We report on unemployment in terms of first-time claims because this is a consistent measure that is released weekly and tells us the trend in employee reduction. But these figures are not the same as actual unemployment, and there is a significant discrepancy between cumulative first-time claims and "continuing claims." We will not have a glimpse of actual job losses by sector until May 20, when employment estimates are released for April, when employment was at its lowest. But these estimates include everyone on the payroll during the week of April 11, so those who lost their jobs later in the month will still be counted as employed. As with all data-dependent pursuits these days, reporting is always well behind events as they unfold.
Questions going forward are:
Have the bulk of the newly-qualified unemployed submitted their first claim?
How soon will business-to-business enterprises ramp up after their business customers start up?
Will employers make an effort to accommodate the needs of older workers?
Will workers face a dilemma between returning to a workplace they do not feel safe in, and losing benefits by refusing an offer of work?