On Wednesday we will get the jobs and unemployment estimates for September. But these estimates are organized by industry, so do not tell us much about the people involved and the actual work they do.
We can get a more individual look at the unemployment picture by occupation by looking at unemployment claims that are still active—known as "continued claims." An individual maintains a continue claim as long as they have been approved and have filed for a weekly benefit at least once within the past four weeks.
Figure 1 shows continued claims, starting with the first report available, for the week ending April 18, and then for the first week of each month. The occupations follow the 2-digit Standard Occupation Code (SOC) format. The occupations stretch across industries and employer types. For example, people in the management occupation may work for large business, small business, non-profits or governments. Occupations are sorted by the largest number of continued claims during the week of April 18. Figure 1 shows total 2019 statewide employment for each occupation.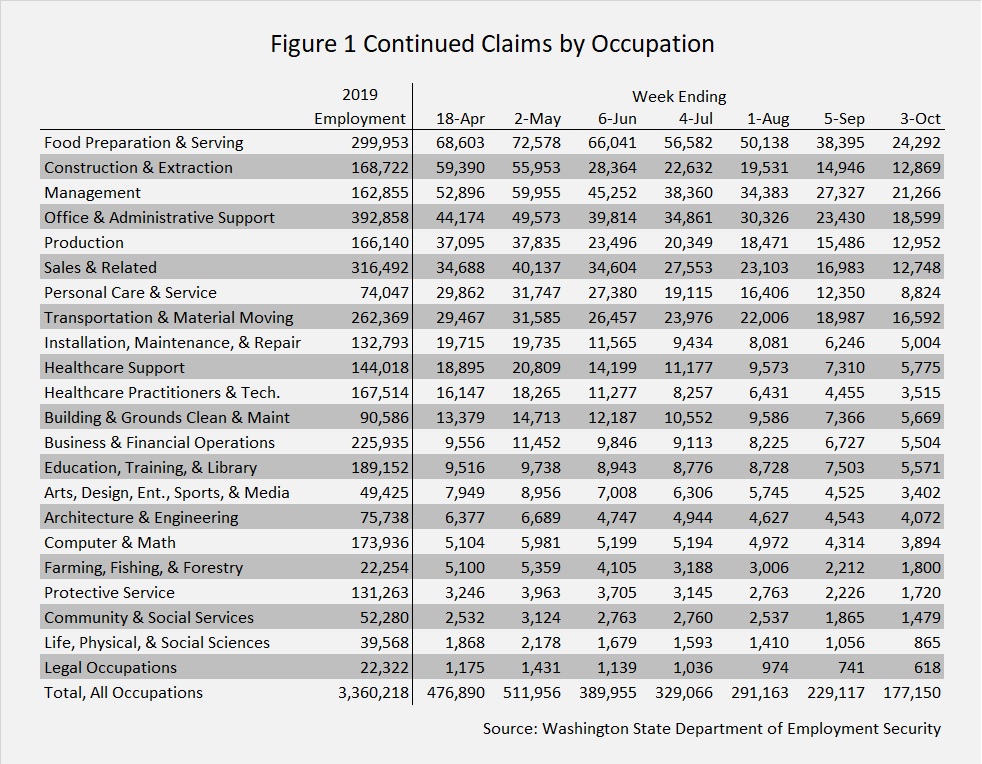 Not surprisingly, people working in the food services filed the largest number of claims. This would include not just restaurants, but also school and hospital cafeterias, airline food services and concessions at sports stadiums. Construction was hit hard early but recovered faster than most occupations.
The occupational breakout also highlights the way that occupations such as managers, office workers and sales workers lost jobs across the entire economy and have struggled to recover. These occupations are especially vulnerable to internal restructurings that may result in permanent job losses at employers that are otherwise thriving. Once an employer realizes that they can live without an office worker, assistant manager or sales rep, they may not call back some of the workers they have furloughed.
Figure 2 shows continued claims as a percentage of estimated 2019 employment in each of these occupations. Occupations are sorted by the highest percentage during the week of April 18.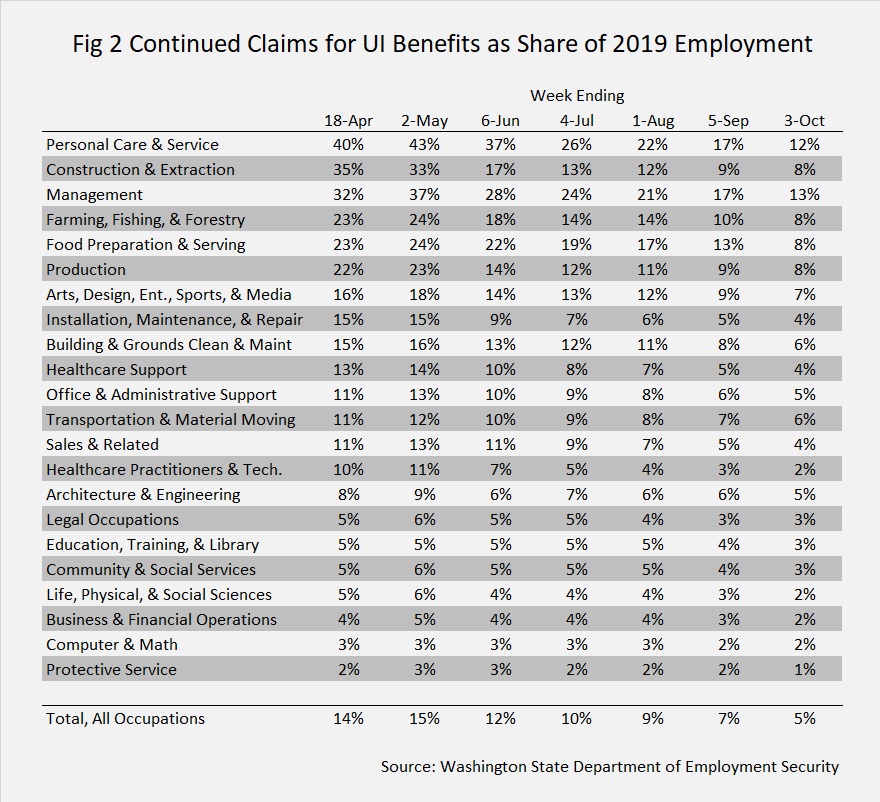 Like managerial occupations, personal care occupations exist across industries and do not show up as readily in sectoral data. These are high-touch occupations that perform services that are, in many cases, discretionary. Doing without a manicure, haircut or piercing is not a huge burden on most people, and avoiding personal services is an easy way to reduce risk of infection. A large share of those working in the leisure and hospitality sector also fall under this category.
The major drop in continued claims between early September and early October is noticeable. The national unemployment rate for September, measured during the week of September 7, was just under 8 percent, and Washington has been tracking the national rate fairly closely. If there was, indeed, a big jump in employment in September, we will not see that for another month.
Looking Ahead
After six months we have a pretty good idea what sectors are bouncing back and what sectors are going to struggle for another year or two. Focusing on occupations makes it easier to encourage the unemployed to take their skills to new sectors that have stronger growth prospects.