You know the cliché: chaos brings opportunity. The current chaos brings lots of opportunity, since most households still have incomes that they cannot spend in many of the usual places. Entrepreneurs should be finding new ways to get the cabin-fevered to part with the money they had been spending in businesses they have not been allowed, or are scared, to patronize.
In other words, the coronavirus has forced a lot of Schumpeter's creative destruction on the economy. We've seen lots of the destruction. Are we seeing the creativity?
The Census Bureau tracks applications for new businesses by state on a weekly basis. Figure 1 shows the increase in new business applications between the nadir of the shutdown, in mid-April, and the most recent week ending July 10. The darker the color, the more intense the growth in business applications.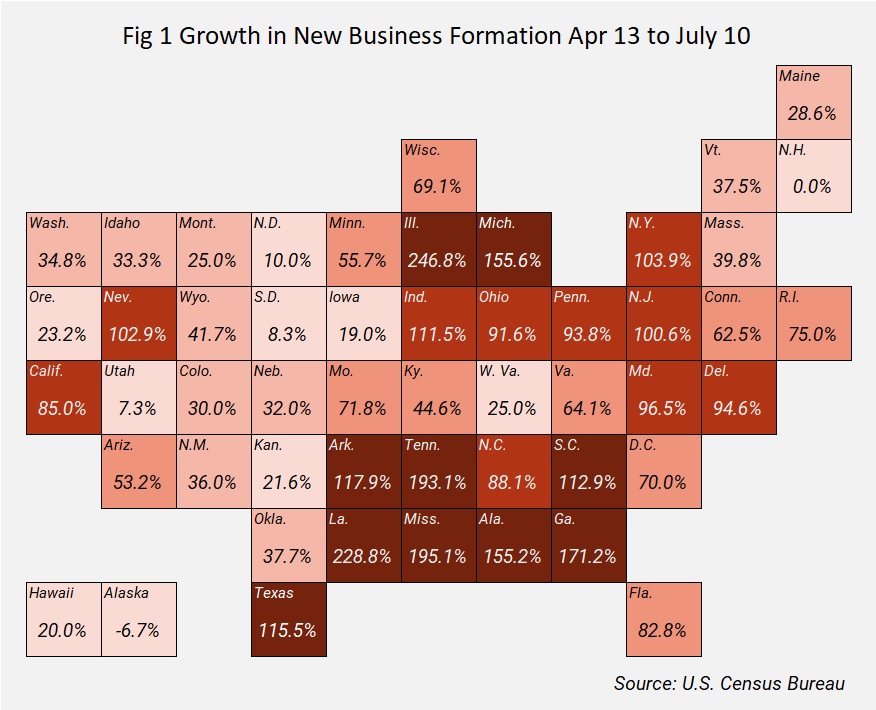 The most intense activity has been down the middle of the country, especially the upper mid-west and the South. In the West, California and Nevada, two states that had primary industries—entertainment and hospitality, respectively—almost completely shut down, business formation has been high. In the rest of the West, not so much.
Not a lot to go on intuitively to figure out this pattern. All states received the generous federal unemployment benefits, so no place would necessarily feel more need to strike out on a business venture. If we learn more, we will let you know.