-Migration patterns are about to change in unpredictable ways
–California has long been the largest source of in-migrants to the Seattle area.
–On a per-capita basis, the largest sources of in-migrants to the Seattle area are Western states.
–Two states, Arizona and Idaho, have a large positive flow of migrants from Washington
The pandemic has upended longstanding ideas of what makes a good place to live and work. Washington has been highly favored under past definitions and has had among the highest rates of in-migration in the country for the past decade, with the great majority of these migrants heading to the Seattle area. In 2020, economic and health uncertainties will slow migration significantly. The patterns of migration that will emerge going forward are not at all clear, as the typical push and pull of migration have been disrupted by new objectives and concerns, perhaps for quite a long time. We can, however, look backward to see where people have been coming from, to give us some idea of where people might be coming from in the future.
California and other large states are the largest source of in-migrants to King County
Migration can be thought of in two ways: gross and net.
Gross migration describes all the people moving in and all the people moving out. Net migration, as the term suggests, subtracts the out-migrants from the in-migrants to arrive at a net impact on population growth.
While net migration determines the growth in population and the impact on housing, it misses the important distinction between those moving in and those moving out. These populations can be quite different, especially in an area undergoing transition. For example, an area that has a declining resource-based economy may be losing younger people as that economy weakens, but gaining retirees who seek out its natural attractions. In-migrants and out-migrants often have quite different economic profiles, and over time, the migration process can significantly change an area.
To understand growth and change in the Seattle area it is important to understand where all the in-migrants have been coming from. Figure 1 shows the total driver's license trade-ins recorded in King County in 2019. Nearly all adults have a driver's license and they are required to obtain a Washington license shortly after moving to the state, so this data gives us a good picture of in-migration. (uniformed military personnel and their families are not required to obtain a Washington license, but many do.)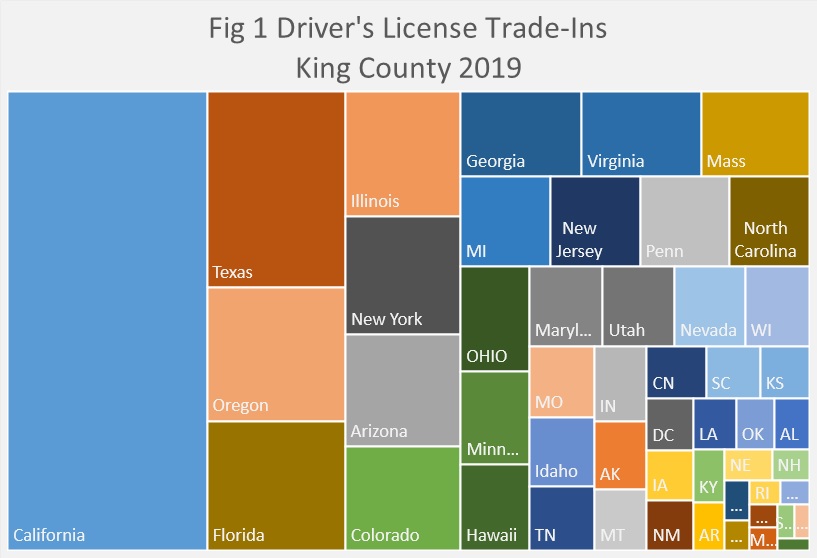 Not surprisingly, California sends the most migrants to King County—about 20 percent of the total. California is both large and close. But migration from California also reflects a longstanding historic pattern of movement up and down the West Coast, which has been taking place since the 1850s. This pattern has been reinforced by industry linkages in aerospace and information technologies. Other parts of Washington will see migration of Californians involved in the armed forces and agriculture, and will see a surprising number of retirees.
Oregon will, of course, have a large flow, due to proximity as well as industrial similarities. Texas, Florida, Illinois and New York are simply very large states, so even if the rate of sending is lower, as will be shown below, their size dictates that they will send large numbers.
Per Capita migration favors Western states
Figure 2 shows the rate at which states send people to live in King County, expressed as drivers license trade-ins per million population of the sending state. Darker colors indicate higher rates of sending. This shows the intensity of the relationship between King County and other states, with the darker colors indicating a higher rate of migration from that state. Proximity is clearly the driver of migration from Western states.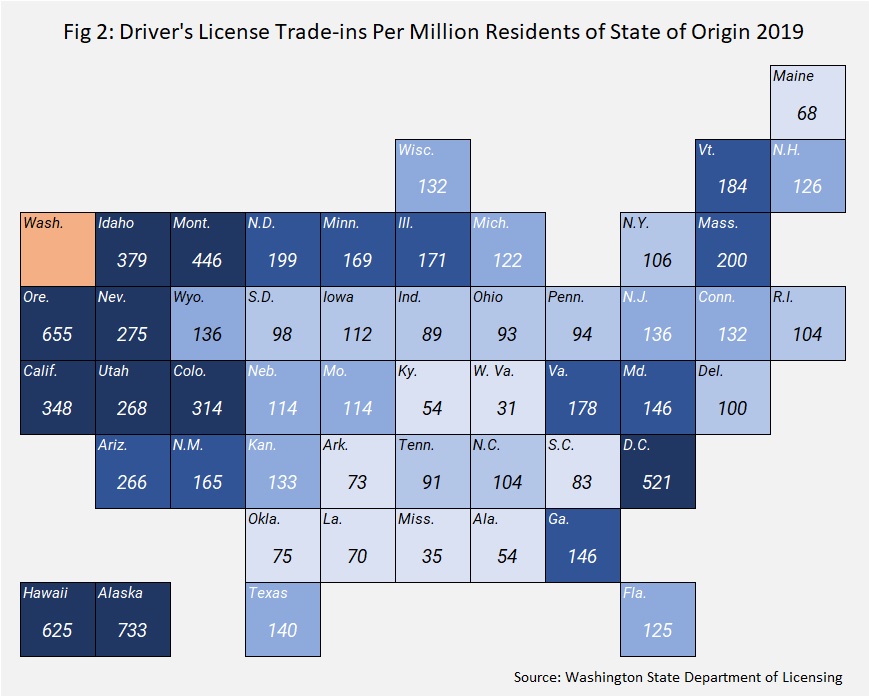 Since the Gold Rush days at the turn of the last century, there has been a robust exchange of people between Alaska and Seattle. As the largest urban area in the northwestern quadrant of the country, the Seattle area will be a natural magnet for people from smaller states looking for expanded opportunities.
Net flows mostly positive
Of the 50 states, 10 show a statistically significant net negative flow of migrants to Washington. Over 80 percent of that negative flow is accounted for by two states, Arizona and Idaho. Figure 3 shows the gross inflow and outflow and the net inflow for the 20 states with the largest total in-migration to Washington. (IRS tax data, which shows outmigration, provides state-to-state flows and county-to-county flows, but not county-to-state flows)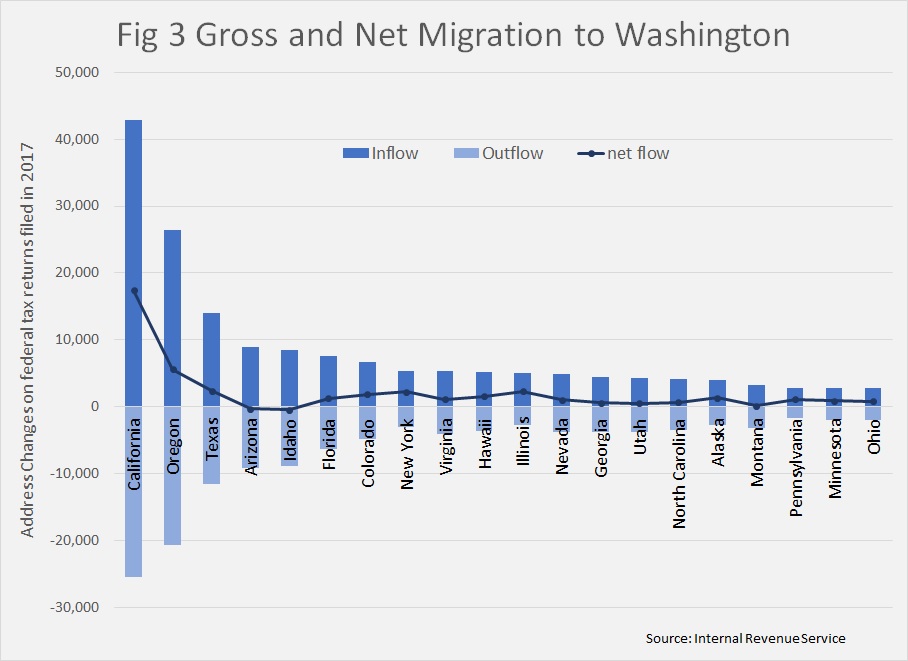 IRS data for taxes filed in 2018 shows 215,000 people with a new address in Washington in 2017 and 185,000 people who left a Washington address that year, for a net flow of about 30,000 people. In other words, for about every seven people who moved into Washington, about six people moved out. The net flow from California was over 17,000, or over half of the total net flow.
Migration to the Seattle area has varied widely over the years. Figure 4 shows net migration to King County since 1960, with the gray bars indicating national recessions.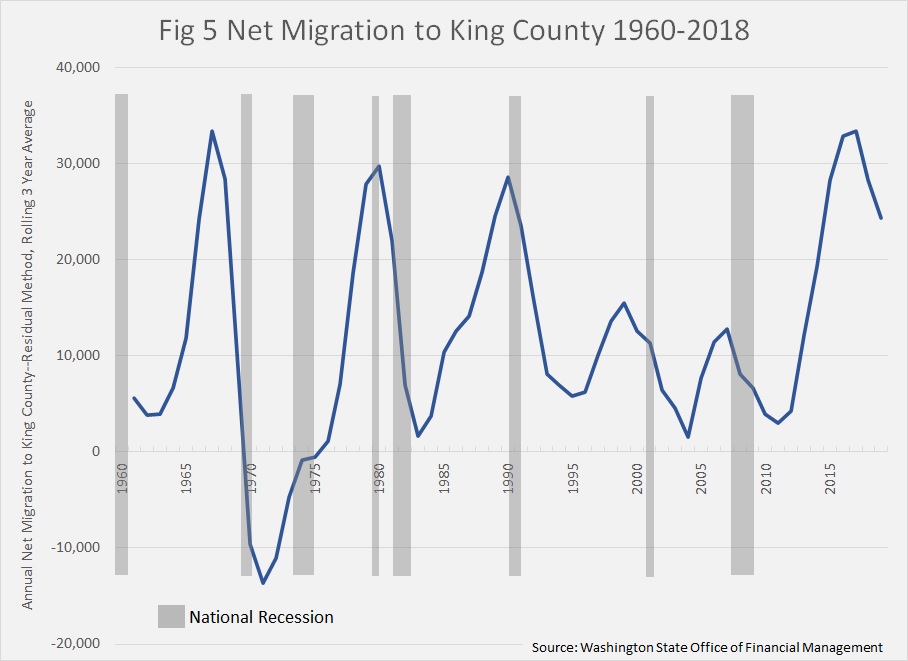 We expect migration to drop during recessions, but we don't always see that behavior in the Seattle area. Migration dropped before recessions hit in three instances, and climbed through the recession of the mid-1970s. Migration to the region has long been tied to the ups and downs of employment at Boeing, with the only period of net out-migration coinciding with the Boeing Bust of the late 1960s and early 1970s.
Looking ahead
Domestic migration in the US has been declining for decades, and slowed considerably in the wake of the Great Recession. Migration to Washington and the Puget Sound area picked up in recent years, but domestic out-migration has increased quite a bit in recent years, lowering overall net domestic migration. Foreign in-migration has been very strong in recent years.
Migration will likely slow considerably for much of 2020, and it will be very difficult to predict the new patterns once it resumes. It would be reasonable to expect a good deal of moving around the country as people search for new economic opportunities and places they feel safe. Much will depend on the ability of cities to portray themselves as safe, healthy and economically vibrant. But the experience that many have had working from home introduces a new variable, and may lead people to revise their criteria for the best place to live: close enough to go to an office once in a while, but far enough to be safe and affordable.
Questions going forward are:
Will West Coast cities, with their strong international ties, be perceived as less safe?
Will residents of California and other Western states continue to find Washington and the Puget Sound region attractive destinations?
Will a newfound attractiveness of telecommuting lead migrants to Washington to settle further from Seattle itself?
Will rising housing and other costs in the Puget Sound area cause the region to follow in California's path and experience net out-migration to lower cost states as has been hinted at in recent years?
What is the significance of strong in-migration from sunbelt states like Florida and Texas, which generally have lower costs and better weather than Washington?