We are finally beginning to get a picture of the economic damage done to the state by the coronavirus shutdown. As of mid-April, employment in the state is down 16 percent from peak employment in February. While unprecedented in recent decades, this job loss, which has likely peaked and much of which is temporary, is nowhere near the job losses of the Great Depression, to which it often gets compared.
And once again, actual job losses and reported valid unemployment insurance (UI) claims are far lower than the reported first-time claims for unemployment benefits. Initial UI claims have become a far less useful measure of economic conditions.
The state Employment Security Department (ESD) released its April employment estimates, based on a survey of businesses conducted the week of April 12. This provides a snapshot of the job losses in the coronavirus crisis, since it reflects employment levels a full month after the major shutdowns started. By that week, the bulk of the damage had been done.
Figure 1 shows the job losses for major industry categories in the state and lost jobs as a share of peak February employment. Figure 2 shows the losses for King and Snohomish counties. Figure 1 also compares jobs lost to continued claims for unemployment benefits. Continued claims are claims that have been verified and are approved for payment. A worker who had lost a job prior to the survey would likely show up as a continued claim two weeks later.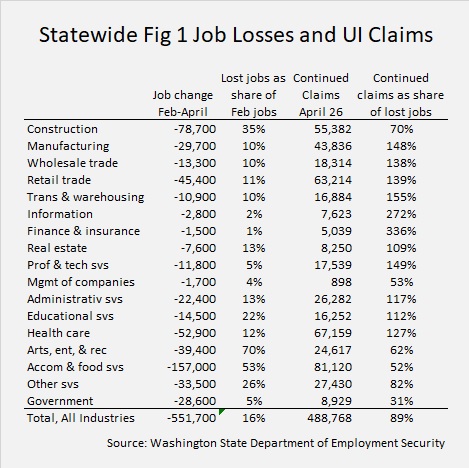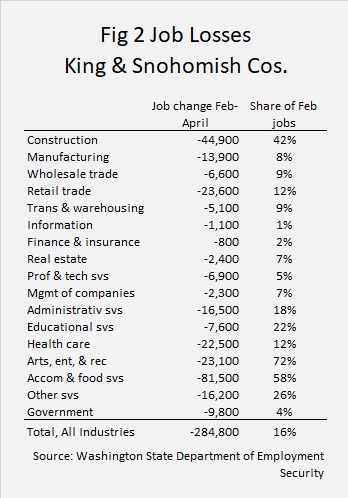 As has been reported previously, the job losses have been heaviest in the construction, entertainment and hospitality industries. Total losses are quite high in both healthcare and retail trade, but these are huge sectors, so the losses do not show up as large percentages.
ESD also reported that the state's unemployment rate had risen to 15.4 percent. This is consistent with the job loss totals, adjusting for two factors. First, not every lost job results in a worker classed as "unemployed." A person who had two jobs but lost only one will not be counted as unemployed, and teens who have been working part time may not be counted as unemployed even if their job has ended. Offsetting this reduction in the unemployment rolls is the fact that there was already unemployment before March and those unemployed people have not likely found work.
The final column in Figure 1 shows the continued claims for unemployment benefits as a share of the reported jobs lost. These two data points come from very different sources, so they should not be expected to be very close. But the large discrepancies between reported job losses and valid UI claims does deserve some attention. Miscategorization is an unlikely source of much of the discrepancy, since worker and employer industry categories are built into the system already. More likely, the source of the discrepancy is the massive fraud that has been plaguing the system. In the sectors where the claims are far higher than the job losses, wages tend to be high, and therefore attractive targets for fraudsters. ESD reported drops of 20 to 30 percent in continued claims among occupations that typically require college degrees, indicating that they had uncovered fraudulent claims in these occupational categories.
Figure 3 shows the trend in filing and administration of claims.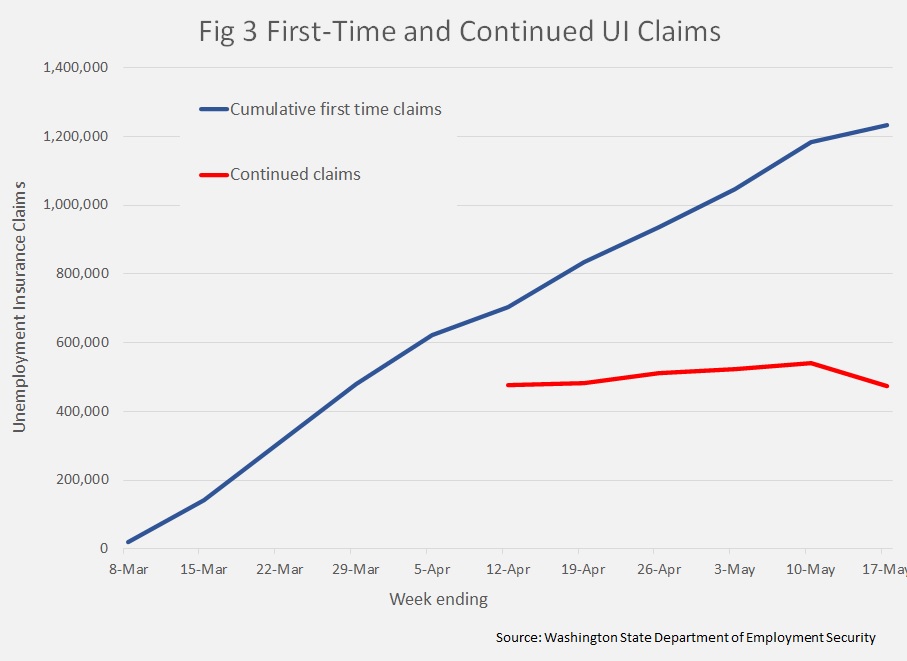 Interestingly, cumulative first-time claims have climbed steadily, while continued claims, that actually pay benefits, have been flat since mid-April (the earliest data available). Again, it can be safely assumed that a large share of the claims filed since mid-April are fraudulent or otherwise invalid.
Looking ahead
The next indicator of economic damage comes on May 29, when the U.S. Bureau of Economic Analysis releases its GDP and personal consumption estimates for April. In late June we will get data on sales tax distributions to local governments for taxes collected during April and get a sense of the revenue problems that state and local governments will face.