So far, the Indexer has shown that Washington has an undersized higher education system, that sending students out of state for higher education is not the solution, and that, overall, Washington students go on to college in low numbers.
Now, if you live in one of the well-educated, affluent neighborhoods of the Puget Sound area, you might wonder what the fuss is about. Your children and all the kids in the neighborhood have always been on a college track. Just where are all these high school seniors whose education comes to an end upon graduation?
Figure 1 shows the rates of college enrollment for recent high school graduates by county. This includes all kinds of higher education: 4-year, 2-year, tech prep, public, private, in-state, out-of-state. (No data is available for Ferry County).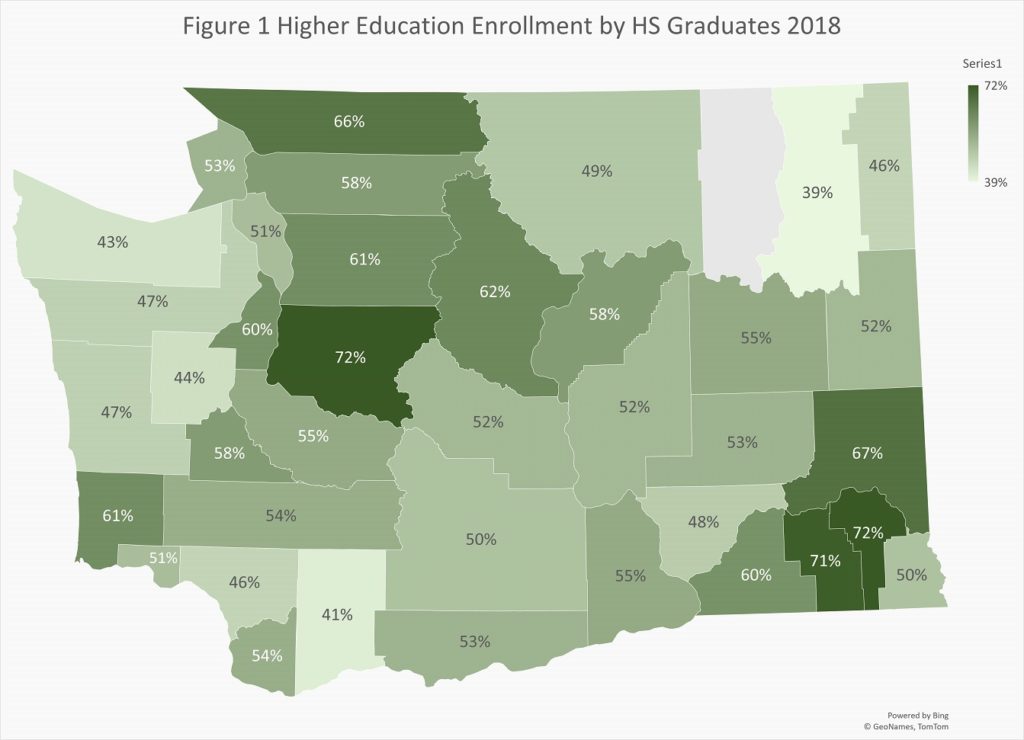 Rates of college enrollment do not follow highly consistent patterns. Other than the generally uniform low enrollment on the Olympic Peninsula (Pacific County being an exception), the higher enrollment areas are scattered around the state. The picture changes when we look at enrollment in 4-year institutions. Figure 2 shows county rates of enrollment in public and private 4-year colleges and universities by students who have just graduated from high school. Enrollment can be in any state.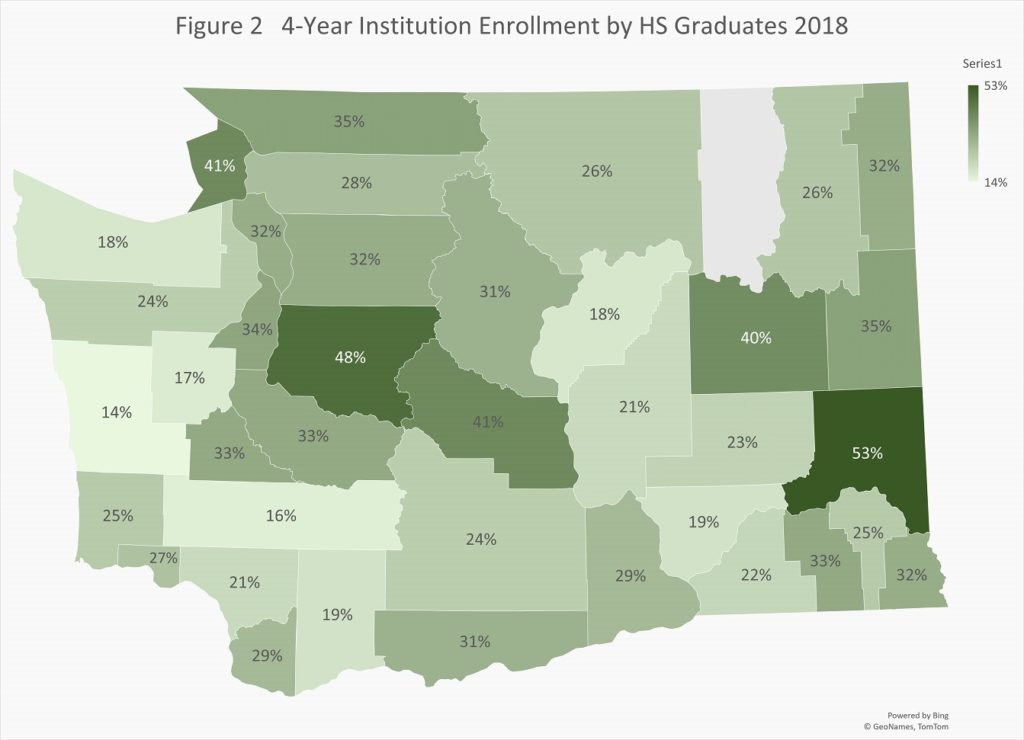 Here we see a difference, as the state's emphasis on 2-year colleges comes into play. In most of the state, recent graduates heading off to college will head in larger numbers to 2-year colleges. Figure 3 shows the rates for both 2-year and 4-year enrollment by county.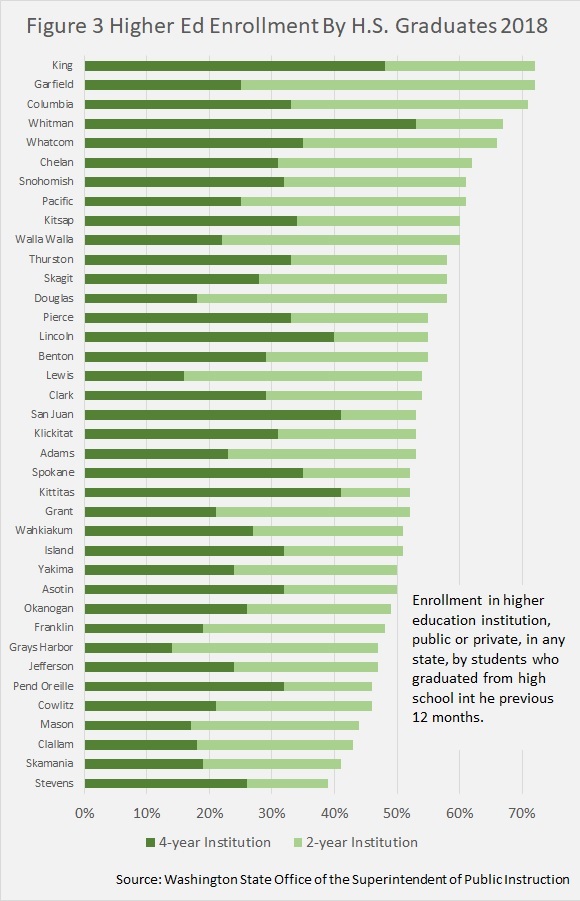 Here we see that some counties that have relatively high overall enrollment rates are sending most of their students to 2-year colleges. As we saw in the first article, even with a larger number of seats available in 2-year colleges and articulation to 4-year institutions, the overall level of bachelor's degree granting in the state is small. It is not clear that the state's strategy of building up a 2-year system and making it accessible and affordable, is producing the final education results that the state needs.
While there is variation across the state in college enrollment, there is even more variation among the school districts of the Seattle metro area. Figure 4 shows enrollment rates for 2-year and 4-year institutions for recent graduates in King, Pierce and Snohomish Counties.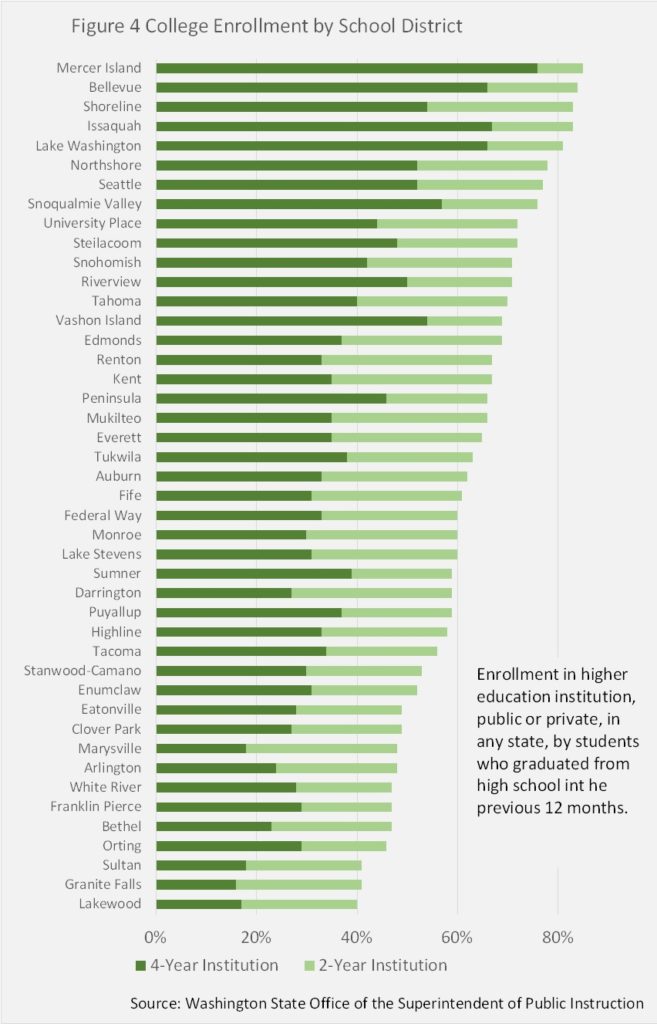 While a high school senior in King County was 1.8 times as likely to go on to higher education as a senior from Stevens County, a senior in the Bellevue or Mercer Island district was 2.1 times as likely to go to college as a senior in Lakewood.
Looking Ahead
It seems unlikely that the state will invest in substantial new brick-and-mortar capacity in its higher education system in the near and medium term. To get the most out of the existing system, the first step is to improve graduation rates so that the seats we do have produce completed degrees. Given the emphasis on the community college system, more 4-year degrees could be offered at these campuses and articulation between 2-year campuses and 4-year campuses could be strengthened.
In addition, the recent experiences with on-line instruction provide lessons in how best to expand higher education outside of the traditional campuses.