March gave us a strange macroeconomic picture, and a preview of the wild ride we will see for April. Overall, spending was down more than incomes: people with money to spend are not allowed to purchase many goods and services. Spending is up on the essentials, and down on the stuff that waits behind shuttered doors. And the unspent money is staying in the bank.
Figure 1 shows changes in broad economic patterns between February and March. March, of course, will be an incomplete picture. Shutdown orders began in mid-March, but patrons began staying away from restaurants and entertainment venues before that. In another month we will see what happened during April, when everything that was going to shut down was closed for the entire month. Some economists expect upwards of a 30 percent drop in economic activity in April.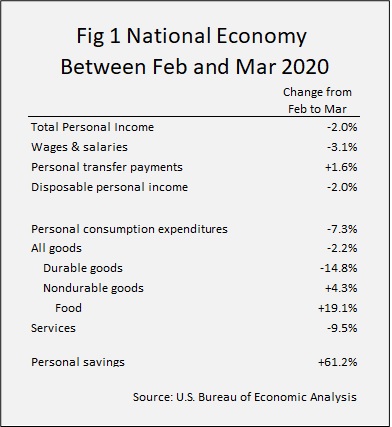 On the income side, total personal income, which includes wages, investment income and retirement income, dropped by 2 percent. Wages were down 3.1 percent, but transfer payments were up 2 percent, mostly driven by a huge jump in unemployment insurance payments. After taking out taxes, total disposable personal income across the country was down 2 percent month over month.
So although many people are in very difficult positions, the amount of money washing around in the economy did not drop by that much in March, considering the massive disruption to business. April will, of course, look far worse.
The big drop came in personal consumption expenditures (PCE, which covers all household spending) which fell by 7.3 percent. And that drop was very uneven. Spending on durable goods (cars, appliances, lawn mowers) fell by nearly 15 percent, while spending on non-durable goods (food, paper towels, toothpaste) increased by over 4 percent. The empty shelves at the supermarket? Spending on food from stores increased by 19 percent as restaurant spending plummeted. At the same time, spending on services (including housing), which makes up 70 percent of PCE, dropped by 9.5 percent.
If disposable income is down just 2 percent, and spending is down over 7 percent, where is all the money going? The short answer: piling up in the bank. The personal savings rate jumped 61 percent, from 8 percent to 13 percent, nationally. Banks are then using these deposits to purchase the federal debt that is financing the expanded benefits that are keeping households afloat. If you left your $1,200 payment in the bank, it has gone back to fund more $1,200 payments, in a perfect circularity.
Normally, money that comes into the traded sector (employers that bring money in from outside the region) circulates around the local economy a few times. A Microsoft employee, say, spends their income at a store and a hair salon, and the store clerk and stylist spend their income at other stores and service businesses, etc. But that process has been forcibly halted. So, in some ways, money just evaporates as it stalls in banks and its impact stops multiplying through circulation. This is what economists would call a deadweight loss.
The best analogy to this strangeness might be to World War II, when a large share of production went to the war effort and most goods were rationed. Americans were working hard and getting paid, but were not allowed to buy many goods. Consumption of services increased, as did savings, which were then soaked up through war bonds. Today, purchases of services are curtailed, and savings are soaked up in "coronavirus bonds."
The question is, what will the households that have kept working do with the savings that have piled up once the economy reopens? Pay down debt? Add to retirement accounts? Rush out and spend it on all the things they have not bought for a few months? Buy a car? Take a vacation? Dine out every night for a month? Every consumer-oriented business in the country is asking this same question and hoping the answer breaks their way. Look for lots of anecdotal evidence of shifts in spending, but not much solid data for a while.
And, if you can, put on your mask and get ready to patronize all those business when they reopen.