"Best Places to Live" lists are prime click-bait. Editors compile lists of attributes and score cities on how well they provide those things. In reality, these lists are completely bogus and make no sense in the context of what we know about location decisions and the larger theories of spatial equilibrium.
There is no "best" place. Only the attributes that are important to you, and the price you are willing to pay to get those things. With coronavirus and a new emphasis on health and safety, the long-established dynamics of urban economic geography will change, and the mix of desirable attributes and the value people place on them will shift.
Willingness to pay
Every region offers a combination of three factors: (a) earning potential; (b) quality of life; (c) the cost of housing, commuting and non-tradable goods like utilities. Productive, high wage, nice places tend to be expensive, and less productive and attractive places are less expensive. We can all choose which combination is important to us and perhaps move to a place that offers that combination.
Two of the three factors, earnings and costs, are easy to quantify. And because the three factors work together in predictable ways, it is possible to derive values for the third factor, quality of life. Researchers have developed models to calculate the value of the amenities that a region offers. We will use the results of a model developed by David Albouy, at the University of Illinois 1.
Unlike the best-places lists, these models don't care what is meant by "amenities," recognizing that everyone has different tastes and preferences for their personal amenity package. For some, the important thing is urban excitement, for others, access to outdoor recreation, for others, safety and quiet, and for others the weather. All the models care about is how much people are willing to pay to live in a particular place, regardless of their reasons for doing so. Hence, the research is known as "willingness to pay" studies.
Albouy and his colleagues developed a willingness to pay metric that pivots on either side of zero, so a positive value mean that residents pay extra to live in that place, and a negative value mean that the place is a relative bargain.
The national picture
Figure 1 shows the top 30 metro areas in the country according to this metric (the research covers 270 of the nation's 384 metro areas).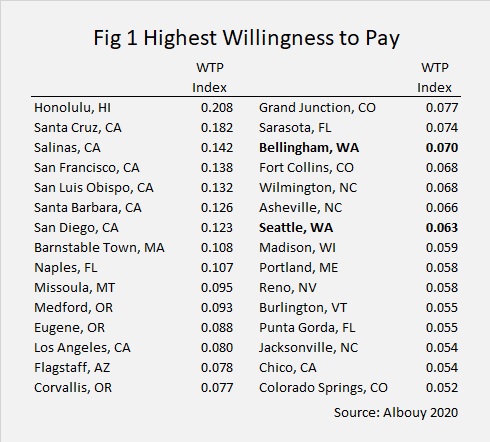 Now, it is true that many of these areas would head a typical list of "best places." They are, by definition, expensive relative to the earning power of the local economy, and not available to everyone. If we were to show the bottom 30, we would see places that are very inexpensive, even relative to the lower wages paid there.
The relationship between earning power and amenity value is illuminating. Figure 2 plots the 270 metro areas according to their willingness to pay index, and their average wage per job. The size of the bubble indicates the population of the metro area.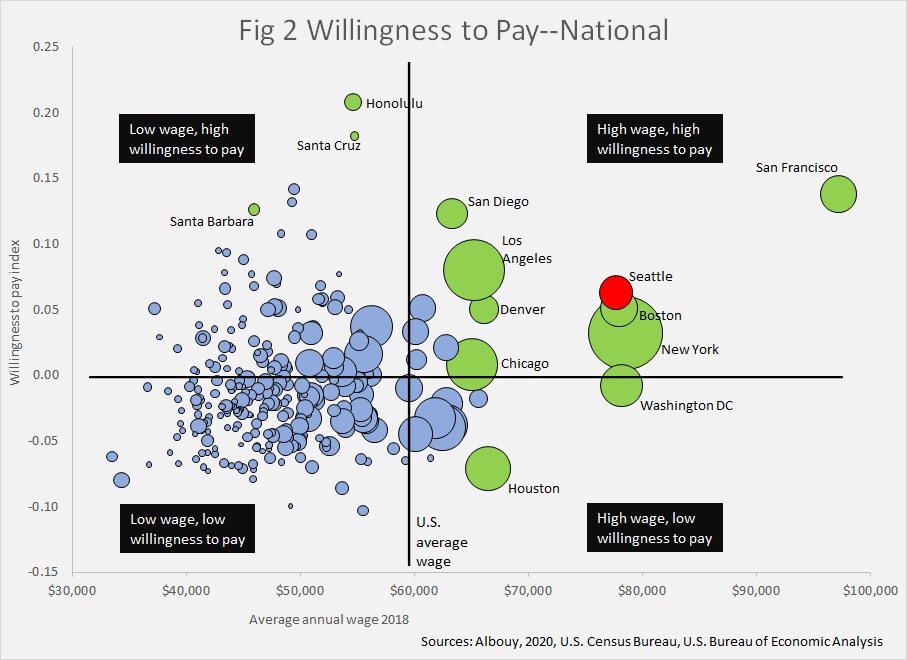 We have four quadrants, with different combination of wages and willingness to pay for amenities. Seattle and a predictable group of metro areas occupy the upper right quadrant, where the economies are quite productive and resident are willing to part with a lot of their income in order to live there. San Francisco's position suggests why well paid technology workers complain about feeling broke: by living in San Francisco they have agreed to pay a lot of their high earnings for the city's famous package of natural and cultural amenities.
As with its position in population and economic growth, Seattle sits in a sweet spot of both income and willingness to pay: attractive and expensive, but not punishingly so.
The other quadrants show some interesting patterns. The lower-right quadrant, with high incomes but low willingness to pay, consists mostly of large bubbles. In addition to Houston, it includes Atlanta, Philadelphia, Dallas, Detroit and Pittsburgh, all places with substantial economic bases, but with low costs. The opposite quadrant, with low wages and high willingness to pay, consists mostly of small, warm, pretty places that attract wealthy retirees who do not need to live on the local wage base.
The Northwest
Figure 3 shows this data for the Pacific Northwest and Mountain states, with the Washington metro areas colored in green.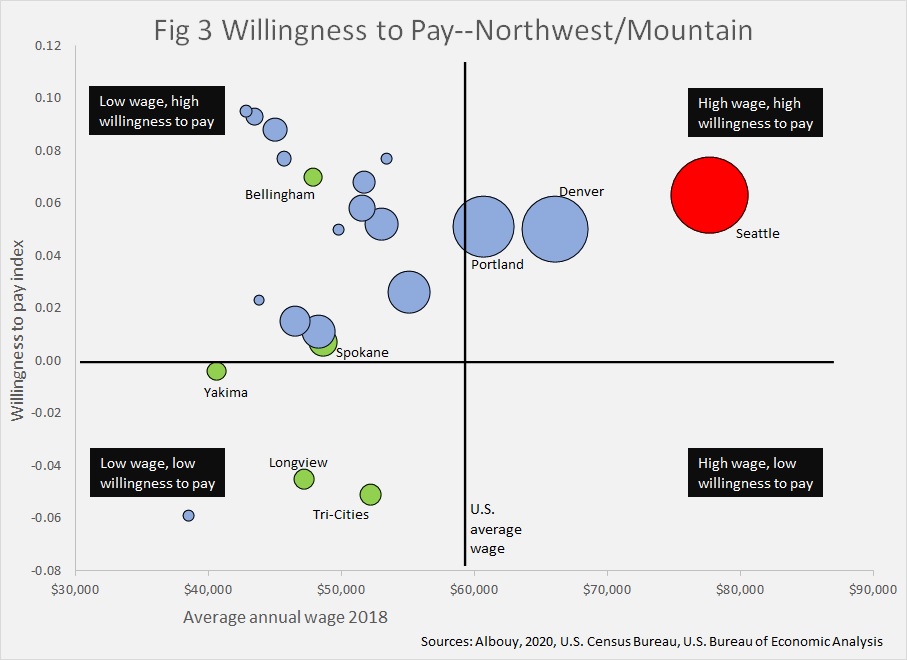 Note that no Northwest metro area falls into the high wage, low willingness to pay quadrant, and that the majority fall into the opposite, low wage, high willingness to pay quadrant. This part of the country offers many high quality of life opportunities, but those seeking them out should not expect to earn much while they live there.
The bubbles always move
This is not a static picture: those bubbles are moving all the time. The basic factors change, as regional economies prosper or struggle. Cities come in and out of fashion, cultural and recreational amenities expand and contract, cities become more or less clean and safe. The central idea of spatial equilibrium is that all places are, on balance, equally attractive in terms of benefits and costs. No place can get too far out of line, being too expensive or too much of a bargain in relation to the wage and amenity picture.
Migration is the central adjustment mechanism that keeps all places equally attractive. If a region gets too attractive, people move there, and in-migration puts upward pressure on housing prices and commute costs, downward pressure on wages and leads to crowded or degraded amenities. Conversely, if a place becomes too expensive, people will leave, putting downward pressure on housing prices, upward pressure on wages and easing the burden on amenities. Recent reports of an exodus from San Francisco, and a drop in rents there, illustrate this dynamic.
Looking ahead
Coronavirus has the potential to cause radical changes in the equilibrium. Adjustments to business operations, closing cultural institutions, a desire for more space and the added costs of lowering risk (e.g. driving instead of transit) will change all of the basic factors in the spatial equilibrium equation in unknown ways. We can be certain that the equilibrium will settle out, but at this point we have no idea where the bubbles will be in a few years and why they will have moved.