The New York Times ran a major story on the collapse of the economy in Blaine, as the closed border has cut off the city's primary sources of business.
Figures 1 and 2 show how drastic the drop in cross border traffic has been, as both the U.S. and Canada have agreed to keep the border closed to stop the spread of coronavirus. Figure 1 shows combined inbound crossings at the three primary portals in Whatcom County: Blaine, Lynden and Sumas.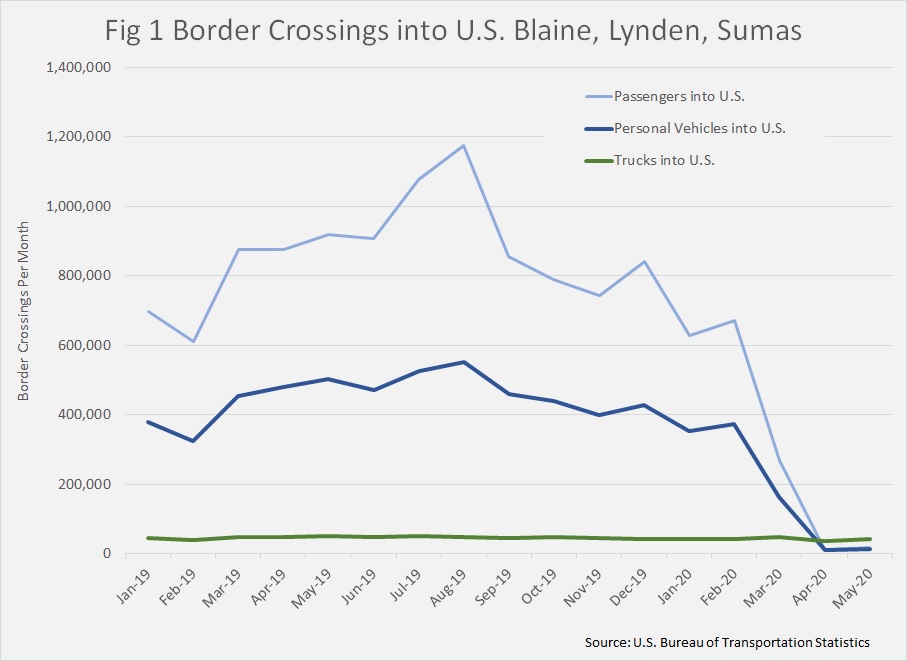 Traffic in personal vehicles varies throughout the year, as seen in the portions of the dark blue line that cover 2019. Vehicles ranged from a low of 380,000 crossings in January to a high of 553,000 in August. Vehicle occupancy rises from 1.8 passengers per car in January to 2.1 in August.
All this passenger activity has almost completely disappeared. 505,000 vehicles entered the U.S. through the three crossings in May of 2019, and that fell to just 15,000 vehicle crossings in May, 2020. And while vehicles in May, 2019 had an average of 1.8 passengers, vehicles in May, 2020 averaged only 1.2 passengers.
Things are as slow going north. Figure 2 shows border crossings into British Columbia for both private vehicles and trucks.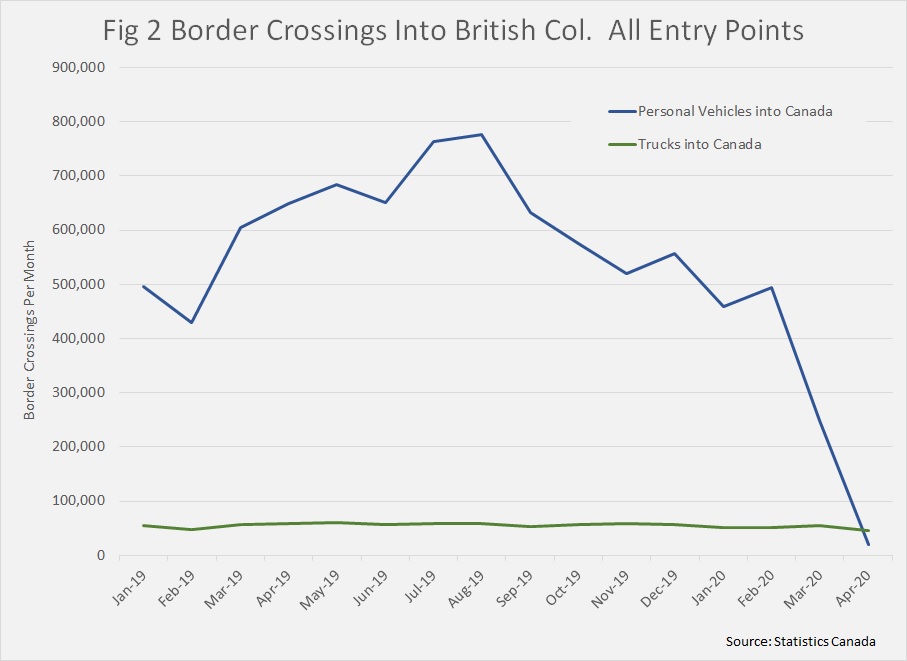 Canadian data for May has not been released, but in April, passenger vehicle crossings into British Columbia were at 3 percent of April 2019.
The U.S. and Canadian data are not directly comparable, since the Canadian data shows crossings at all B.C. entry points in Washington, Idaho and Montana. But the shapes of the curves are remarkably similar, showing summer peaks and dramatic drops in March and April of 2020.
Freight traffic has slowed far less. Whereas southbound personal vehicle traffic in May, 2020 was only about 3 percent of traffic in May, 2019, incoming truck traffic in May 2020 was about 80 percent of traffic from a year earlier. The number of inbound shipping containers on trains arriving in May stood at about 70 percent of arrivals one year earlier. Truck traffic into British Columbia from the U.S. in April was at 80 percent of April 2019 traffic.
Looking Ahead
The U.S.-Canada border will likely remain closed at least through the summer and perhaps well beyond. This has strained families and businesses. British Columbia will miss out on an entire tourism season, and border communities in Washington will continue to struggle as their B.C. customers cannot visit. A survey by Nanos Research indicates that over 80 percent of Canadians approve of the border closing, so it seem unlikely that restrictions will ease any time soon.