Last week the Indexer outlined the challenge of moving upwards of 45,000 people out of West Seattle each morning to their jobs elsewhere in the region with the closure of the West Seattle Bridge. The short, and difficult, finding is that most of the people who could take transit to work probably already are riding the bus, and that most West Seattle commuters head to places that will be difficult to serve conveniently with transit.
King County Metro's announcement that it will, for some indeterminate time, allow no more than 12 people on a regular bus, or 18 on a long bus, adds a new and unpleasant wrinkle to the situation. In the near term, Metro is actively urging people to ride the bus only if absolutely necessary, and warning riders that if a bus has reached its rider limit it will not stop for waiting passengers. The degree to which this policy overlaps with a large scale return to work will be critical not only for West Seattle, but for commuters everywhere.
Two West Seattle topics in this update: current volumes on alternative routes and inbound commuters.
Current volumes on alternative routes
Even with the best efforts to increase transit ridership, a large share of the commuters who have been driving across the West Seattle Bridge will continue to drive and will look for alternative routes. To what degree can existing bridges and arterials absorb this new traffic?
Figure 1 shows current traffic volumes in several places that would be expected to absorb new cars coming from West Seattle in the morning. The data from Washington State Department of Transportation (WSDOT) and the Seattle Department of Transportation (SDOT) use different methods and are not strictly comparable.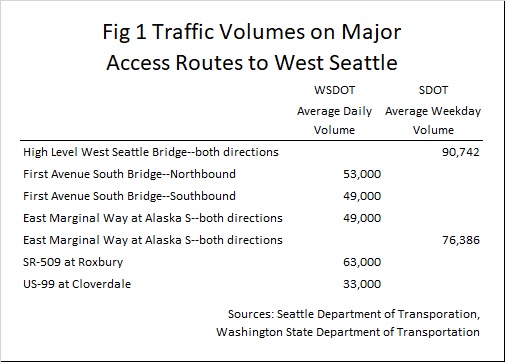 Assuming that the City of Seattle continues to restrict use of the low level Spokane St. Bridge, the most obvious substitute for the West Seattle bridge is the First Avenue South Bridge, which is part of US Route 99. Total daily volume on the bridge is over 100,000 cars, and the two-structure crossing has three general purpose lanes in each direction, like the West Seattle Bridge. Northbound traffic on the First Avenue South Bridge splits as it reaches East Marginal Way, with most traffic continuing north. WSDOT shows a daily average of about 50,000 cars northbound on East Marginal Way, and SDOT shows an average of 76,000 cars per weekday (figures are not strictly comparable). According to SDOT, this stretch of East Marginal Way (which is part of US-99) has been the second busiest arterial in Seattle, after the West Seattle Bridge, with more volume than even such crowded arterials as Aurora Avenue North.
The two freeways heading south from West Seattle do show lower volumes. SR-509, coming from Burien, has about 63,000 cars per day in both directions. US-99, coming from Tukwila, has about 33,000 cars per day. These lower volumes should help those commuters who live or work to the south and do not need to use the First Avenue South bridge itself.
Older data from the South Park Bridge, before its replacement, showed about 20,000 cars per day crossing the Duwamish on 16th Avenue South. For those working in South Seattle, this route may prove the least congested–until it gets "discovered." With a fairly direct route to I-5, this bridge may become an alternative for those heading north.
The ability of these bridges and arterials to absorb more traffic will become apparent as West Seattle commuters return to their daily travel patterns during the gradual reopening of economic activity. A second unknown will be the return of Metro Transit service to normal, predictable levels, such that some commuters who have been driving can switch to transit. The availability of a natural phase-in period for these adjustment may be one small silver lining to the misery of the coronavirus shutdown.
Inbound commuters
It is not just the people living in West Seattle who need to get to work each morning through one of the very limited ways out of that area. About 17,000 people commute into West Seattle each day, and transit options are even more limited for them.
Figure 2 shows the origins of people commuting into the four main West Seattle zip codes. This data, from the Census Bureau's Longitudinal Employer-Household Dynamics (LEHD) program, has important limitations, which are outlined below. These limitations would tend to apply less to those commuting into West Seattle than to those commuting out, so the data are likely reasonably accurate. (The portion of West Seattle in the 98146 zip code is not included here.)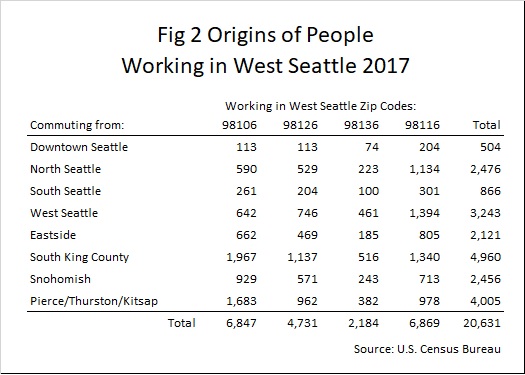 About 16 percent of those working in West Seattle live there, so will not be strongly affected by the bridge closure. Unlike the morning outbound commuters who skew somewhat toward downtown, where transit service is good, a large share of the morning inbound commuters come from areas that do not offer direct transit service to West Seattle.
Over half of inbound commuters come from the south, and could likely make their way along arterials from the south or on SR-509 or US 99. About 7,000 commuters, or 40 percent of the total inbound commute, come from north of downtown or the Eastside, and will likely head toward the First Avenue South bridge. This would generally be a reverse commute direction on the First Avenue South bridge, so the added cars should not pose a huge problem for the bridge itself. But once those cars are across the Duwamish, they need to get to their destination in West Seattle, and the topography of the western edge of the Duwamish basin is not friendly to east-west travel.
Local streets and arterials should be able to absorb this inbound traffic, but there will be slowdowns and, inevitably, complaints about cut-through traffic in neighborhoods.
Note on the LEHD data: This census program matches, for individual workers, the workplace shown on their unemployment insurance (UI) filings with their home address as shown on their IRS tax return. While this data is invaluable, it does have certain limitations. First, it includes only those workers who are covered by unemployment insurance, and therefore excludes self-employed workers and uniformed military personnel. Self-employed workers can be up to 10 percent of the workforce. Second, while employers are required to list the actual worksite of each employee on their UI filings, some employers simply use a headquarters address. Census has no way of knowing when this happens, so some "commutes" will be inaccurate. Third, some workers may work at home or a remote or field site, and not commute to the location shown on their UI filing.