That may not sound like a great number. But considering the predictions of a couple of months ago that unemployment would go over 20 percent and plunge us into Great Depression territory, it is not bad. The June unemployment figures of 9.8 percent statewide and 9.3 percent in the King-Snohomish area, reported July 15 by the Employment Security Department (ESD), are now below the peaks of the Great Recession and well below the peaks of the worst previous recession in the early 1980s.
On the job creation/restoration side, June's data shows 47,000 more jobs in the two-county area since May, and 96,000 more since the low point in April. Figure 1 shows the ongoing job loss status by sector.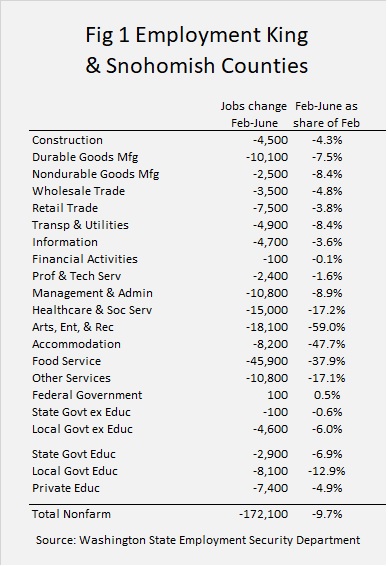 On the private sector side, only the financial services sector is back to its original employment numbers. Several other sectors are back to within 5 percent. Some large sectors, including healthcare, entertainment and hospitality continue to struggle. The surges in coronavirus cases will hit these sectors hard, as offices stay empty (with no one going out to lunch) and patrons remain leery of getting to close. Unfortunately, many businesses that had hung in for a few months will have to permanently close their doors, leaving their employees with no jobs to return to.
Figure 1 also breaks out education employment. The uncertainty over the reopening of schools leaves many education employees in the dark. While K-12 teachers can do their jobs over the internet, closed schools mean no workers in cafeterias, libraries and nurses offices, and there will be no need for school bus drivers. In higher education, closed campuses will leave thousands of staff without work. It appears we will be seeing more job losses in the education sector, both public and private.
Figure 2 shows the rate at which sectors are recovering the jobs that were lost in March and April.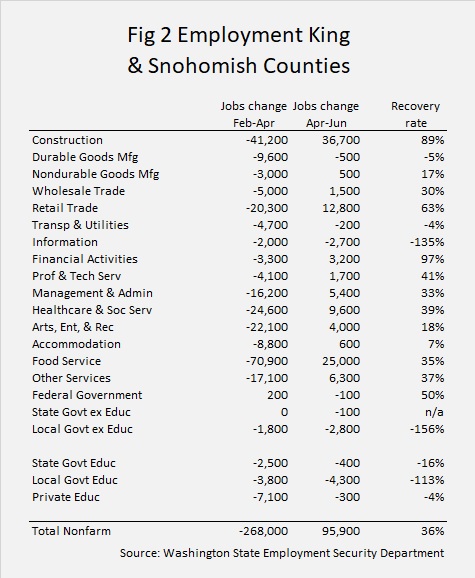 Some sectors are still going backward, but overall, by mid-June, the two-county area recovered just over one third of the jobs lost. Construction is nearly back to its original numbers after massive job displacement. Retail is clawing back, and food service has recovered quite a few jobs, but that large sector remains well behind.
Remember, though, that the two surveys—job creation and unemployment—are conducted separately during the week of the month that has the 12th day. So these figures reflect the employment situation during the week of June 8, when the state was just beginning to reopen many businesses.
Looking Ahead
ESD reports a slight uptick in first-time claims for unemployment insurance during the week of July 6. The number of continued claims dipped slightly and the number of paid claims remained flat. It is quite possible that we have just done the easy part, getting people back to work whose jobs were never in danger of elimination, and that we now need to tackle the hard part, employing those who must find a new job in perhaps a new industry. We will know a lot more as we see the rate at which consumer demand gradually comes out from its shell in the next couple of months.