The unprecedented surge in unemployment claims that have been filed in the past five weeks reflect a combination of economic and policy factors never before seen. As shown below, the number of newly filed claims has dropped in each of the past three weeks, but the State Department of Employment Security (DES) is predicting a surge in claims as new federal benefits roll out. Large numbers of people who have not been eligible for unemployment benefits–mostly self-employed or having had too short a time on the job–will become eligible for regular and enhanced benefits.
Before getting to the numbers, it must be emphasized that there is not a clean link between the data on first-time claims for unemployment benefits and the actual rate of unemployment. DES does not observe when a claimant has gone back to work, so a person may file for benefits one week, and then find a job right away (some employers are actually hiring right now). An individual who has filed for unemployment may not collect a weekly benefit for a variety of reasons, and DES does not look into those reasons. Because UI data does not track re-employment, the official unemployment rate is determined by a household survey.
First, let's revisit the tables from the last report in the Indexer. Figures 1 and 2 show the total first time unemployment claims filed statewide since March 1 for major industry categories (based on 2-digit NAICS codes). Figure 1 sorts the industries by the total number of claims filed, and Figure 2 sorts by the total claims as a percentage of February employment.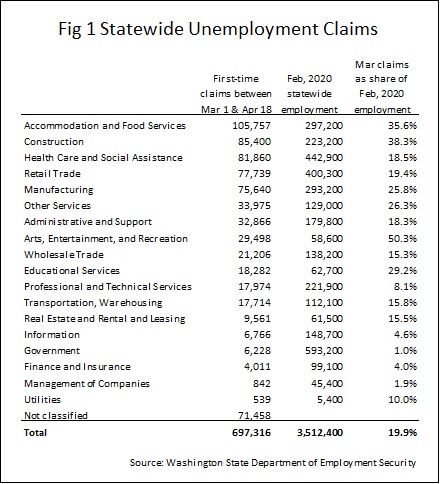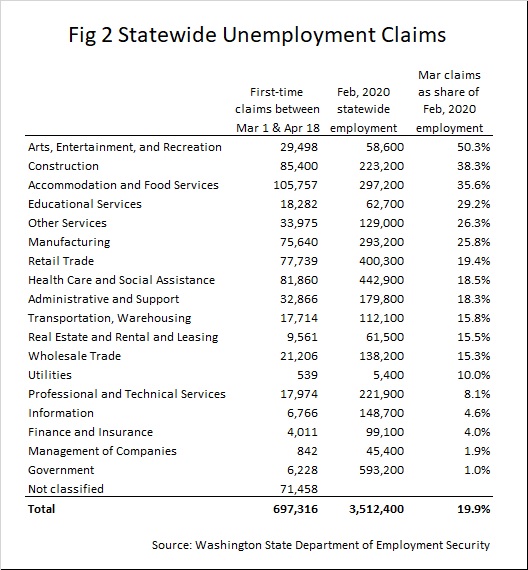 The order of these industries in Figure 1 remains almost the same as two weeks ago. Figure 2 shows some changes, as construction and manufacturing climbed higher, as these sectors experienced shutdowns somewhat later than the accommodations, entertainment and education sectors which were shut down very early in the pandemic.
Figure 3 shows the trend in claims activity for each of the five weeks of major cutbacks.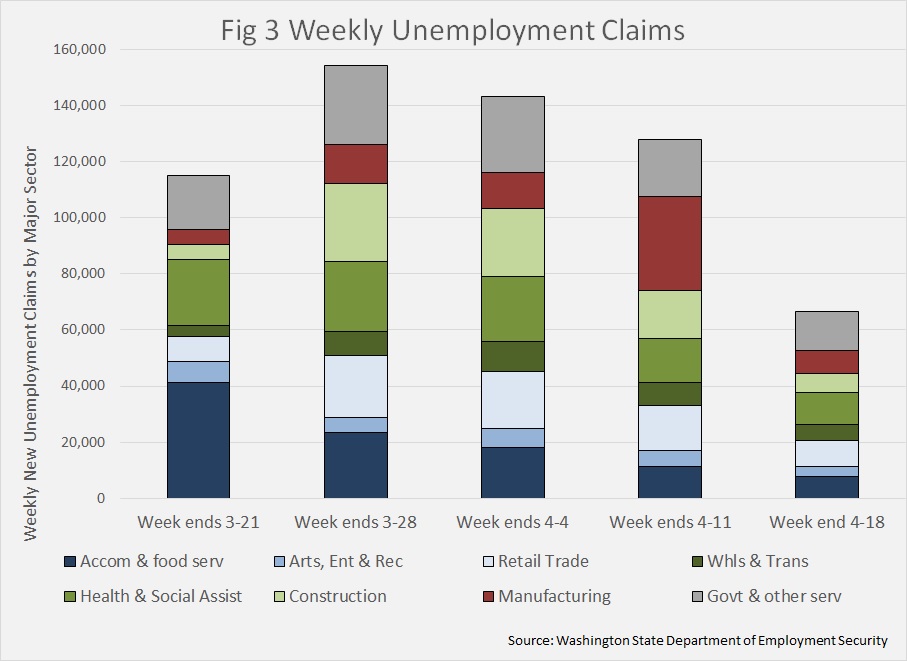 Here we see the gradual tapering off of first-time claims, as sectors settle into their minimal operations. With more generous unemployment benefits available due to federal supplements, firms trying to preserve cash will tend to lay off employees, knowing that many of them will not see a large drop in their personal financial situation. It has been reported that for many workers in low-wage occupations, the new unemployment benefits plus the one-time $1,200 per adult payment, total benefits will exceed normal pay.
There are many odd things happening with the coronavirus pandemic, but we know we are in strange territory when a layoff becomes a favor. But for those with children out of school, that layoff-with-extra-benefits might be just the ticket to sanity. The extra benefits also provide an incentive for a worker to wait until their old job returns, thus allowing employers to take advantage of their training investment.
Figure 4 shows the data from Figure 3 slightly differently.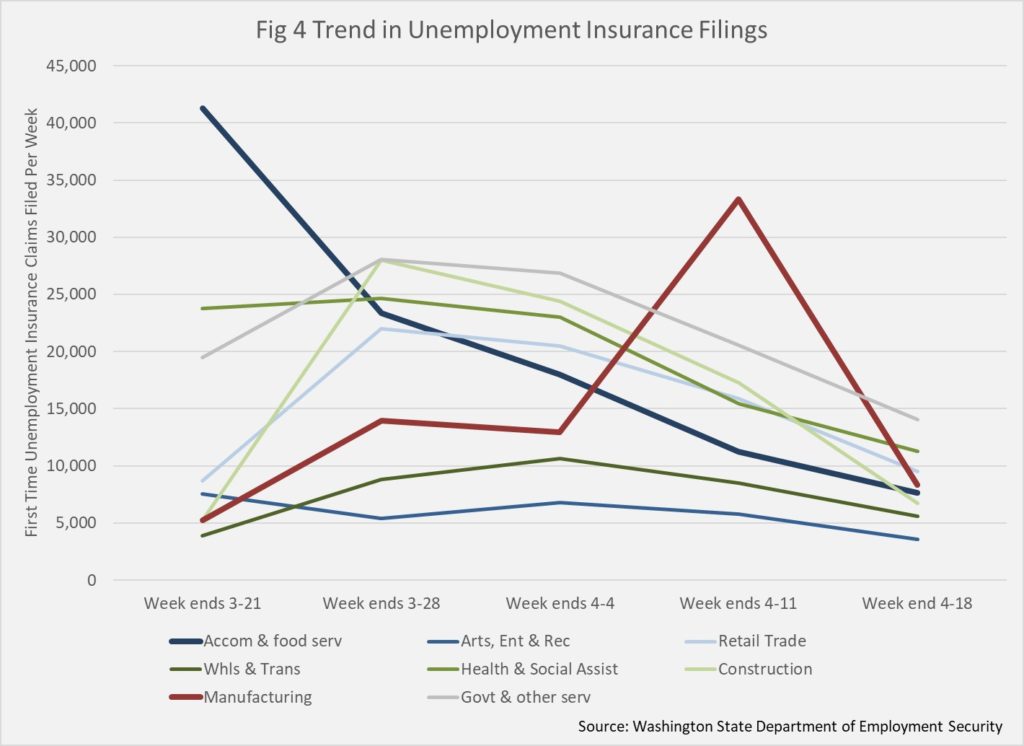 Here we see the pace of claims for unemployment insurance. Highlighted are two sectors of interest. The heavier dark line shows the accommodation and food service sector, which had massive layoffs starting in mid-March when restaurants were ordered closed and hotel occupancy fell dramatically. Those layoffs have continued, but at a lower pace. Figure 1 indicates that in this sector 35 percent of the workforce has applied for unemployment, but with most restaurants closed, and the rest operating at a very low level, the status of the remaining 65 percent of that workforce is not clear.
The heavy red line in Figure 4 shows manufacturing. The large jump represents, in large part, the layoffs at Boeing plants. Boeing had kept workers on the payroll after closing down plants, but furloughed many workers in early April. Those workers have been called back, so the total ongoing unemployment among manufacturing workers will be lower than the claims would indicate.
Employment Security provides unemployment data at a more granular level. Figure 5 shows the total of first-time claims for King County for industries that have seen more than 1,000 claims filed since March 1, at the more detailed 3-digit NAICS level. Note that claims are listed by the address of the worker, not the location of the job. So, since King County is a net importer of workers, the job losses in the county would be higher than shown here.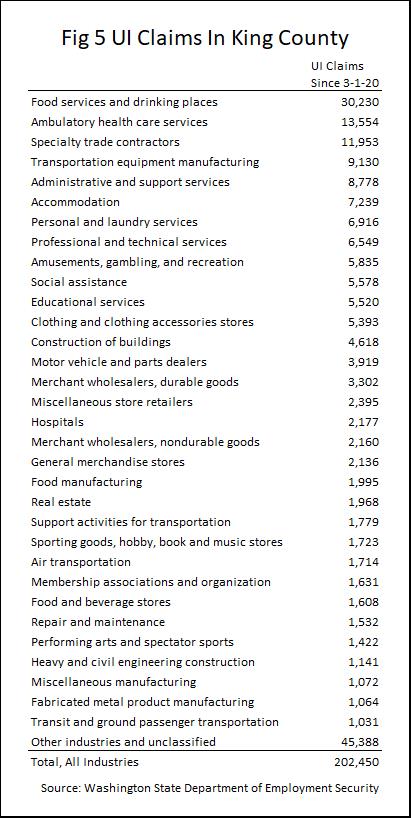 When the data is broken out at this more detailed level we can see just how pervasive the impacts of the coronavirus have been. And many of these sectors with large layoffs represent discretionary purchase and activities, so their recovery will depend on consumer confidence and sentiment.
Questions going forward are:
How large a surge in claims will come when newly-eligible workers are included?
Will households that have not been negatively affected spend freely once they are allowed to do so?
Will money that might otherwise be spent out of state on vacations and business travel be spent in-state?