2020 has been a tough year for transit agencies. Fewer workers are commuting to jobs in the sorts of dense employment centers that favor transit, and others are reluctant to board a bus or train with strangers.
As the year closed out, there were no real bright spots for the agencies in the Puget Sound region in terms of ridership. The Federal Transit Administration's National Transit Database shows that agencies finished the year with little recovery from the initial lockdowns and mostly flat ridership over the past six months. Figure 1 shows an index of unlinked passenger trips for eight transit agencies in the Puget Sound area for 2020.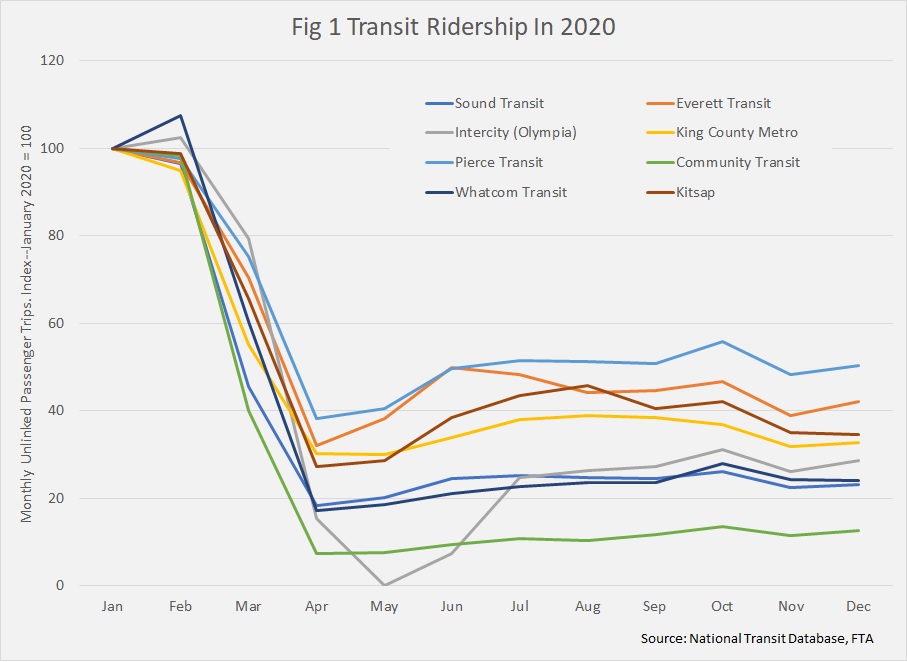 Ridership dropped immediately in March and April, but only recovered slightly for all agencies as the year progressed. While a good deal of commercial and recreational activity started up during the year, the kinds of activities that use transit—commuting to dense office centers and campuses—remained mostly shut down.
Figure 2 shows the total ridership for the second half of 2020 compared to the second half of 2019.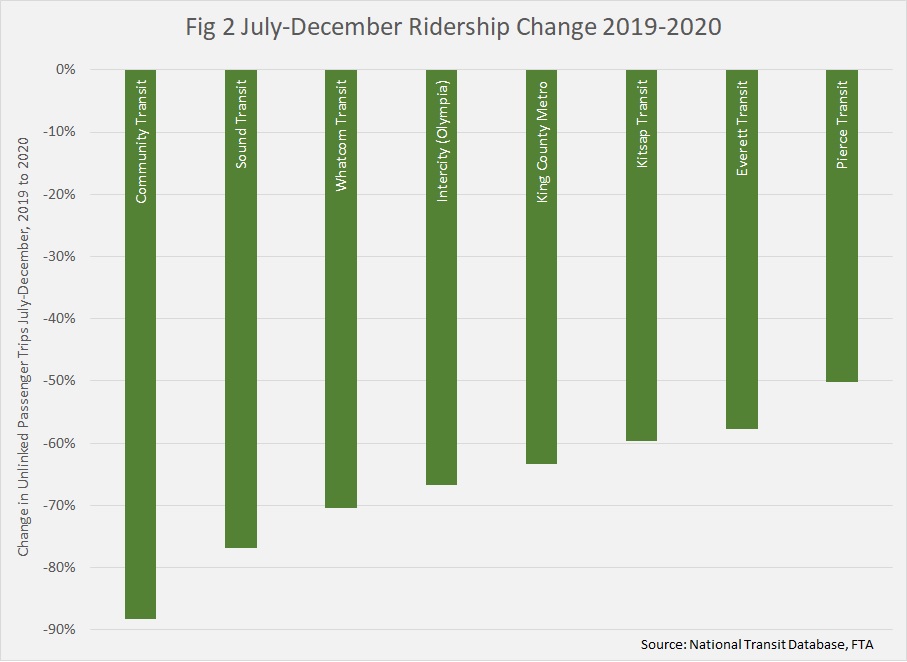 The agencies that emphasize commuting have been hardest hit. Community Transit serves large numbers of commuters from Snohomish County to King County, and Sound Transit's commuter bus service is also oriented towards dense centers. More locally-oriented agencies will tend to serve higher numbers of transit-dependent riders who have fewer choices.
There has been a great deal of concern about the funding of transit agencies. They receive the great majority of their funding from two sources, both of which are problematic in the pandemic environment. Agencies receive the largest share of their funding from sales taxes, which have been down due to lower activity in many taxable sectors. Agencies also rely, to varying degrees, on revenue from fares paid by riders.
By the end of the year, sales taxes had begun to recover reasonably well. Figure 3 compares revenue miles, unlinked trips and sales tax receipts for King County Metro for the past two years. The index is set for January, 2019.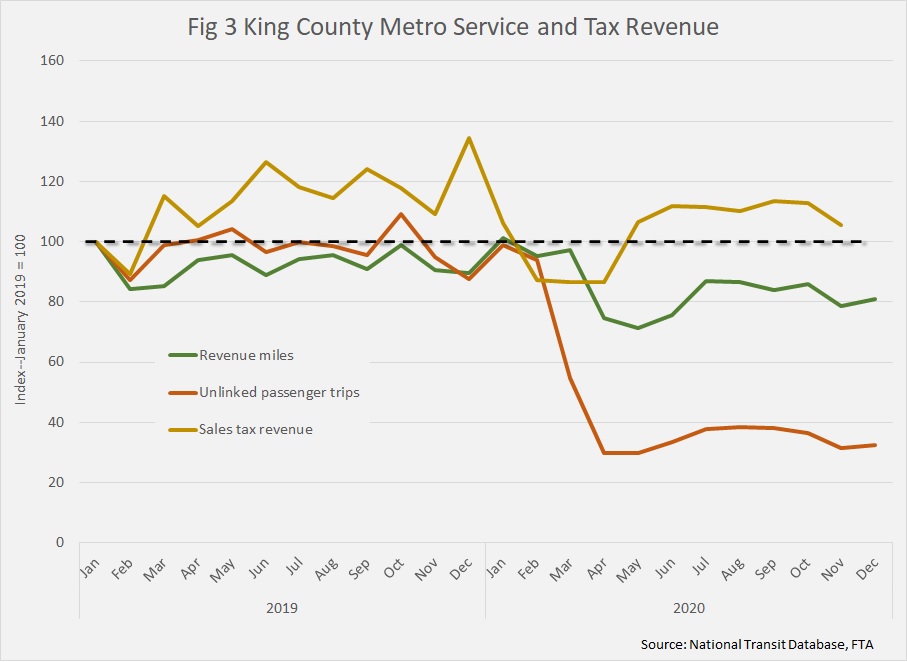 While trips remained at 35 to 40 percent of January levels, service remained at around 80 percent of normal. Metro was able to maintain all that service, with many fewer passengers, because its sales tax revenue recovered quickly and was running ahead of January, 2019 levels by mid-year. For Metro, January through November 2020 sales tax revenues were about 8 percent below 2019, while July-November revenues were down about 5 percent. Fares were eliminated during the early days of the pandemic, and will be down substantially for the year.
Looking Ahead
Like other businesses and government agencies that provide services to dense office and campus environments, transit providers face a high degree of uncertainty about the future of those places. If work-from-home becomes more of the norm, there will be less traffic congestion and likely lower parking costs, taking away transit's two main competitive advantages. So, not only will there be fewer commuters overall, but fewer of them will opt for transit.
Tax revenues will recover, so permanent reductions in service may not be as large as the drops in ridership would suggest. But as we have noted, low-occupancy diesel buses are a net negative when it comes to energy use and carbon emissions. Transit service strategies that have worked well for generations may need some rethinking.