And as for the stuff itself? If it was a car, you have about a 50-50 chance of getting it back. If it was something else. . . pretty low odds you will see it again.
The Washington Association of Sheriffs and Police Chiefs released Crime in Washington 2019 last week, and it does seem to have some good news. Total reported Group A crimes (the most serious) were down 6.1 percent from 2018, with crimes against persons down 2.9 percent and property crime down 7.9 percent.
But as the Indexer noted, the Seattle area has a very high rate of property crime, so those reductions start from a high base. The vast majority of property crime consists of theft of one kind or another. So, what are the chances that thieves will be caught and what are the chances that the victim will see their stolen property again? Crime in Washington provides data on crime reports, arrests and recovery of stolen property, so we can see where specific crimes happen and the rate at which police departments are able to make arrests and return stolen property.
Arrest Rates
Figure 1 shows the arrest rates for all property crimes for the 25 largest cities in King County, as well as unincorporated areas. These figures likely exaggerate the number of crimes that are resolved, since there can be multiple arrests for the same crime.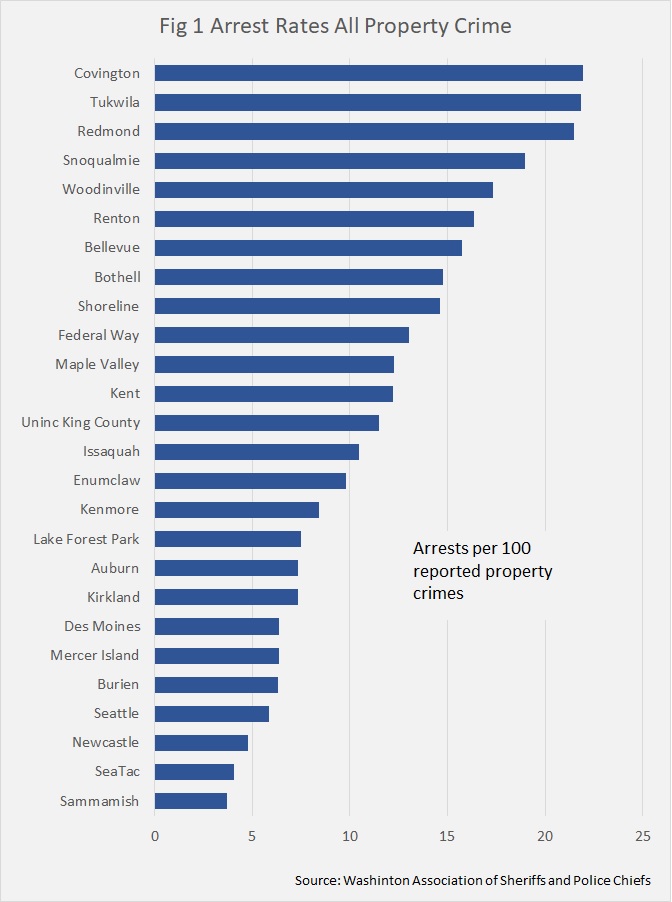 Countywide, arrest are made in fewer than 10 percent of property crime cases. The high degree of variation in arrest rates reflects differing crime and policing situations in each jurisdiction, but it also likely represents differing reporting procedures. Crime reporting has improved, but it still can be quite inconsistent across departments.
Figures 2 and 3 show the reported crimes, arrests and arrest rates for the four principal property crimes. Definitions are given at the end of the article.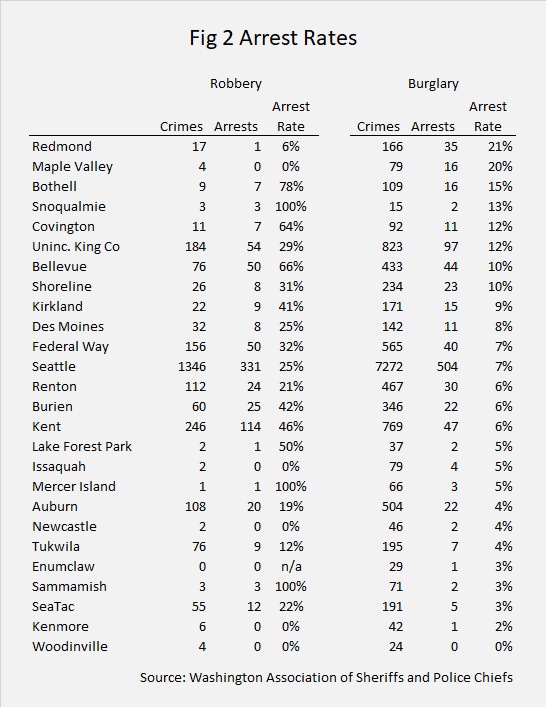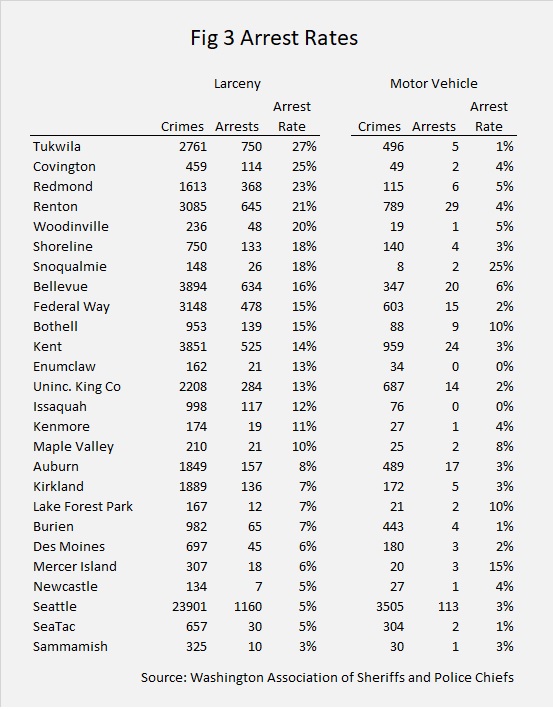 The first thing to notice is that the arrest rate for robbery is quite a bit higher than for the other crimes. Robbery is defined as theft that involves violence or the threat of violence, and is considered both a property crime and a crime against persons. 24 percent of robberies in the state involve a firearm and 24 percent involve other weapons. Just over half of all robberies in the state involve what are known as "personal weapons," defined as hands, fists, feet etc. 23 percent of those arrested for robbery were juveniles.
Also of note is the very low arrest rate for motor vehicle theft. At the same time, statewide, of the total value of motor vehicles stolen, 56 percent is recovered. 14 percent of those arrested for motor vehicle theft in the state were juveniles.
Interestingly, there is no correlation at all between crime rates and arrest rates. Figure 4 shows the relationship between property crime rates and arrest rates for property crimes for 25 of the 26 jurisdictions (Tukwila, a significant outlier, is not shown).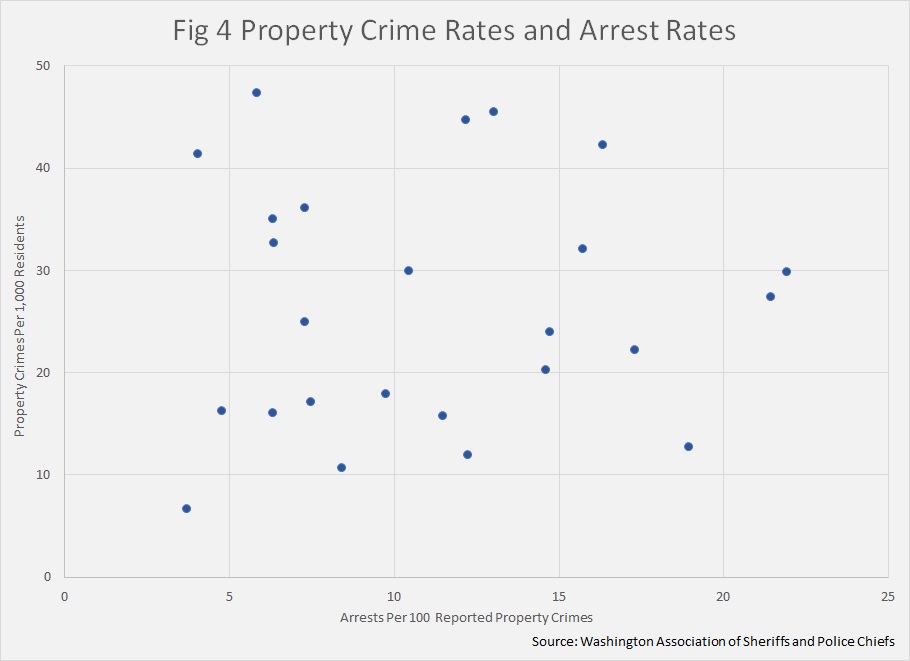 It would be reasonable to expect that high crime rates would correlate with low arrest rates, and vice versa: police resources get stretched thin, and there are fewer resources for investigations. But Tukwila, which is not shown in Figure 4, has both a high property crime rate and a high arrest rate for some crimes. Sammamish, on the other hand, has a very low rate of property crime, but does not report much success in apprehending the perpetrators that it does have.
Recovery
As far as getting your stuff back? Reported rates of recovery of stolen property are all over the map. Figure 5 shows the value of reported stolen property, the value of recovered property and the rate of recovery. It also shows the values and rates for the state.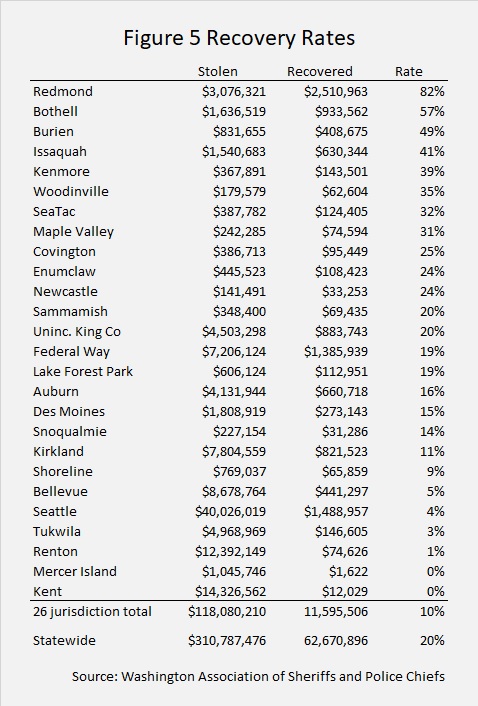 Some of the very low recovery rates should be approached with caution. After all, a reasonable share of the value of stolen goods consists of automobiles, and a large share of that value is recovered, so there are likely some data anomalies in Figure 5. Nonetheless, it does give a sense that the likelihood of recovering stolen property other than cars is small.
Looking Ahead
Current high rates of property crime suggest that existing levels of policing are not sufficient to deter crimes. Cuts in policing will likely result in even fewer resources dedicated to non-violent property crime, especially investigations. So if current debates result in cuts to police forces, we can reasonably expect both higher property crime rates and lower rates of arrest and recovery.
A good deal of property crime consists of "crimes of opportunity." That is, the thief was not setting out to steal something, but an opportunity presented itself: an open door, keys in a car, valuables let outside. Budgets for crime prevention have not been especially high, but in the new environment, ounces of prevention might have to substitute pounds of cure that are not being funded.
Definitions from the FBI's Uniform Crime Reporting system
Property crime: includes the offenses of burglary, larceny-theft, motor vehicle theft, and arson. The object of the theft-type offenses is the taking of money or property, but there is no force or threat of force against the victims.
Larceny-theft: the unlawful taking, carrying, leading, or riding away of property from the possession or constructive possession of another. Stealing of any property or article that is not taken by force, violence, or fraud.
Burglary: the unlawful entry of a structure to commit a felony or theft.
Robbery: the taking or attempting to take anything of value from the care, custody, or control of a person or persons by force or threat of force or violence and/or by putting the victim in fear.