Driving behavior continues to be one of the better (or at least more available) surrogate measures of economic rebound. The Indexer has noted increases in driving to various activities, and trends in gasoline refining, which tracks driving very closely.
We have also added a chart to the page with a weekly update on Apple's Covid-19 Mobility Tracker, which provides total requests for directions from the Apple Maps app. We can use the Apple data to see how the Seattle area compares with other cities in its driving behavior, by looking at requests for directions specifically for car driving.
Figure 1 shows an index of direction requests for six West Coast cities, based on March 1.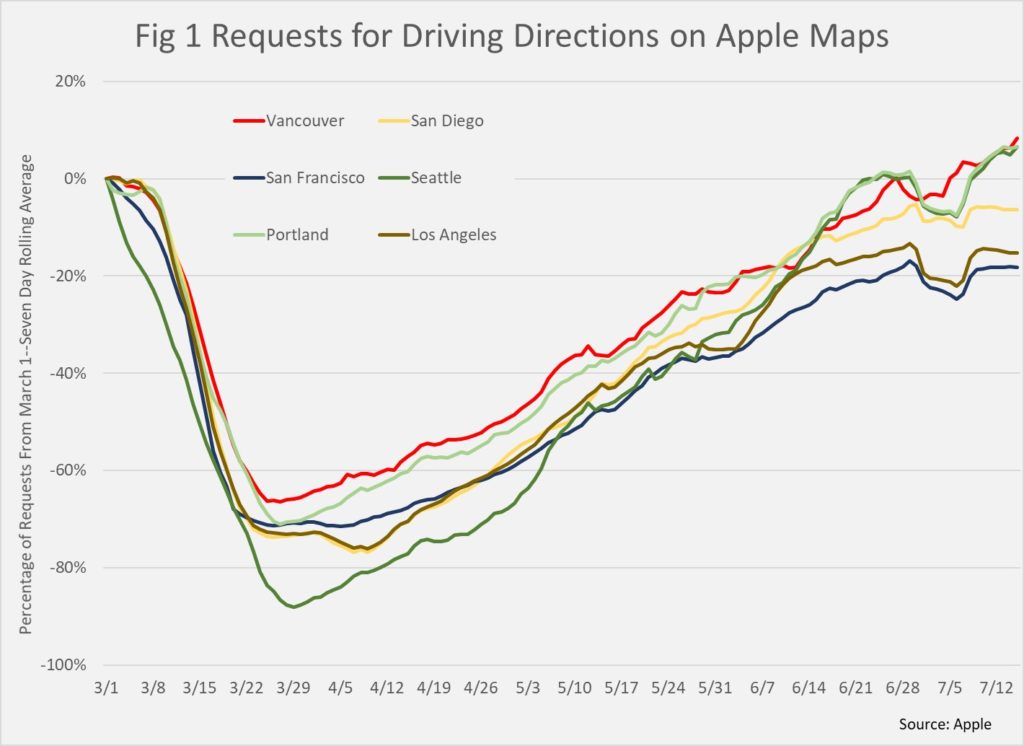 Vancouver never fell as far and continues to lead the pack. Seattle, which fell the farthest, is close behind Vancouver and Portland with all three Northwest cities now showing more driving direction requests than in March. Given the summer driving season, and the trend toward vacationing close to home, this is understandable.
The three California cities were in the pack but have flattened out in the past few weeks. Covid-19 cases began to surge in the state in June, likely causing fewer people to venture out.
West Coast gasoline production remains about 10 percent below the same period last year, so it appears that the trips may be a bit shorter or more trips are being taken to unfamiliar places.