Readers of two national daily newspapers would be forgiven for a little confusion on September 4,  the day the Labor Department released its August jobs and unemployment estimates:
Washington Post: U.S. added 1.4 million jobs in August as economy shows signs of rebound
New York Times: U.S. Adds 1.4 Million New Jobs in August, Showing Slow Recovery
Well, is it a "rebound" or a "slow recovery?"
It all depends on expectations. Figure 1 shows the progression of the unemployment rate in the past two recessions, with both lines centered on their peak rate.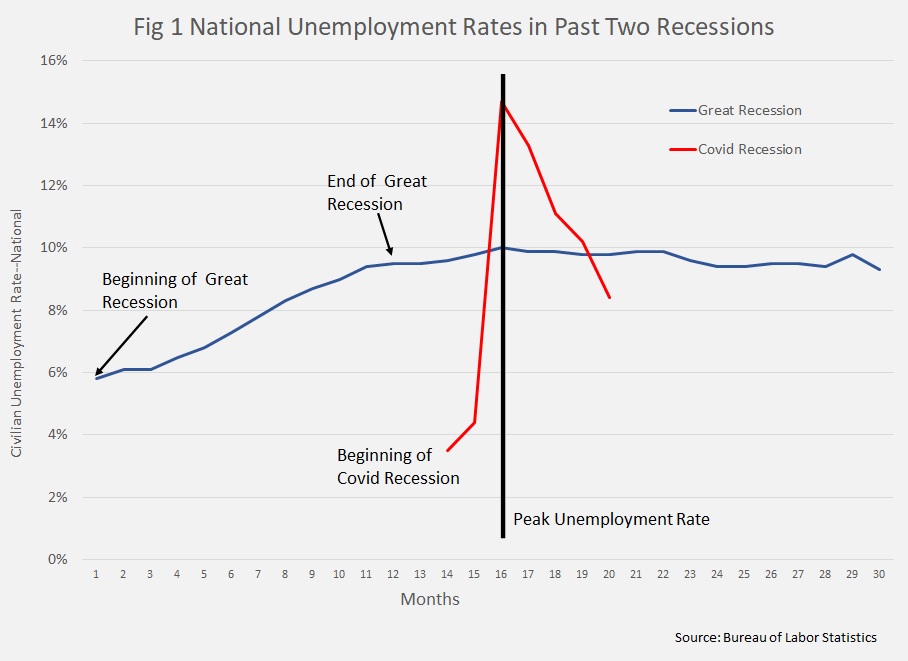 These are two extremely different pictures. The Great Recession started officially in December, 2007, and ended in June, 2009. But unemployment did not peak until October, 2009, and a year later had fallen only 0.6 percent. The Covid recession began officially in February, and unemployment peaked two months later, in April. The August, 2020 unemployment rate is 8.4 percent, and it took 27 months for the rate to get that low after the peak of the Great Recession.
So, compared to the last downturn, the economy is recovering at a blistering pace. But enough forecasters had suggested a very rapid "V" shaped recovery that many hold expectations of an even faster recovery. The fact is, certain sectors like travel and entertainment cannot recover until a vaccine is well established. As the Indexer has suggested before, we are looking at more of the Nike Swoosh recovery.
The easy part of the recovery is done and happened very fast. We will now have a slower slog forward.
Both headlines are right.