A month ago the Indexer created a quick and dirty look at the progress of economic recovery in the Seattle area, and suggested that, among the many visual metaphors available, the recovery was resembling the Nike Swoosh: steady, if not dramatic, progress.
Well, a month later, the Swoosh seems to be sagging. The indicators* have flattened, at the national, state and regional level, and economic activity has stalled below the March 1 benchmark. Figure 1 shows an update of the chart from a month ago.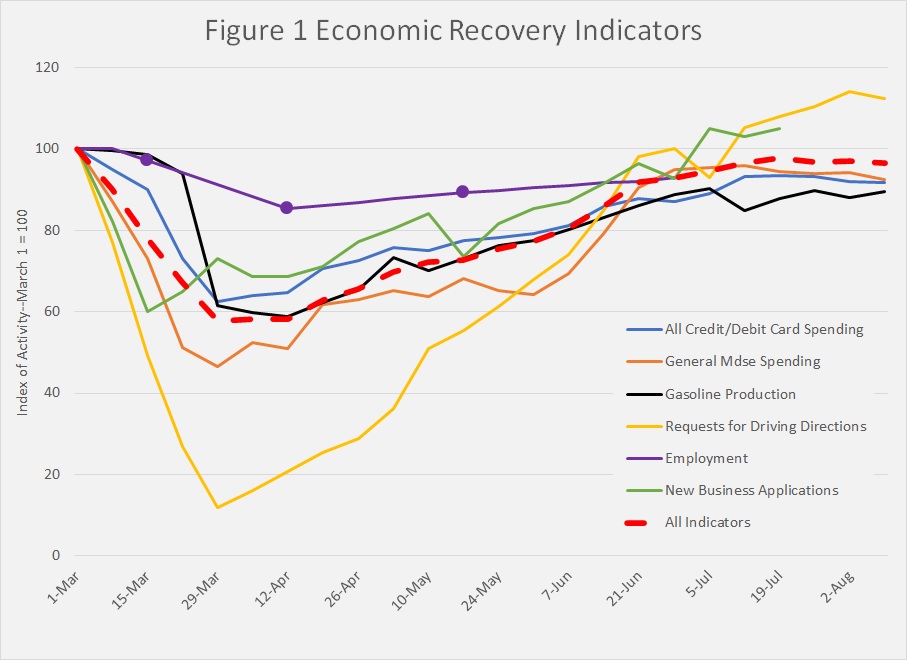 For this update we do not have July employment numbers. But the weekly figures for unemployment insurance continued claims and paid claims have been declining very slowly, and the national numbers for July showed only modest job growth. We should not expect too much improvement when the state employment and unemployment numbers for July come out on August 19.
Note the lines showing credit and debit card spending. The light blue line shows all spending and the orange line shows spending at general merchandise stores like Fred Meyer and Walmart. Both of these lines have flattened, stalling at 7 to 8 percent below the March 1 benchmark. Credit and debit card spending has also flattened at the national level.
Driving direction requests are up, but these are not seasonally adjusted and may reflect summer driving habits. Gasoline production on the West Coast has flattened and is running about 15 percent behind the summer of 2019. Business applications are up, but that data has a lag of a couple of weeks, so we will see if the entrepreneurial spirit is flagging too.
So, here we sit within striking distance of the old normal, but not quite able to get there. A coincidence to think about: all credit/debit card spending is down 7.5 percent, and that is pretty much exactly the state employment share for the beleaguered leisure and hospitality sector, which remains down over 40 percent from March 1.
Hard to imagine full economic recovery while leisure and hospitality remain so far back. And with every surge in COVID cases, the sector gets slammed again. Will this sector be able to attract the investment needed to finish retooling itself into forms that are safe and sustainable and still meet the obvious demand for arts, entertainment, dining and travel?
*Indicators
All spending. Based on credit and debit card data collected by Affinity Solutions and compiled by Opportunity Insights. Covers all transactions involving credit and debit cards. King and Snohomish Counties
General merchandise spending. Based on credit and debit card data collected by Affinity Solutions and compiled by Opportunity Insights. Covers transactions at general merchandise (such as big box) stores and apparel stores. King and Snohomish Counties.
Gasoline production. Data on refining of gasoline on the West Coast. Compiled by the U.S. Energy Information Administration. Storage capacity is limited, so refining data closely tracks consumption data, with a small lag.
Driving Directions. Data on number of requests for driving directions on Apple Maps. King County.
Employment. Estimated employment from U.S. Bureau of Labor Statistics monthly survey of employers. King and Snohomish Counties.
Business applications. Data on number of applications for business licenses. Compiled by the U.S. Census Bureau. Washington State.
All indicators. An unweighted average of all six indicators.