On April 29, the Boeing Company made its long-anticipated announcement of production and employment cuts, in response to the dramatic drop in travel demand. The largest share of these cuts will affect commercial aircraft manufacturing operations in Washington State. Boeing has a long history of ups and downs in production and employment, and we are getting ready for another one of the downs.
Figure 1 shows deliveries of new Boeing aircraft from 2000 to the present, with a projection for 2021 based on Boeing statements. With the technical problems plaguing the 737MAX, and complete aircraft (minus the fixes that are pending approval) stacking up on ramps all over the country, actual deliveries of 737s to airlines is not a helpful measure for 2019 and 2020. The projection for 2021 assumes that the 737 follows the normal pace of production and delivery.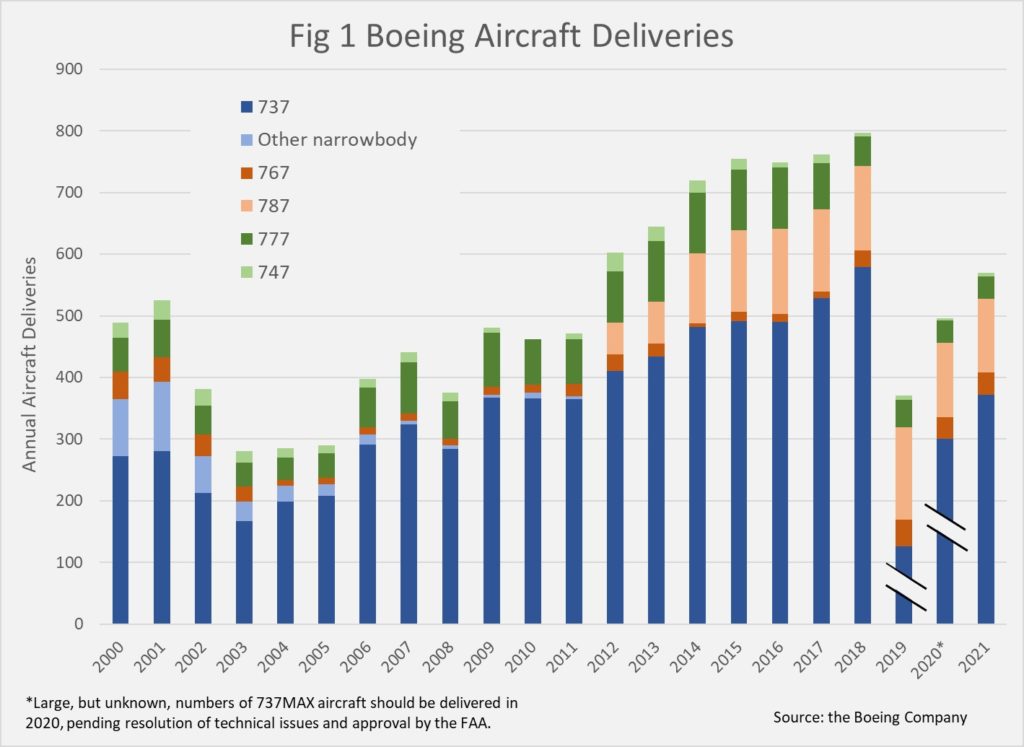 Before the post 9-11 production downturn of 2002, the company had been delivering about 500 planes per year, including the now discontinued 717 (the old Douglas MD-90) and 757. Deliveries bottomed out in 2003 and gradually crawled back. The long delays in finishing the 787 slowed deliveries, as airlines stopped buying the older 767, but could not get their hands on the new Dreamliner. Boeing gradually ramped up deliveries of the 737, and once the 787 program hit its stride, overall deliveries shot up. The 777 has been a consistent and very profitable performer, but sales have slowed as airlines wait for the new 777X. The 747 and 767 continue in production, but at low levels.
If Boeing's near-term projection holds, the company would be producing aircraft at about the pace of 2011 or 2012. But with fewer employees. Figure 2 shows the rate of aircraft deliveries—narrowbody 737s in Renton, widebodies in Everett—alongside statewide aerospace employment (almost entirely dedicated to building Boeing planes).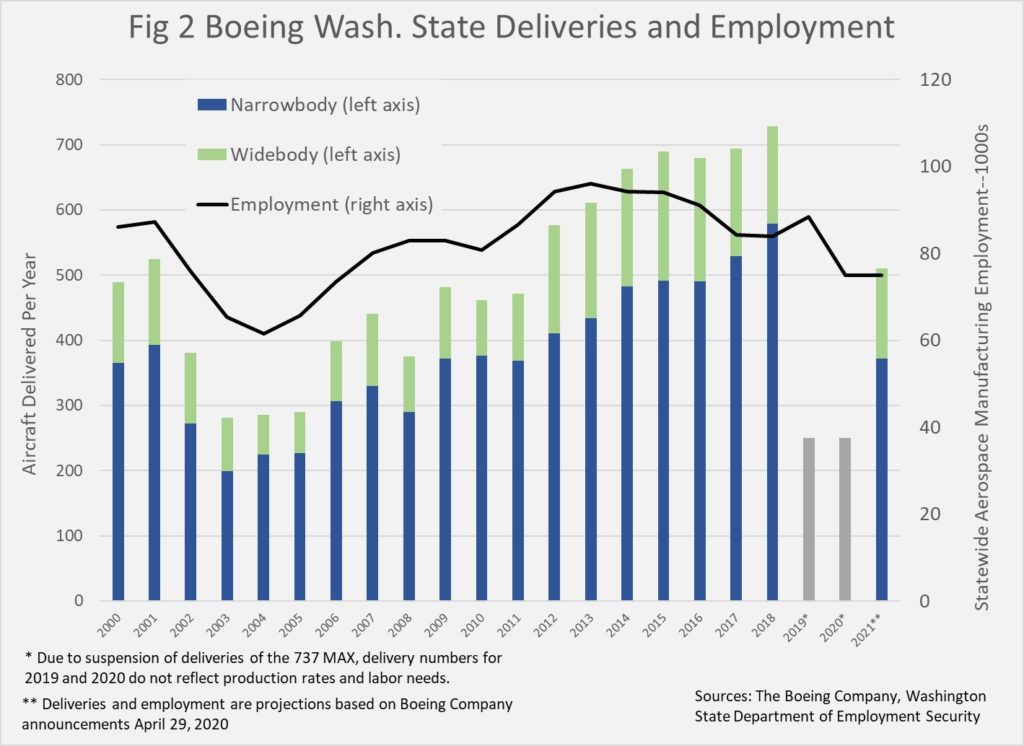 Assuming that the Boeing subcontractors included in the total aerospace employment figure also reduce their headcounts, the industry will be operating with a lean workforce. From 2010 to 2015, after the 787 entered production, Boeing and its suppliers averaged about 165 Washington employees per aircraft delivered. From 2015 through 2018, that had dropped to 123 employees per delivered aircraft. In 2021, according to Boeing projections, that figure would be around 150 aerospace employees in the state per delivered aircraft. Engineering headcount will be lower if Boeing delays development of its next new "clean sheet" aircraft. (While Boeing does have employees in Washington doing defense, space and other work, the overwhelming majority of its state workforce is on the commercial side.)
Not surprisingly, Boeing remains bullish about future commercial aircraft demand. Its 2019-2038 Commercial Market Assessment shows projected demand for over 32,000 new single-aisle planes and over 8,000 widebody planes over the next 20 years, distributed among Boeing, Airbus and other market entrants. The projections say that 44 percent of these aircraft will replace existing planes, and 56 percent will serve new demand. The document has a chart showing how travel demand persistently recovers after economic downturns, but that does include a downturn driven by people's fear of sitting too close to a stranger. Airlines will need a whole lot of creativity to overcome this fear and fill aircraft in economically viable ways.