It has been a tough year for apartment owners. Rents have fallen in most markets in the Seattle area, and eviction moratoria have created confusion and mixed messages and expectations. Getting back to stability will take a while.
Meanwhile, rents remain high in the area for many households. Even with recent drops, too many households will pay too much of their income for monthly rent. The Census Bureau keeps track of this problem through a statistic called GRAPI, or Gross Rent As Percentage of Income. As a rule, rent should not exceed one third of a household's gross income, but it often does.
Figure 1 shows the share of renter households in larger cities in the region that are paying more than 35 percent of their income in rent (the chosen cities had a reasonable margin of error in the data from the American Community Survey's 2015-2019 average).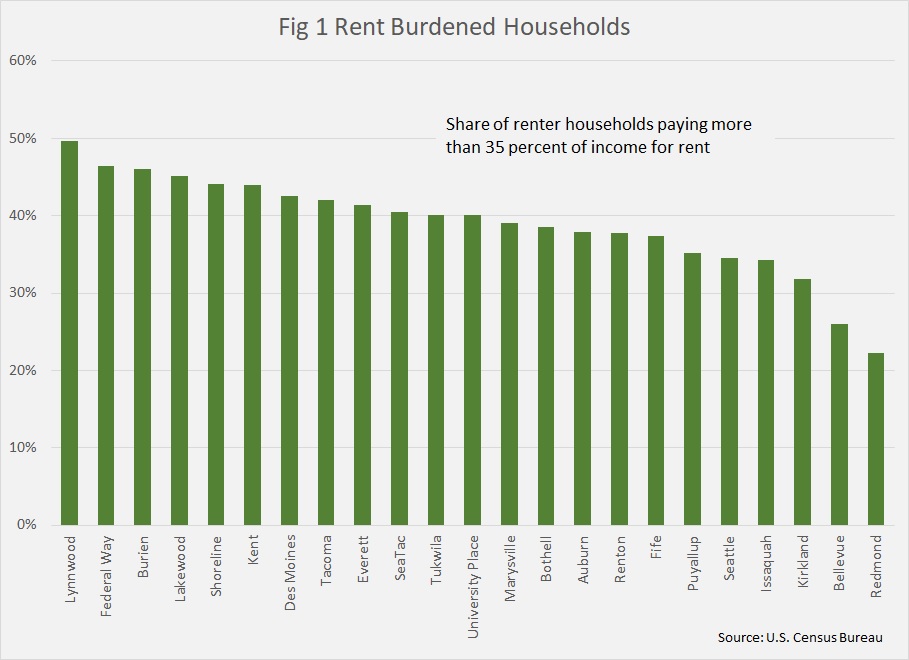 Half of all renter households in Lynnwood would be considered "rent burdened," and we can assume that within that 50 percent, a large number of households are paying much more than 35 percent of their income in rent.
But note that the cities with the highest rate of rent burden are also markets that would be considered more affordable. In other words, lower income households are gravitating to places they can just barely afford. Figure 2 shows the relationship between rates of rent burden and rent levels. (The rents shown are from June, 2019, corresponding to the final year of the ACS average)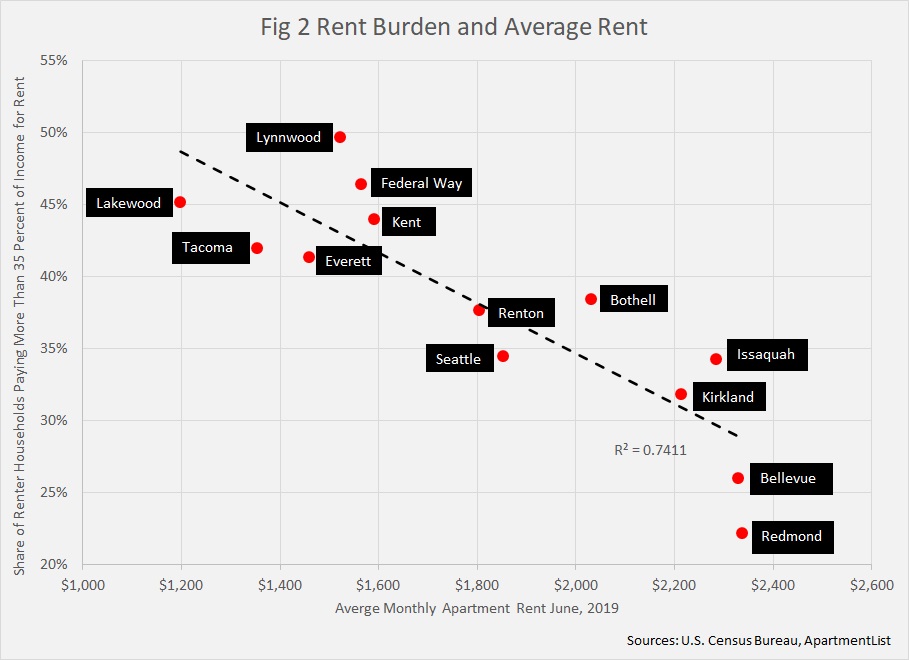 There is a remarkably strong negative correlation between rent burdens and rent rates. Expensive markets have squeezed out those who cannot pay as much, and landlords in those markets are less likely to rent to a household that seems financially stressed.
The drops in rents we have seen in the past year have mostly happened in expensive markets where renters have bee less likely to be burdened. Rents in markets that are both more affordable and have high rate of rent burden, have actually risen. Rents have risen sharply in Tacoma and Lakewood, and have risen more modestly in Everett, Kent and Federal Way. Rents have fallen slightly in Lynnwood.
Looking Ahead
We are starting to see an equalization of rents across the region, with rents falling in expensive areas and rising in less expensive areas. If, indeed, fewer people need to commute to Seattle, Bellevue and Redmond, this makes sense. The classic theory of metropolitan economics says that rents should fall as commutes lengthen. So if, as a practical matter, commutes are shrinking for residents of outlying areas (because they can work at home) we would expect rents to go up there. At the same time, if the commute savings of being close to employment centers shrinks, rents in central area should decline.
The settlement of rent patterns around the region is yet another case of waiting to see how much commute patterns change. A daily commute to downtown Bellevue from an affordable apartment complex in Kent would have been a daunting prospect a year ago. But if a renter is looking at commuting only two or three days a week, on less congested roads, that commute might be worth saving some money by not renting in the expensive Bellevue market.
This equalization will be brutal for the lowest income renters. If markets like Kent and Federal Way continue to get more expensive, the lower income renters now living there have few choices of where to go as they are priced out. And falling rents in Kirkland or Redmond will do little to help a household that can barely afford to live in the least expensive markets.