Internet commerce has been making steady inroads into retail trade, but got a major bump during the pandemic lockdown. With access to physical stores either blocked or unappealing, consumers turned increasingly to the internet. And as stores across the country close in large numbers, Amazon announces the hiring of yet another 100,000 workers.
Figure 1 shows the composition of retail trade since 2015, along with the growing share of the retail pie claimed by e-commerce.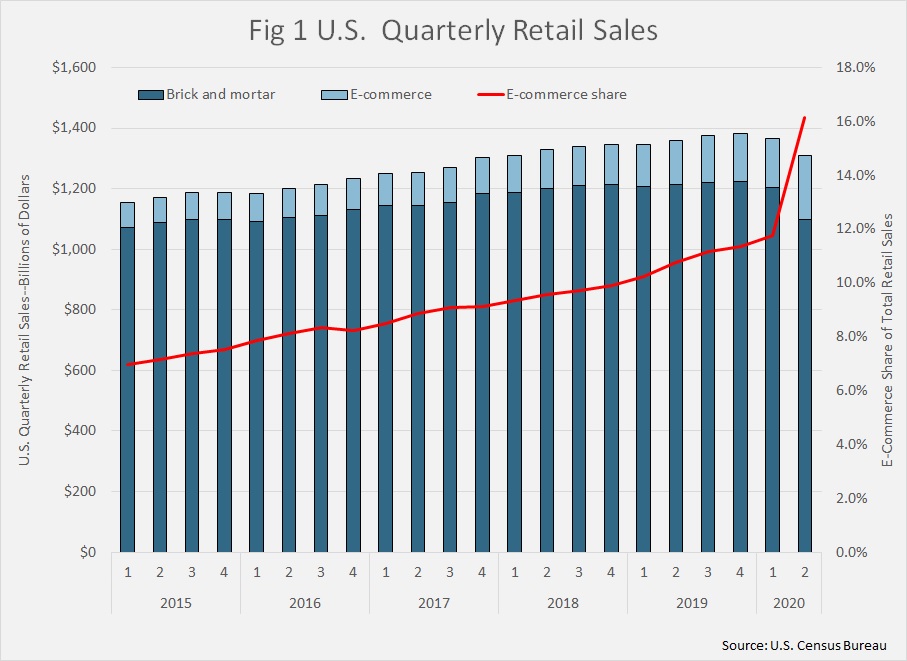 From 2015 through 2019, total retail sales grew an average of 3.4 percent per year. During that time, sales in physical stores grew an average of 2.6 percent while internet sales grew an average of 10.9 percent. On-line sales claimed seven out of every 100 retail dollars in 2015, and over 11 in 2019. Then the lockdown hit. Internet sales jumped from 11.3 percent of sales in the fourth quarter of 2019 to 16.1 percent in the second quarter of 2020.
But don't count the brick and mortar retailers out yet. Internet sales are split about evenly between on-line only outlets like Amazon (yes, it has some bookstores, but. . .) and the internet operations of physical retailers. Figure 2 shows the split of on-line sales in the second quarter of 2020. All pure-play internet retailers are contained in the large blue box, and the other boxes represent the internet sales of brick and mortar stores.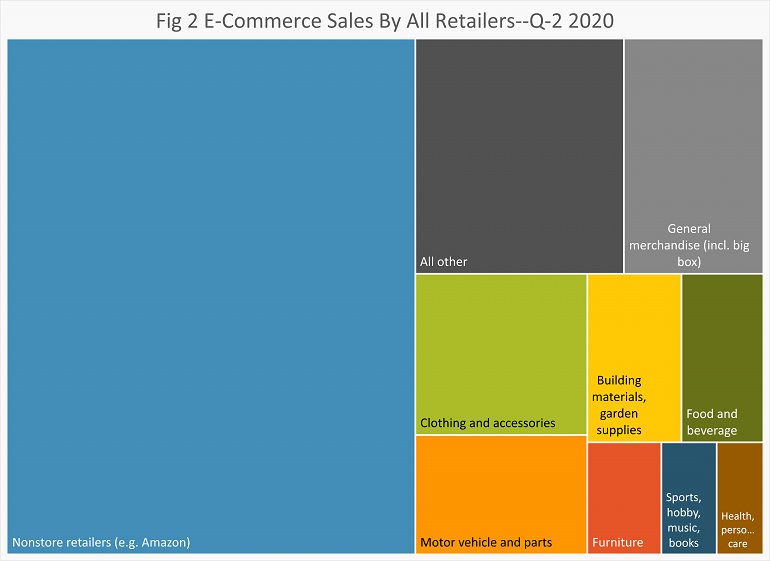 The non-store retailers account for 54 percent of all on-line sales. This is down from 60 percent just a year earlier. During the lockdown, online sales surged for food and beverage, big box and home improvement stores. Clothing stores, which suffered badly during the lockdown, did make up some ground with on-line sales. And the on-line sales operations of physical stores benefited from Amazon's struggles early in the shutdown.
Looking Ahead
Shoppers have developed new habits out of necessity or lack of desire to go out in public. As fear of contagion subsides, will they return to the malls and big boxes? Will e-commerce revert to the mean level of growth that it had been experiencing? Or will the new habits stick? The August advance retail report, which will show growth in pure play internet retailers, comes out September 16. The next quarterly e-commerce report (which Figures 1 and 2 are based on) comes out around November 18.