Seattle has been among the most successful U.S. cities in encouraging transit ridership into its downtown core. This has enabled the city to increase employment density while providing less parking and making a downtown commute cost effective for workers.
But transit has run into a serious roadblock with the coronavirus crisis: social distancing is inconsistent with traditional public transit service. It is not clear how many people will return to transit once they return to work. It is also not clear how previous transit riders who cannot return to transit will get to work. This is an especially large problem for Downtown Seattle, where parking is expensive and there is simply not enough space for circulation or parking of more vehicles.
What do we know about the Downtown Seattle workforce and its commuting habits? Figure 1 shows the number of commuters into four downtown zip codes, according to the Census Bureau's Longitudinal Employer-Household Dynamics (LEHD) program. This program matches home addresses of employees, via their IRS tax return, with work addresses of their employers, via unemployment insurance filings. The program is subject to certain errors, so must be used with caution, but it does provide some glimpse of commuting patterns.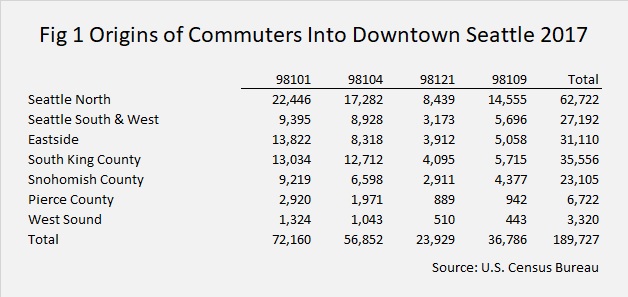 Given the errors that can operate in both directions with the LEHD data, we might estimate that between 175,000 and 200,000 people were commuting into jobs in the downtown core each day in 2017 (The Puget Sound Regional Council estimates that about 175,000 people work in Downtown Seattle). About 130,000 people work in the downtown core (zip codes 98101 and 98104) where parking is most scarce and expensive. Parking is somewhat less expensive in the Belltown (98121) and South Lake Union (98109) areas.
Figure 2 shows the rate at which commuters from these subareas use transit, and the likelihood that they have a car they can use if transit is not available.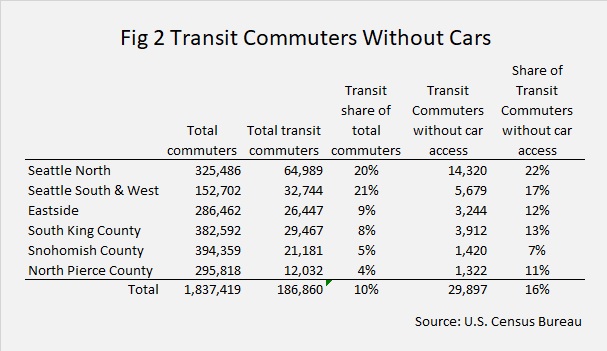 As the final two columns of Figure 2 show, about one out of every six transit commuters in the region does not have access to a car should transit not be available to them. Fewer than one in five transit commuters from North Seattle, the largest source of commuters into Downtown Seattle, has access to a car. This suggests that, as transit agencies get back into business, they will need to prioritize service to the transit dependent.
Looking Ahead
Seattle faces a formidable challenge as it reopens its downtown. Transit must scale back ridership in order to assure safety of passengers and operators. While many employees of highrises can continue to work from home, service personnel who operate buildings and ground-level businesses must report to work, and must find a cost effective and safe way to get there.
Questions going forward are:
Can transit agencies develop and implement safety protocols in time for the expansion of the downtown workforce?
How will transit operators ensure space on vehicles for the transit dependent without overly discouraging ridership?
Can carpools be expanded sufficiently and safely to meet the needs of downtown commuters?