Some products, like gardening tools, have been selling well during the pandemic, and others, like dress shoes, have not sold so well. One sector that is certainly thriving is alcohol, as measured by sales of spirits taxed by the state. The Department of Revenue has released its third quarter statistics on alcohol sales, and they indicate that Washington residents have accelerated a longer term trend of drinking more liquor. (This article covers alcohol included in the state spirits tax, and does not include beer and wine)
Overall, alcohol sales have been steadily increasing on a per-adult basis. Figure 1 shows the trend in quarterly sales per-adult since 2012.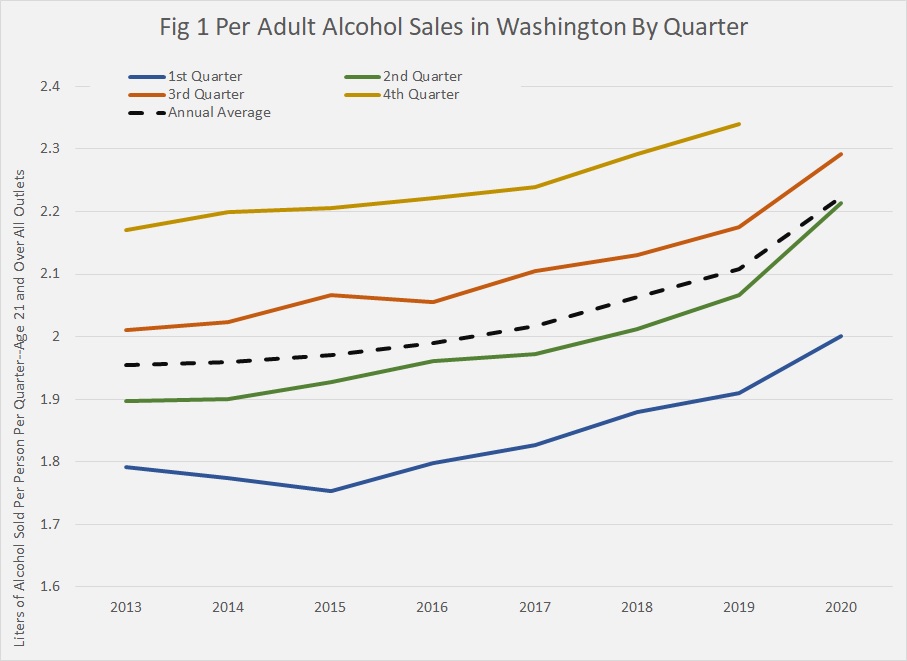 Alcohol sales have a strong seasonal component, increasing during the year from a low in the first quarter (all those New Years resolutions) to a high in the fourth quarter (the holidays). The dark blue line for the first quarter shows a steady increase, and a slight bump in the first quarter of 2020, just as the economy began to shut down. Fourth quarter sales are not yet in for 2020. But look at the second and third quarters, which jumped noticeably in 2020.
Is this all about Boredom? Angst? No need to drive or operate machinery? General sense of relaxed standards of behavior? We will leave it to the sociologists to explain exactly why people were drinking more during the pandemic.
Alcohol is sold in two places: stores and restaurants. The mix was certain to change with the closing down of restaurants and the later reduction in their capacities. But did people drink less because they could not hang out in their favorite bar? Figure 2 shows the combined quarterly alcohol sales of stores and restaurants since the first quarter of 2018.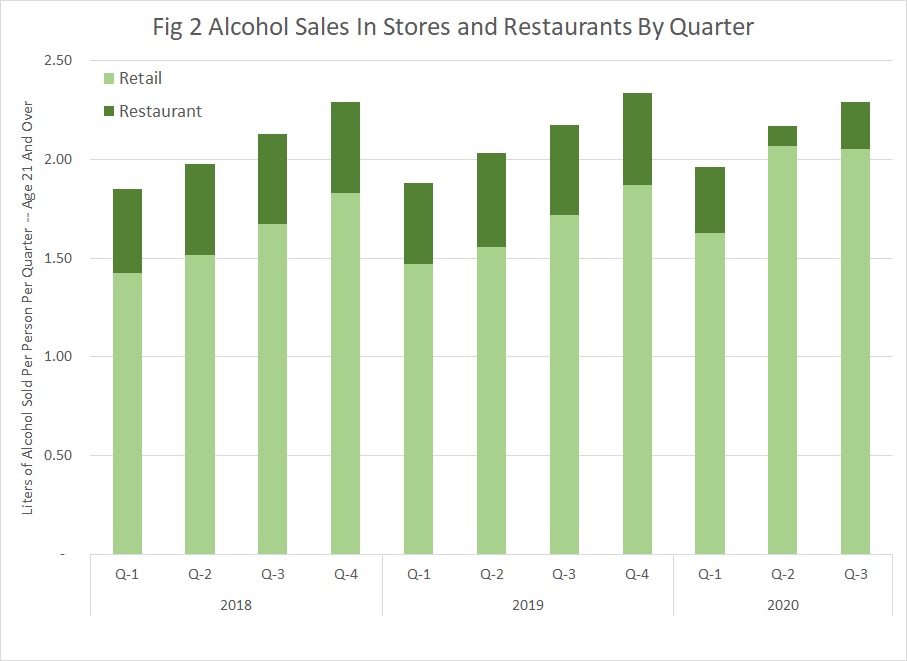 Here we see the rise in quarterly sales during each year, and the major shift from restaurant to store sales in the second quarter of 2020. Since 2012, and prior to the pandemic, restaurants accounted for 21.5 percent of all alcohol sold in the state. During the second quarter of 2012, this dropped to 4.6 percent. But total per person sales in the second quarter were 9 percent higher than the second quarter of 2019. Second quarter 2020 store sales were 35 percent higher than store sales in second quarter 2019.
Figure 3 rearranges these columns to show the growth in quarterly alcohol sales for stores and restaurants.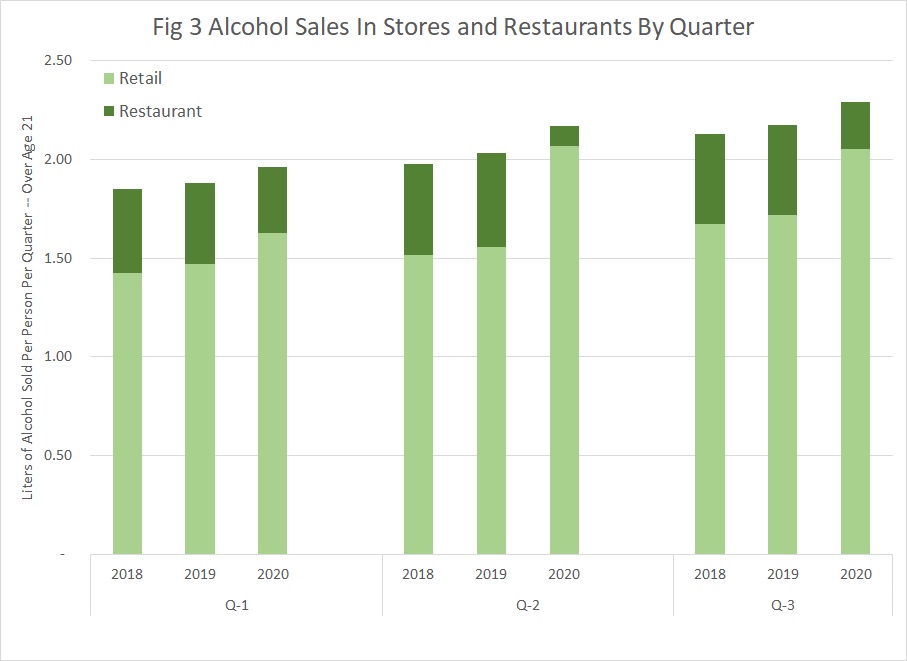 Here we see more vividly the year-over-year change in each of the quarters. There was a small jump in per person sales in the first quarter of 2020, as the pandemic was just taking root. Then there are the larger changes for 2020 in the second and third quarters.
Looking Ahead
By the third quarter of 2020 most people were back at their jobs, so there is not an obvious reason that per-adult sales of alcohol in stores would have jumped over the third quarter of 2019. Something is going on. We just don't know which behaviors are changing and whether these changes are temporary or permanent. As with so many features of life under the pandemic, changes in patterns of alcohol consumption will keep social scientists busy for a while.