The most powerful tool in the arsenal of organized labor has always been work stoppage, or strikes. By idling expensive capital, slowing cash flow, inconveniencing customers and suppliers and slowing spending in their communities, unions can certainly get the attention of management when they feel they are not getting a fair shake in negotiations.
But this tool has declined precipitously in American life. In the 1950s and 1960s it was not unusal for large industrial and transportation unions to bring parts of the nation to a halt. That rarely happens any more. As we noted earlier, a far smaller share of the workforce is unionized, so the organizing tool for striking is simply not available to as many workers. But as we will see, even unionized workers are not striking very much.
Figure 1 shows the percentage of the civilian workforce that was involved in a strike that included more than 1,000 workers. The striking workers are only counted in the year in which the strike began. Because strike activity varies quite a bit from year to year, we use a five-year trailing average to smooth out the line and better see the trends.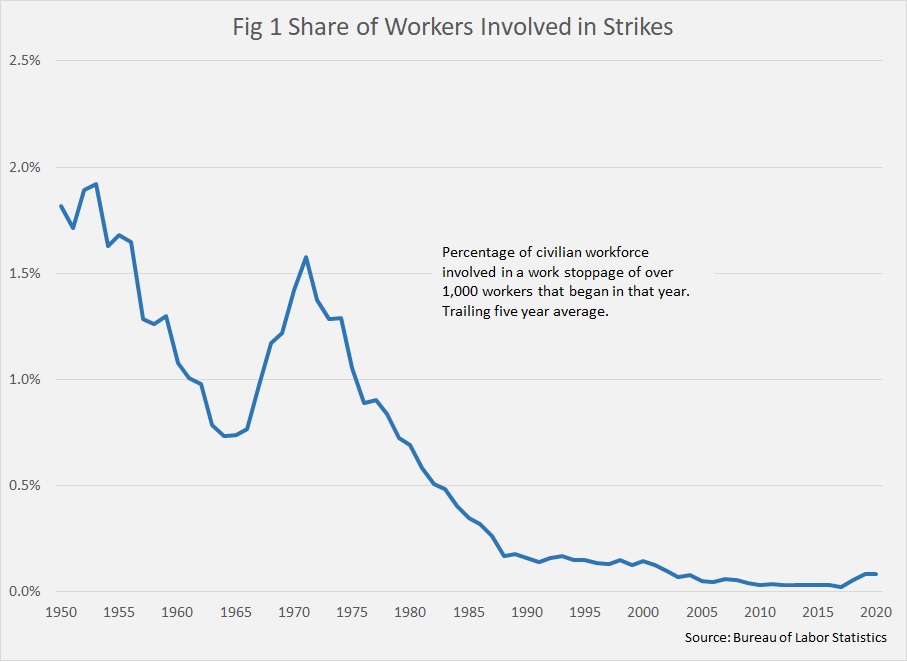 Large strikes declined from the 1950s through the mid-1960s, saw a spike in the late 1960s and early 1970s. then began a long decline that is much faster than the decline in union representation. In 1970 and 1971, 1.9 percent of workers nationally were involved in a large strike that began that year. By 1988, only 0.06 percent of workers went on a strike involving more than 1,000 workers. In 1971, over 2.5 million workers walked a picket line in large strikes, and in 1988, fewer than 120,000 workers walked out in large strikes.
Now, for the most part, only represented workers can go on strike without fear of getting fired. So, what about workers represented by unions (not all workers with union representation actually join the union and pay dues). Figure 2 shows the rate of striking by represented workers (most complete data available).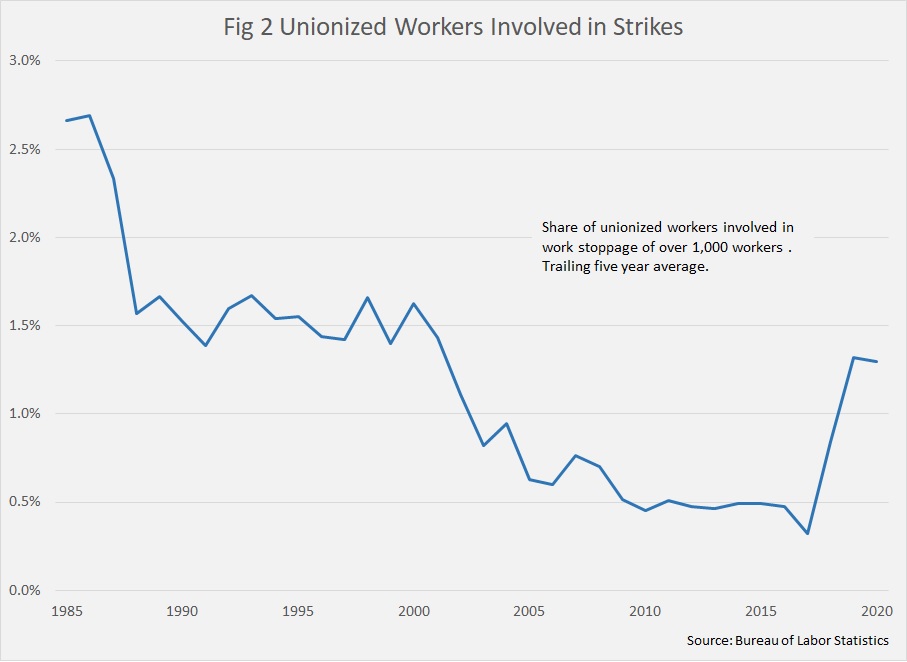 From data extending only back to 1985, we see a steady rate of about 1.5 percent of unionized workers engaging in strikes of more than 1,000 workers in the 1980s and 1990s, and then a decline to 2017. The big spike in 2018 and 2019 came from a series of brief, statewide teacher strikes that lasted only a day or two, but were counted as labor actions. The rate of striking among unionized workers in 2020 was about the same as 2017.
Figure 3 shows the number of workdays that workers spent on strike for every 100,000 workdays logged by the civilian workforce (again, strikes of more than 1,000 workers). This is based on the assumption that workers would work 50 weeks per year. This chart also uses a trailing five year average.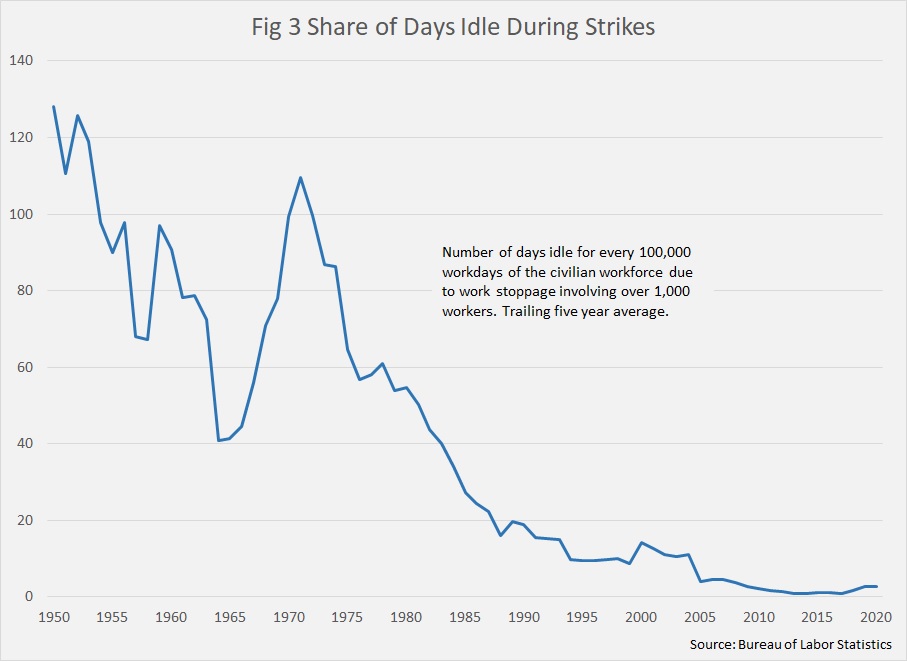 The pattern is quite similar to that in Figure 1, indicating that strikes have not become noticeably more or less severe.
Washington State has among the highest rates of union representation in the country. The Bureau of Labor Statistics provides data on individual labor actions involving mor than 1,000 workers back to 1993, and workers in Washington were involved in 35 of these actions over the past 27 years. All of the strikes involving public sector unions—11 in all—were teacher strikes (districts with fewer than 1,000 striking workers would not show up in this data).
Of the 24 private sector union actions with over 1,000 striking workers, the most (six) were headed up by the Service Employees International Union, followed by the International Association of Machinists (three strikes, two of which involved Boeing unions). Boeing's white collar union, SPEEA, struck twice during this time. Other than the Boeing and teacher strikes, labor actions in Washington since 1993 have mostly involved fewer than 5,000 workers.
It is not clear why strikes have become so much less common, even among unionized workers. It may be that many of the remaining unionized workers are in public sector agencies where strikes are not allowed. Or, perhaps the industries where workers are most likely to strike successfully are actually producing pretty good contracts. And when recent strikes have settled, the numbers sometimes show that workers lost almost as much in wages during the strike as they gained in improved contract terms.
Looking Ahead
As we have noted, it is hard to make the case that unions will be making a rebound. Whether a renewal of more militant postures would provide more successful organizing is an open question.