Last week the Indexer described the gradual takeover of the Puget Sound economy by the software and internet sectors. Software is part of the larger information sector, and it has been eating that sector as well.
Figure 2 shows total covered employment in Washington State by major components of the information sector in 2002, 2010 and 2019.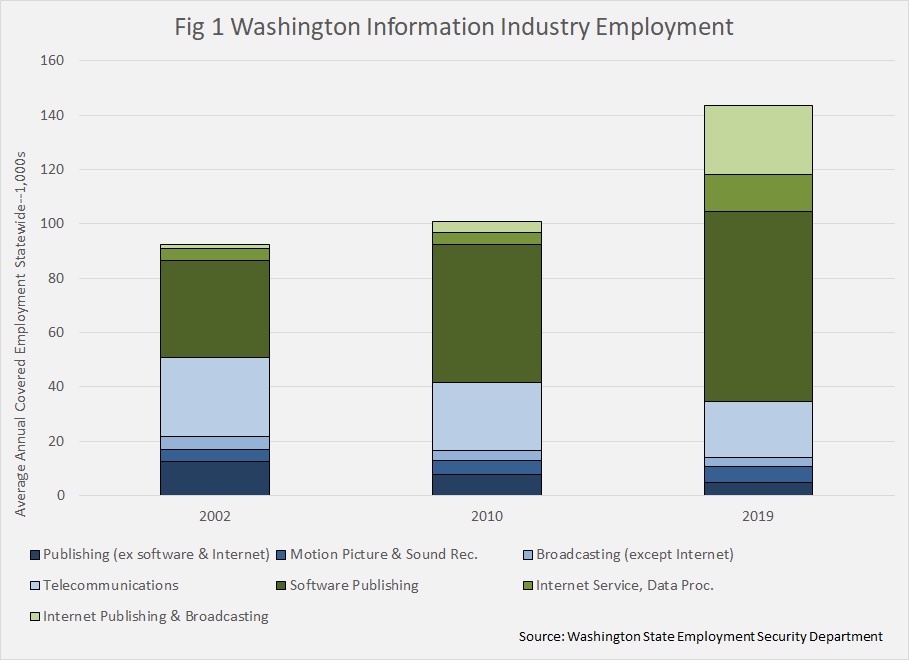 The blue parts of the columns represent traditional information and media industries and the green parts represent software and internet services:
Software publishing (dark green). This is the traditional business of Microsoft and other firms that create software for customers to use on their own. Average total employment in 2019 was 69,826, with an average annual wage of $258,538.
Internet service (medium green). This covers the cloud services that Microsoft and Amazon provide as well as other hosting services. Average total employment in 2019 was 13,882, with an average annual wage of $172,402.
Internet publishing and broadcasting. (light green). This covers the Seattle area operations of Google, Facebook and other search engines and web-based services. Average total employment in 2019 was 25,145, with an average annual wage of $238,106.
In 2002, even after the tech boom of the 1990s, traditional media still made up 55 percent of employment in the state's information sector. By 2019 those activities had fallen to just 24 percent of employment in the sector.
The most dramatic shrinkage in the blue bars in Figure 1 comes in the traditional publishing sector. Figure 2 shows a breakout of changes in the various parts of non-internet publishing.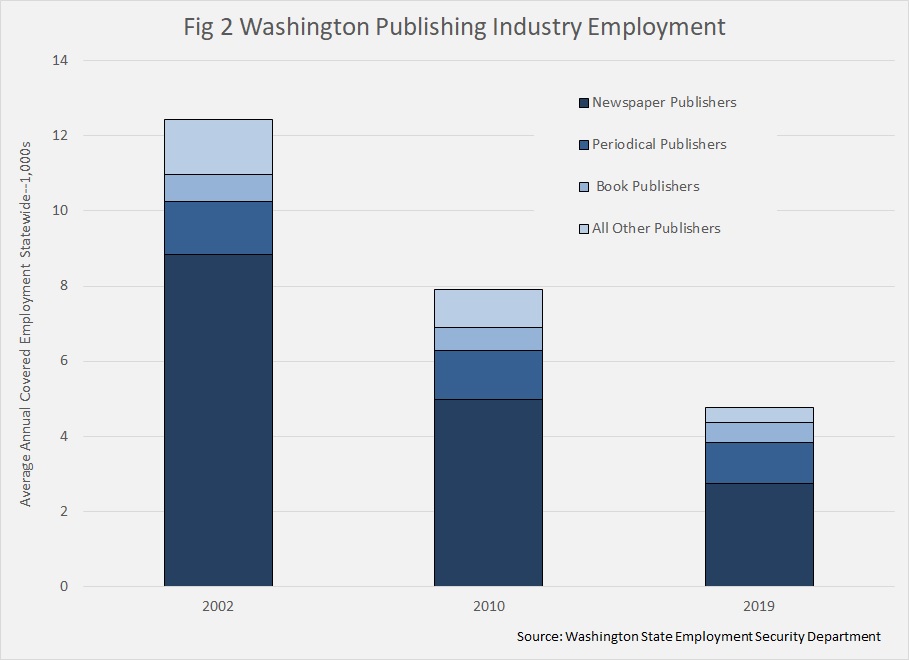 Newspapers have seen the largest drop in publishing employment, falling 70 percent from nearly 9,000 employees in the state to 2,700. Book and magazine publishing, while not large industries in the state, have fallen less than 25 percent.
It will be some time before we have detailed data on the impact of the pandemic on subsectors of the information industry. As of August, the total information industry is still down about 5 percent from February, with the software industry down 3 percent and the balance of the information sector down 7 percent. As of early September, the Employment Security Department was reporting about 3,000 active unemployment insurance claims in the information sector.
Looking Ahead
The pandemic downturn has been particularly harsh on traditional publishing and advertiser-supported media. With many advertising-dependent businesses shuttered, there was no point in buying advertising, and media have suffered badly. This is not likely to turn around soon. At the same time, internet and cloud services have thrived in the lockdown environment: working from home is much easier if everything is in the cloud. E-commerce is way up and with at least some part of work-from-home expected to continue into the future, the internet services segment of the information sector should continue to grow.