The pandemic relief bill recently signed by the President contains about $350 billion for state and local governments to make up for tax revenue that was lost due to the economic shutdown of the past year. This money is being allocated by a fairly strict formula based on population, and is not targeted at the areas most impacted (e.g. places with large tourist industries that have been shut down).
Let's look at the damage that needs to be repaired. We now have the full year data for 2020 on total sales tax receipts by local governments. This is the tax charged not just on retail, but on construction and services. Figure 1 shows the difference between sales tax collected in 2019 and 2020, adjusted for inflation for cities in King County. The cities shown each collect more than $2 million per year in sales tax. The 14 cities below that threshold are grouped in "other cities."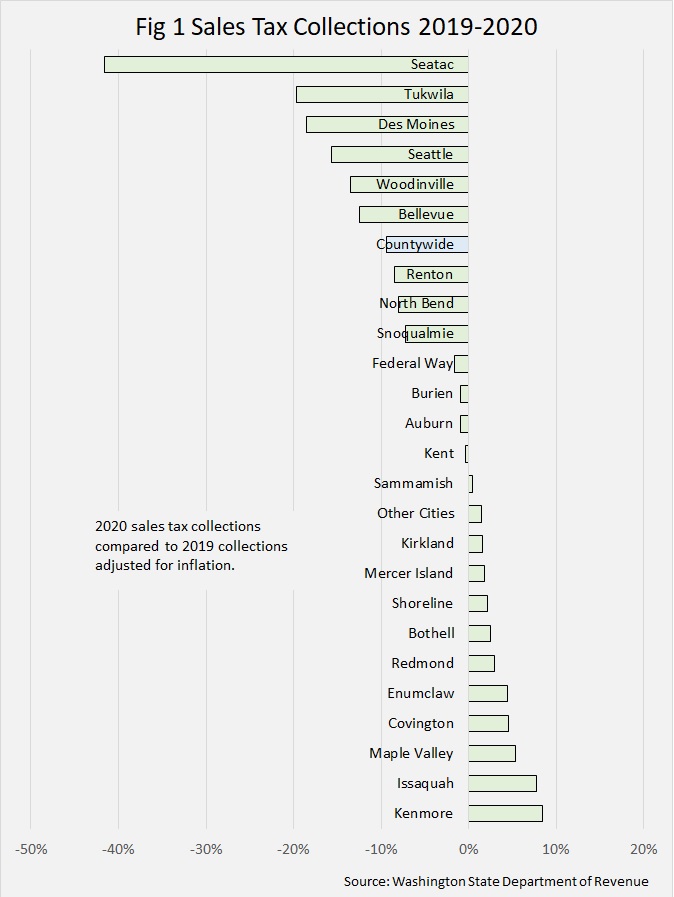 Countywide (including unincorporated areas) sales tax collections were down about 9 percent for the year. But quite a number of cities had either very small losses or actual gains. Cities like Issaquah and Covington, with strong presence of big box stores, did well, and cities with strong homebuilding activity also did well. The biggest losers were, not surprisingly, near SeaTac Airport, where activity was very weak all year. Seattle, with its large visitor and entertainment industries, was hit hard.
The pain of sales tax losses will vary quite a bit, depending on how much of the local budget depends on that tax source. Taxable activity is not spread evenly around the region. Figure 2 shows per capita sales tax collections for 2019 for these cities.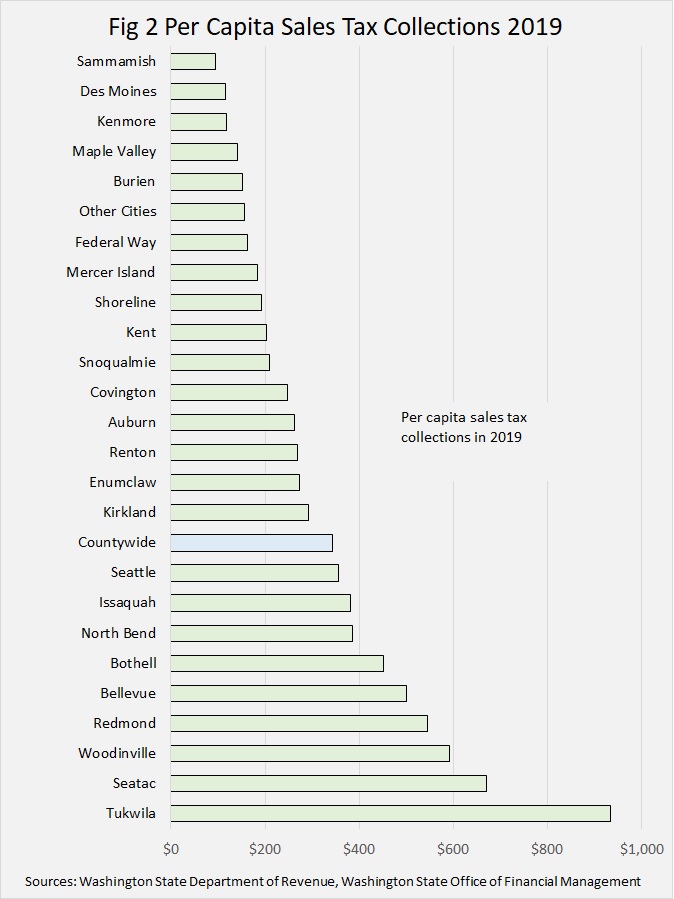 In 2019, Tukwila collected 10 times as much sales tax, per capita, as Sammamish. After losing 40 percent of its sales tax revenue in 2020, SeaTac still had more sales tax revenue per capita than the average city did in 2019.
Figure 3 puts figures 1 and 2 together to show the per capita loss or gain in sales tax revenue between 2019 and 2020, adjusted for inflation.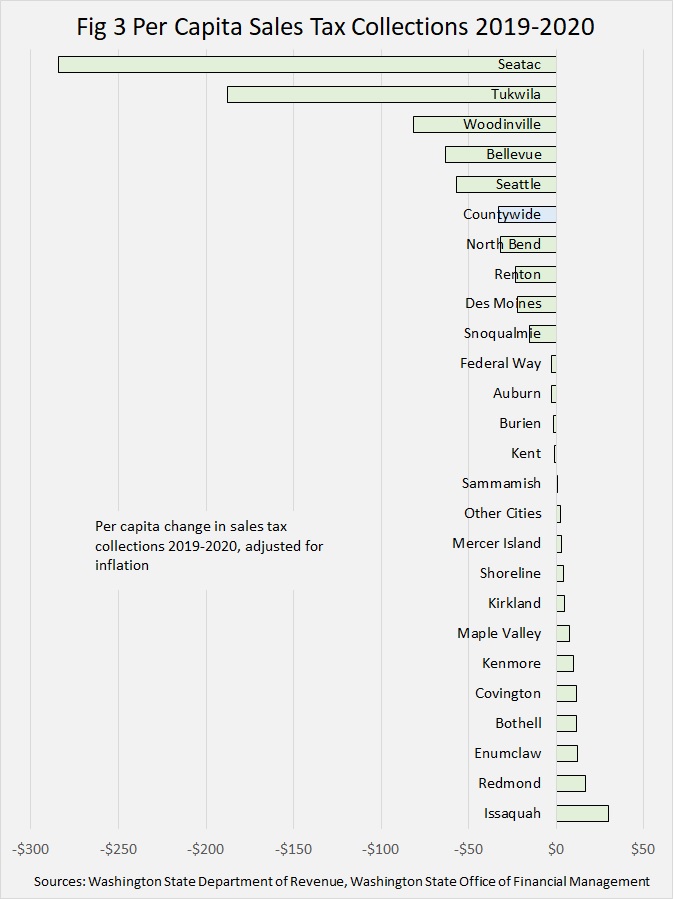 Again, the picture of loss and gain is very uneven, with those jurisdictions that have staked their budgets on high sales tax collections taking the largest per capita hits.
Now, this is not the entire picture, since cities have experienced losses in other revenue categories. Property taxes would have been little affected (except for some non-payment) but business and utility taxes will have dropped.
Some cities have business and occupation taxes, and those will have suffered in parallel with sales taxes, but far less, since most business activity continued during the pandemic and the shutdowns were concentrated in industries that tend to collect sales tax. And it seems unlikely that many businesses would claim that the work being done by a person working from a home outside the jurisdiction would not be taxable. In the first three quarters of 2020, statewide business and occupation taxes were down only 7.4 percent from the first three quarters of 2019.
Nearly all jurisdictions collect utility taxes and there will be losses wherever businesses were shut down, as they used less water, electricity and gas. The unemployed and those working from home will have increased their utility use, but more taxes from residences will not make much of a dent in the tax losses from dark office buildings and restaurants. Since utility taxes are collected locally, we won't have a consistent idea of those losses for quite a while.
Looking Ahead
The recently passed federal pandemic relief legislation will provide cities in King County with an average of $223 per resident. That will more than make up for the sale tax losses averaging $33 per resident. With the exception of Tukwila and SeaTac, all cities in King County should have money left over from their federal allocation after backfilling for lost sales and other tax revenue.