We now have total sales tax collections reports through August, and there has been little improvement over the situation in June. Countywide, total collections are down about 4 percent year-over-year, and August 2020 collections were about 5 percent below August 2019.
These figures, which are reported with a two-month lag, cover all taxable sales, including retail, hospitality, construction and many services. We will not get the disaggregated figures for the second quarter for a while.
Figure 1 shows change in the 12 months ending in August 2020 over the 12 months ending in August 2019 for cities in King County.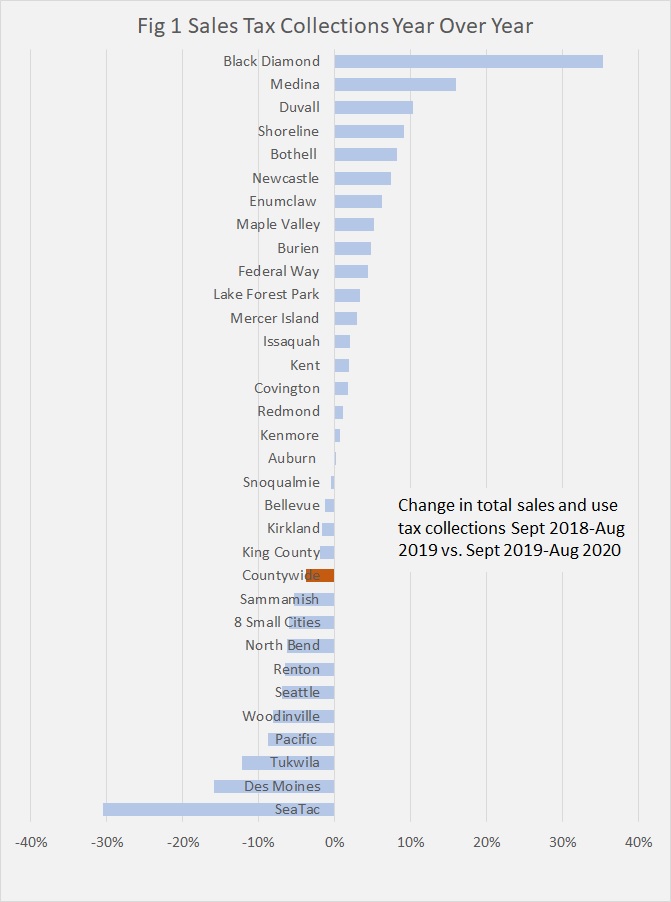 We have seen this pattern before: cities around the airport and cities with large visitor/hospitality industries remain under water. Smaller communities with retail serving mostly local needs and those places participating in the uptick in single family home construction are doing better.
The retailing picture nationally has been improving quickly, construction is doing well and hospitality has been crawling back. So we might think that August would show an improvement. Not really. Figure 2 shows the difference between August 2020 and August 2019.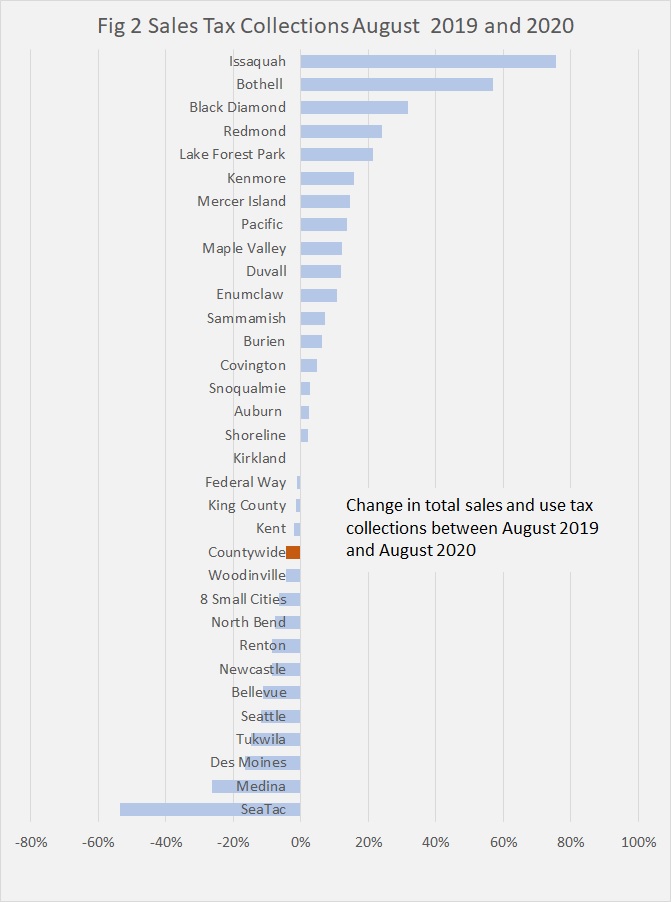 Not much difference from Figure 1. Outlying cities are doing well as homebuilding and home sales have picked up (gotta fill those houses with new stuff!). But continued slow retail in the large centers of Seattle, Bellevue, Renton and Tukwila are holding back the countywide picture.
Looking Ahead
Of the revenue sources available to local governments, sales taxes are the most volatile and have seen the largest drops during the pandemic. Property taxes are stable and utility taxes tend not to vary much (more utility use at home, less in commercial settings). A drop of 4 percent on average should be manageable for cities, but as Figures 1 and 2 show, few cities are average. Some will need a great deal of fiscal help, while others will be just fine.