The September national retailing figures released on Friday had few surprises. Stuff that you do at home sells well, and stuff that you do outside your home sells less. Big boxes and on-line do well, specialty retail not so well, but improving. Overall, retailing of merchandise is higher than pre-pandemic levels, as households spend more of their money on goods and less on services.
In Washington, we won't get good retail sales data for a while, but we do know that retail employment is up about 2 percent from a year ago.
Figure 1 shows the trends since February in the major retail formats.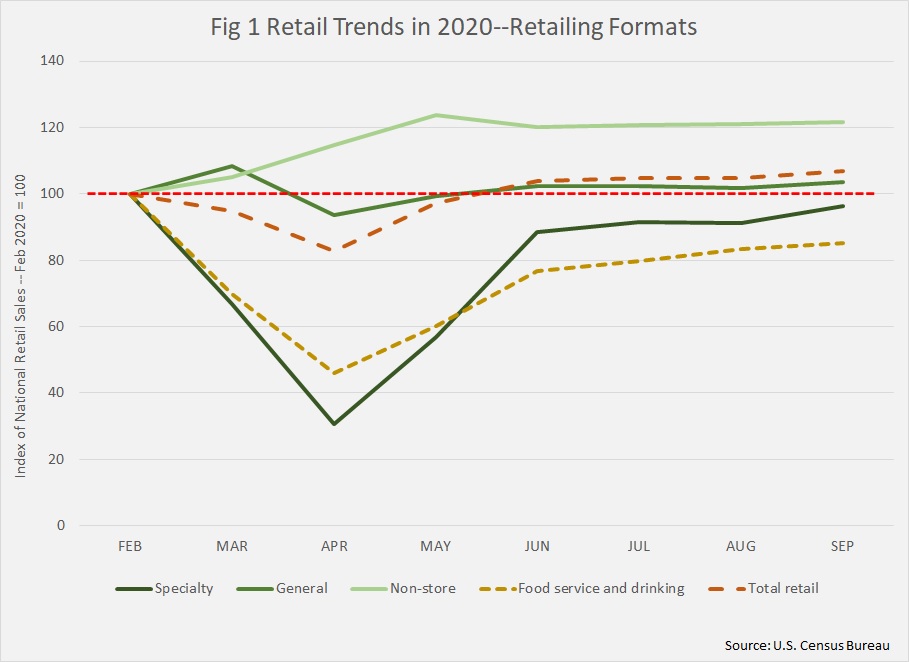 All retail (not including food service), the dashed brown line, is up slightly over its pre-pandemic level. Non-store retail—almost entirely on-line sales—boomed, of course, during the shutdown. Amazon and its fellow on-line retailers have consolidated their gains but have held steady since June. General retail—department stores, big boxes like Costco and Fred Meyer—got a boost in March as they remained open while other retailers were forced to shut down, and households scrambled for essentials. Since then, the general retailers have moved right about where they were pre-pandemic.
Specialty retailers—usually selling just one category of merchandise—really got slammed as many were deemed non-essential and had to shut down in April and May. They have clawed back, but as we will see below, not all categories are doing well. Food service—restaurants and bars—is recovering but remain about 18 percent below February.
Figure 2 shows the trend in what we might call the household essentials.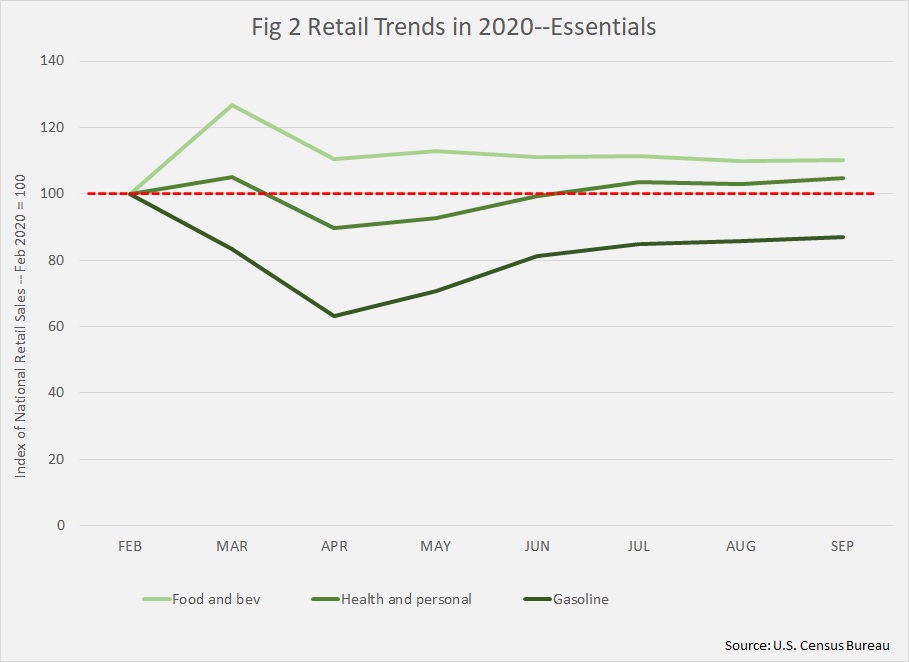 Food and beverage stores remain higher than in February as people eat more at home and less out. Health and personal care products—what you would find at a drug store—are just about at normal levels. The lack of commuting and travel keeps gasoline station sales—not just gas, but all the products in the accompanying mini-mart—below their February level.
Figure 3 shows the trends in the basic categories of specialty retail. The green lines represent merchandise aimed at homes, and blue lines represent lifestyle purchases.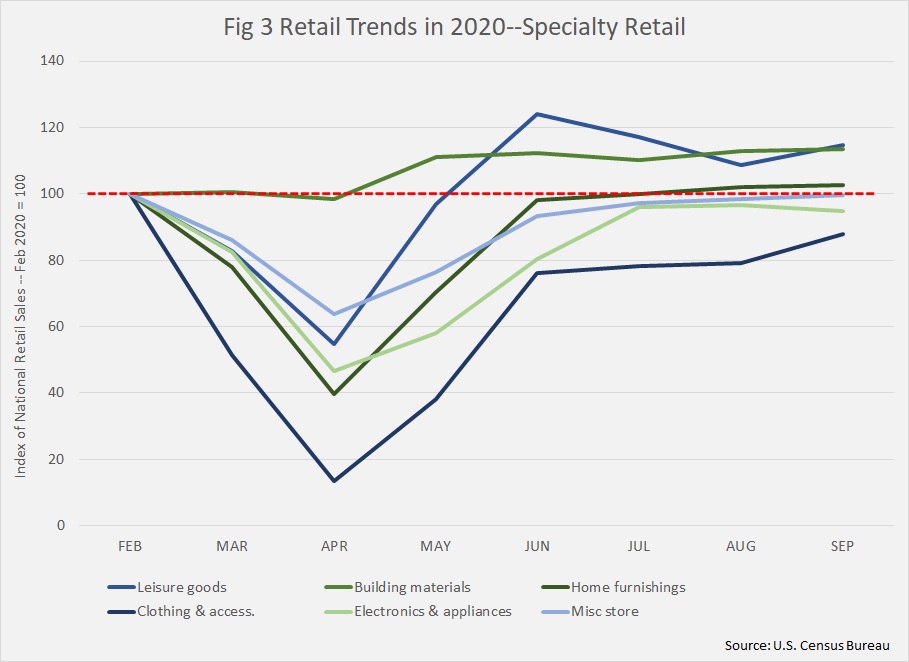 Building materials have performed well since the early days of the lock-down, as people used their time at home to enhance the spaces they were forced to occupy more than they might otherwise. After a drop during retailing shutdowns, the leisure goods retailers—books, music, sporting goods, hobbies—really took off as people looked for ways to fill their time.
Somewhat surprisingly, electronics and appliance stores have not done as well. Some purchases in this category would have shifted to home improvement and big box stores. There have also been reports of shortages of merchandise due to supply chain issues. Miscellaneous stores—think pet supplies, office supplies—have returned to normal. Clothing continues to be down, as people still don't have many places to show off their new duds. And they can buy new sweats and slippers at Costco.
Looking Ahead
Note that most of the lines in these charts have been pretty flat since June. Unless people return to workplaces in large numbers or begin to travel widely again, the patterns of the past few months in retail are likely to continue. The upcoming holiday season remains a big unknown.