We now have a full year of data on basic national retailing trends for 2020. Bottom line: Total retail sales were down about 2 percent from what we might have expected in the absence of the pandemic. Retail sales for the year were slightly higher than for 2019, but we would have expected sales to grow by about 3.5 percent from year to year, accounting for inflation and growth in population and productivity. But given the turmoil in everyday life, when most retailing happens, a 2 percent drop in physical goods purchased in 2020 is not bad.
Within the overall retailing category, however, there were major shifts. Complicating the shifts is the fact that the data cover merchant categories, not actual products. So, socks purchased at a clothing store are counted differently from the same socks purchased at Costco, and that is different from those socks purchased on Amazon. Having noted that, let's look at the results.
Figures 1 and 2 show the difference in percentage and dollar terms between actual 2020 retail sales and the sales we might have expected for each category if the sales trends in that category between 2018 and 2019 had continued. In other words, the 2020 projections account for the fact that, pre-pandemic, department stores had been shrinking and on-line sales had been growing.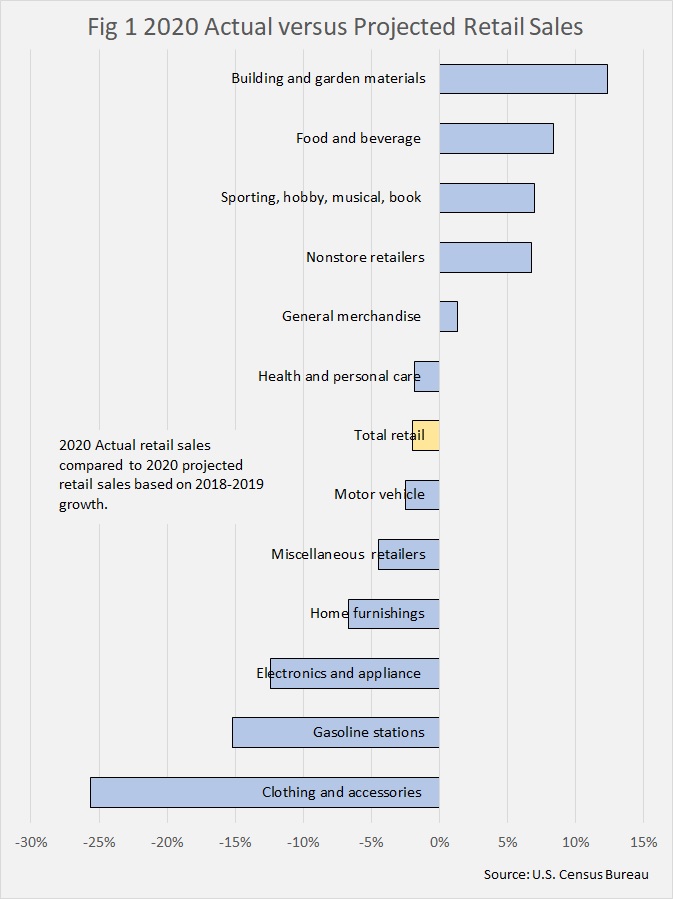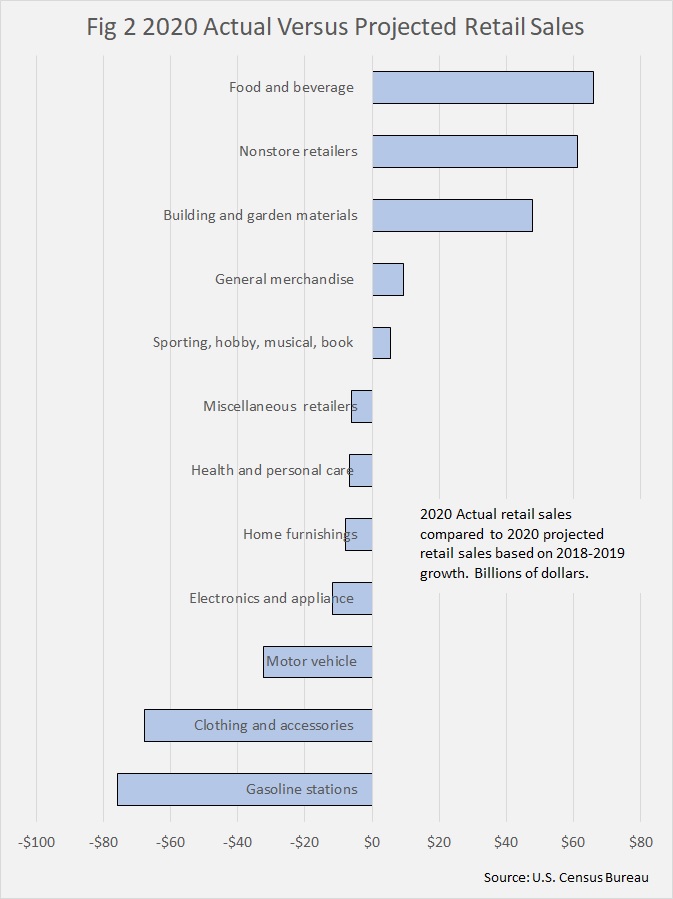 The trends fit nicely with the picture of Americans hunkered down at home. Clothing stores took the biggest hit, as these were deemed non-essential and, therefore, closed for part of the year. With less need for fashionable clothes, consumers purchased fewer items or shifted to buying clothes at big boxes or on-line. Gas stations sold less gas to people who were driving less, and fewer gasoline customers bought fewer burritos.
Motor vehicle sales were recovering nicely by the end of the year, but supply issues made it hard to recapture delayed purchases. The electronics and appliances category is curious, since we might have expected more equipment for home offices. This drop might reflect more big box and on-line buying, and might also reflect supply issues.
The plus side is exactly what we might have expected. Strong growth in grocery stores, as people ate more at home. Strong growth in non-store (i.e. on-line) retailing, and major growth in the stay-at-home goods markets of home and garden and hobby-sports-books.
These patterns were well-established by the middle of the year. Early in the pandemic, food stores and on-line retailing jumped, and everything else fell. Then, by June or July, all categories settled out into a flat pattern, with some remaining above normal, and some stubbornly stuck below normal.
Figure 4 shows the monthly pattern of retailing for three basic categories. The shapes of the lines should look familiar by now.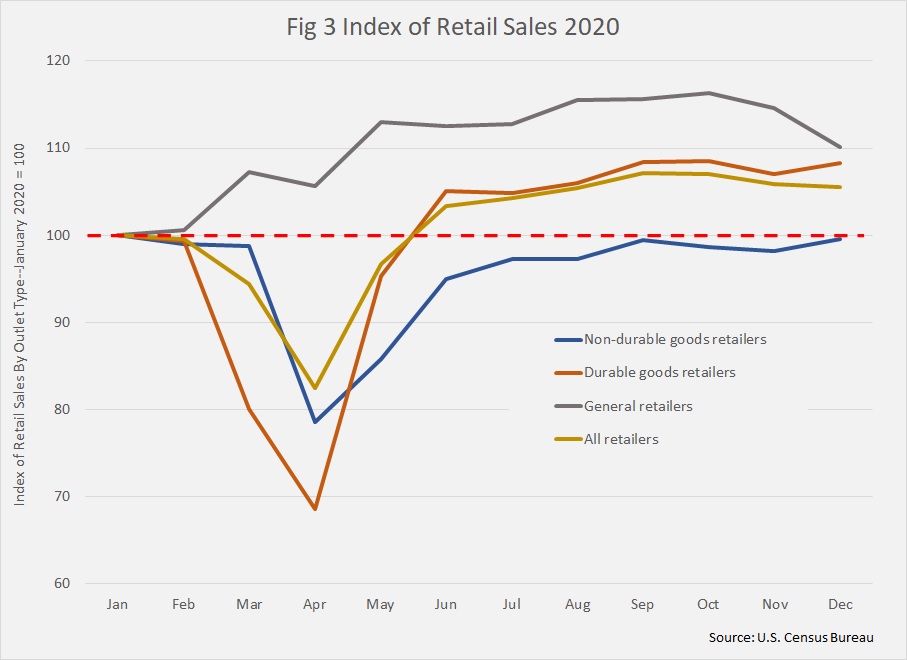 Non-durable goods includes food stores, but also includes clothing and gasoline. Durable goods includes autos, furnishings, appliances and the whole leisure goods category. General retailers includes both big box and on-line retailers. As we might expect, durable goods retailers saw some catch-up later in the year, while non-durables got back to normal, but did not see a surge in purchases that had been delayed: people were not buying extra gas later in the year just because they could drive places.
Looking Ahead
Retailing was already going through some major restructurings before the pandemic hit. The United States has far more retail space per capita than any other country, and many have been predicting a dramatic shrinking of the total retail footprint. So disentangling the impacts of the pandemic—different consumption and shopping patterns—from the longer trend in retailing will be difficult.
We will start to get a handle on the underlying economic changes that will affect retail, especially more work-from-home, in the next year. Social changes, such as attitudes toward fashion and the social role played by retailing spaces, will take longer to unfold.