–Public transit systems will struggle to regain riders as health concerns persist
–Alternatives to automobile commuting had been growing faster than auto commuting since 1990.
–Even though growing at a slower rate, auto commuting has expanded significantly since 1990.
–Telecommuting and increased car use may offset each other in terms of congestion growth
As people return to their jobs around the region, the manner in which they commute is certain to change, and public transit will likely suffer from this change, at least in the near and medium term. A recent survey of 25,000 adults by the IBM Institute for Business Value found that "More than 20 percent of respondents who regularly used buses, subways or trains now said they no longer would, and another 28 percent said they will likely use public transportation less often." The prospect of sitting next to a stranger who may be a carrier of the virus will have a chilling affect on transit ridership, no matter how many safety precautions are taken.
Some people who have customarily taken transit will turn to carpools and solo driving. Some may change jobs or homes in order to avoid a bus or train ride.Some people will continue to work from home. The IBM study found that "remote work appears to be growing on people, as more than 75 percent indicate they would like to continue to work remotely at least occasionally, while more than half – 54 percent – would like this to be their primary way of working." Increase in car commuting will be offset to some degree by an increase in telecommuting. These changes are inevitable, but how deep and long lasting they are remains a mystery.
Before the virus hit, non-auto commuting had been making steady progress, as the region increased its housing and commercial densities and provided more extensive transit service. Let's look at what we will be trying to get back to.
Growth of non-auto commuting
For decades, public policy in the Seattle area has emphasized the need to shift more commuting from cars to alternatives. Figure 1 shows the modes used by commuters in the three-county region in 1990 and 2018. Each box represents 5,000 commuters, with those using cars to the left of the red line and those not using cars to the right.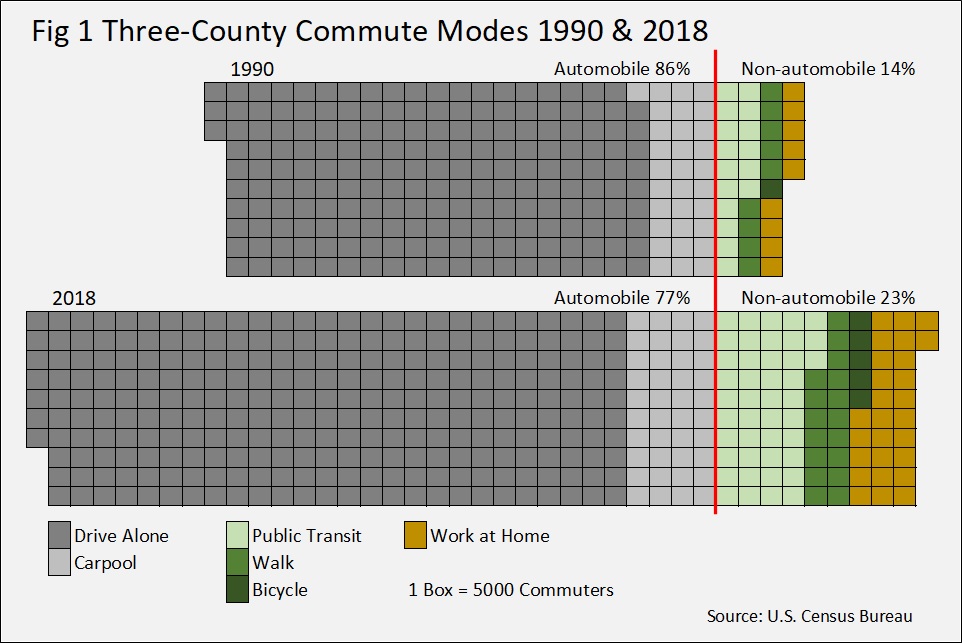 Three things become apparent. First, the number of commuters in the region grew quite a bit—56 percent over 28 years. Second, use of alternatives to cars grew substantially. Third, the region added a large number of cars to already congested roads.
Figure 2 shows how each of the modes has grown over this time. Bicycling is up the most, but still represents a fairly small share of commuters. The group with the next largest increase doesn't really commute at all, but works from home. That practice had already been growing, and with many individuals and organizations having had a positive experience with telecommuting during the lockdown, it will likely grow even more. The region's major investments in public transportation had been paying off with large increases in transit ridership. Walking has increased as urban housing has grown. Car commuting has grown the slowest.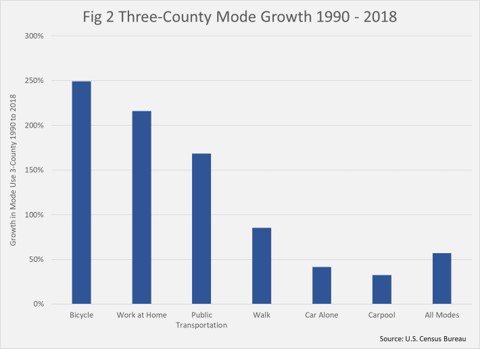 But it is important to look at the numerators and denominators in each of these growth figures. Figure 3 shows the increase in the number of commuters in each mode during that time period. Here it is clear that car commuting–solo and carpooling–has grown 56 percent more than all the other modes combined.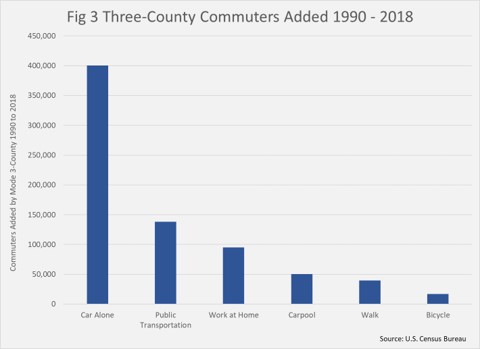 Looking ahead
In the near term, public transit would seem to have a serious problem with both the perception and reality of safety. Agencies have been actively telling people not to ride the bus, which sends a powerful signal that it might not be safe. The degree to which agencies can reverse these signals and mitigate the concerns of riders and their own employees will be critical to recovering the momentum that transit has built up over the past few decades. But cars will be no more practical in the areas where transit has been most competitive, such as Downtown Seattle, Downtown Bellevue and the University District: the roads won't get wider and the price of parking is unlikely to come down. More cars just won't fit.
State and local governments in the three-county metro area have made large policy commitments to non-auto commuting and have instituted expensive programs to provide expanded transit service as well as bicycle and pedestrian improvements. These investments have show some payoff, but had not made a large dent in the total number of cars on the road during rush hour, which continues to grow. And in the near term, with commuters eschewing transit, car commuting could begin to gain market share.The rate at which workers continue to telecommute will be the major wildcard.
Questions going forward are:
Will ongoing telecommuting offset increases in safety-related car commuting, or will congestion increase after the economy restarts?
Will ridership recover such that the next round of transit facility openings in King County grabs a large share of commuters?
Can agencies find sustainable new funding and operational models that account for new ridership patterns?
Will health concerns lower the willingness of local governments provide land uses that encourage more transit, walking and bicycling?
Will a resurgent growth of car commuting lead to pressure for more investments in general purpose freeway capacity?