–Incomes in the Seattle area have been among the highest in the nation and the fastest growing
–Wages in the Seattle area are among the highest in the nation and the fastest growing
–Washington led the nation in GDP growth in late 2019
Before the coronavirus shutdown hit in early 2020, the state and Seattle region were among the wealthiest and fastest growing areas of the country. The rebuilding process will start from a position of significant underlying strength, based on technology industries that have weathered the storm. Understanding what the regional economy looked like prior to March, 2020 is essential to efforts to plan recovery.
Two major concerns. First is the slow anticipated recovery of the hospitality and entertainment industries, which had been growing at a strong pace and becoming a larger feature of the economy. Second is the likely slowdown in production at Boeing which, while a smaller share than ever of the regional economy, is still the largest employer.
This article will look at the pre-virus regional and state economies in comparison with other states and regions, along three dimensions. Personal income measures all sources of household income. Wages measures income from jobs. Gross domestic product (GDP) is the broadest measure of economic activity. Regional income and wage data is available through 2018 and state GDP data is available through 2019.
Personal income in national perspective
Personal income is an important measure of overall prosperity. It includes income from work, as well as income from investments and from public benefits. By capturing income from those who work as well as those who do not, it gives a sense of the amount of money circulating in the economy and the ability of the region to support government services and privately provided amenities.
Figure 1 shows the per capita personal income (PCPI) for the 25 largest metropolitan areas in the U.S. The Seattle Metro area (comprised of King, Pierce and Snohomish counties) had a PCPI of just under $75,000 in 2018, which was fourth-highest among the large metro areas, although not far behind New York and Boston.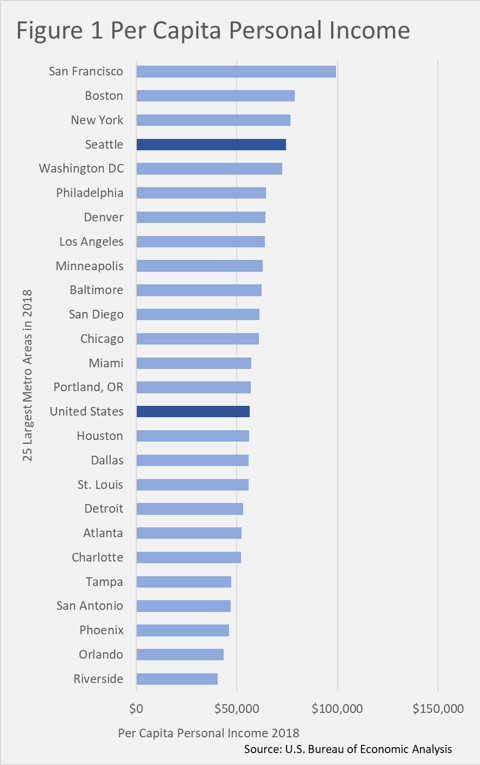 Figure 2 shows the inflation-adjusted growth in PCPI from 2010, when the nation was just starting to pull out of the Great Recession, to 2018. PCPI in the Seattle metro area grew 30 percent in real terms during this time, which was second fastest among the large metro areas. If 2010-2018 growth rates continue, PCPI in the Seattle metro area would surpass that in New York by 2021 and Boston by 2022. At these rates, the San Francisco metro area would continue to pull farther ahead of all other areas in the country.
Wages in national perspective
While PCPI describes purchasing power and general prosperity, wages are a more direct measure of ongoing economic strength. Figure 3 shows average wages per job for the 25 largest metro areas in the country. This includes only jobs covered by unemployment insurance, and therefore does not include self-employed people and uniformed military personnel. Seattle is in fifth place, but is part of a cluster of Metro areas that are within $1,000 of each other. This cluster is well behind San Francisco, but well ahead of the fifth place metro area, Houston.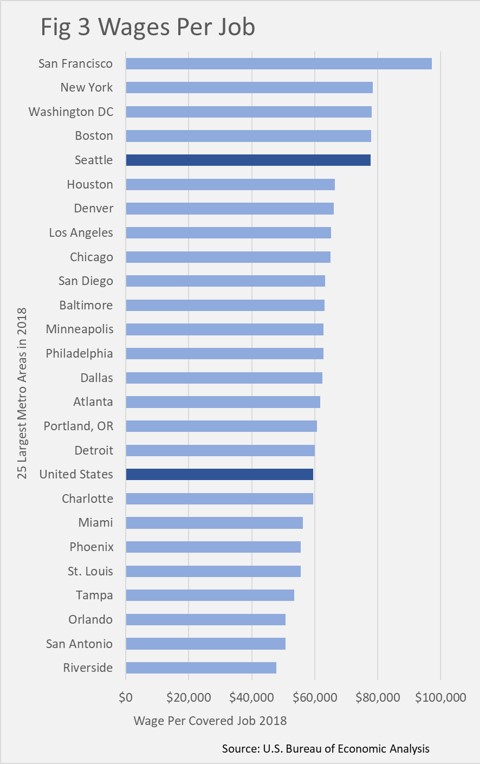 Figure 4 shows growth in the average wage per covered job from 2010 to 2018. The picture is similar to Figure 1, with the Seattle area only lagging San Francisco in growth rates. If these rates continue (and the data in figure 5 suggests they will), 2019 data will show the average wage in the Seattle metro area as second highest. (Wage and income data for 2019 will be released in November, 2020.)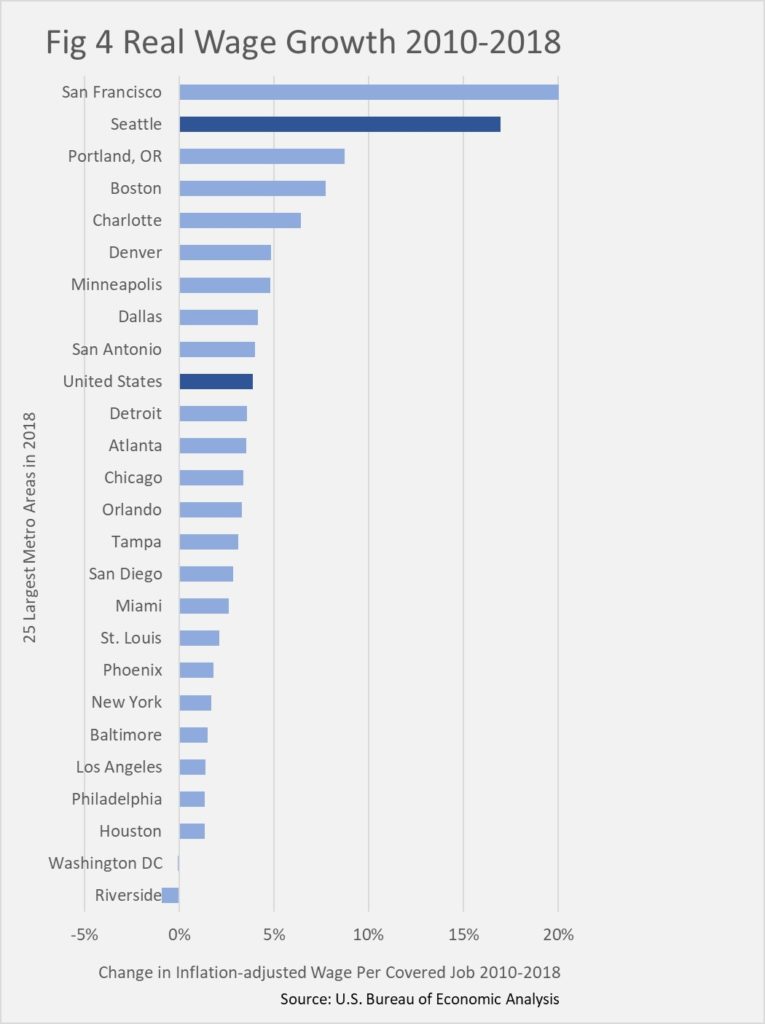 GDP, the big picture
Gross domestic product is the measure of all economic activity. The Bureau of Economic Analysis releases state-level GDP figures quarterly, and the data is available for the last quarter of 2019, just before the coronavirus slowdown hit. In the fourth quarter of 2019, Washington State had the nation's highest growth rate in GDP, and the state had the third highest GDP growth rate for all of 2019, behind Texas and Utah. To give some idea where this growth is centered, figure 5 shows a breakdown of GDP growth for Washington and the country as a whole, from 2010 through 2019.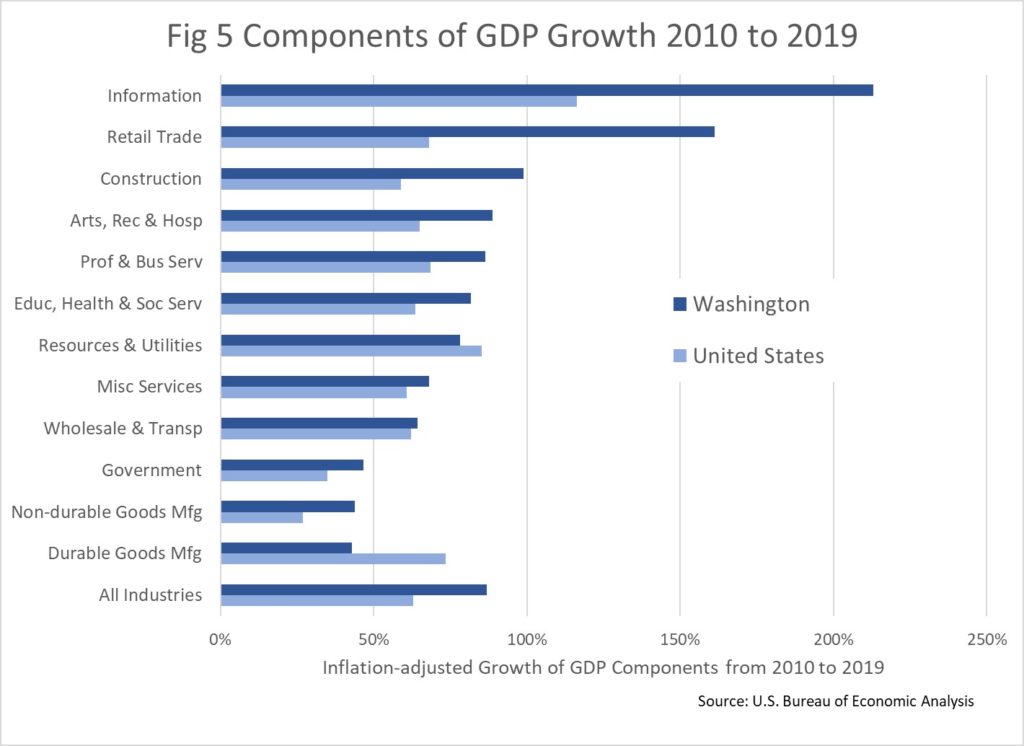 While the state outperformed the nation in nearly all industry categories, we need to look at the top two categories on the chart for insights on growth. Information includes software firms and those parts of Amazon that sell information services technologies. Retail trade includes the Amazon corporate functions for its online retailing businesses. Between these two categories we can see a large share of the state's growth. Combined, they make up 24 percent of state GDP, up from 15 percent in 2010. Construction was very strong, but grew in response to population and job growth coming from other sectors.
It is important to note that the state lags the nation in the durable goods manufacturing category, which includes Boeing. Durable goods now accounts for 8 percent of state GDP, down from 11 percent in 2010. An impending downturn in Boeing's production rate in response to the recent severe drop in air travel (and airlines' abilities to pay for new aircraft) will drag that figure even lower. Since the 1950s, the state's economy has been closely tied to the fortunes of the Boeing company, and that linkage is becoming increasingly frayed.
An area of concern in the coronavirus recovery process will be the broad sector of arts, recreation and hospitality. Since they are discretionary activities that involve concentrated gatherings, these will likely be among the last sectors to recover. Even as governments loosen restrictions on their operation, customers may be slow to return. As seen in figure 5, this sector has grown significantly, and a large share of this sector is involved in the visitor and tourism business. Restaurants and bars may begin to fill up again, but business travel, conventions and cruise ships are likely to be slow to return to normal, if they ever do.
Looking ahead
Emerging from the Great Recession of 2008, growth in wages and incomes in the Seattle metro area were very strong. From a national perspective, only San Francisco's growth rate has exceeded Seattle's. As the region emerges from the coronavirus shutdown, its information sector remains almost untouched, and the high-growth part of its retailing sector will have grown quite a bit. Recovery may be slow, but the state and region are perhaps as well positioned as any area of the country.
Questions going forward are:
How much of the small business infrastructure around the visitor and hospitality sectors will survive?
Will growth in sectors that have been relatively unharmed absorb people left unemployed as the hospitality sector struggles to recover?
Can the region's education and training infrastructure promote transition for workers whose industries are permanently downsized?
Will Boeing be able to reduce its workforce through buyouts and retirements rather than layoffs?