The machinery of speculation is now in high gear, trying to divine what the demographic landscape will look like in the post-COVID world. But for now, we get one last look at normal, with the recently released population estimates for the state. Last week the Indexer looked at the estimates from a statewide perspective, and this week we will look at the data for the Puget Sound area and King County. These estimates provide crucial data about the state, but have important limitations that are discussed in an endnote.
Figure 1 shows the components of population growth for the state an for the 11 counties that touch Puget Sound. They are ranked according to their growth rate between 2019 and 2020, using a three-year average for the less-reliable net migration rate.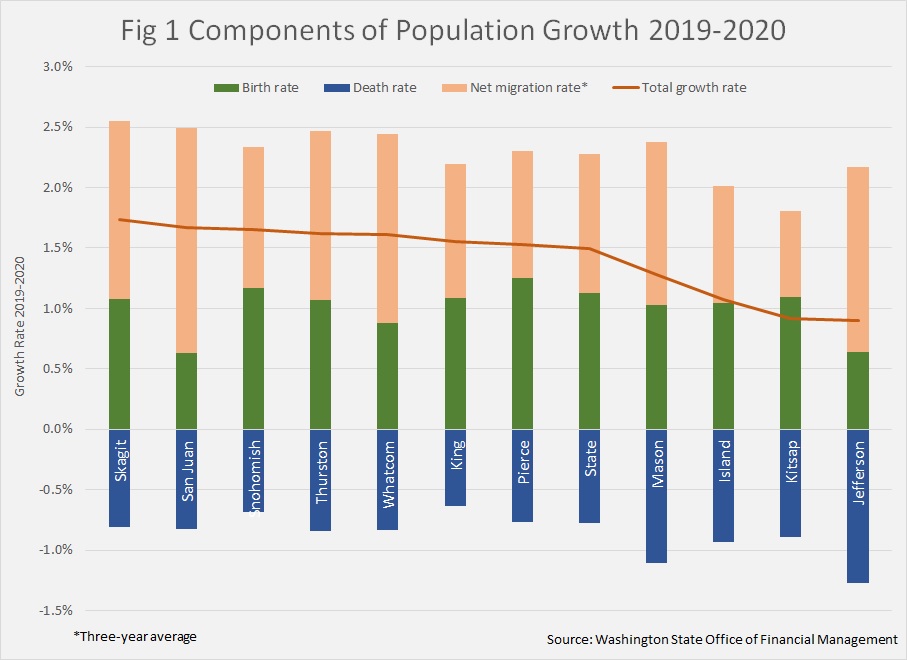 Three counties—Jefferson, Mason, San Juan—experienced net negative natural population growth, meaning that deaths outnumbered births (both of which are counted by the home address of the parties involved). All counties saw positive net migration, and all counties had positive growth for the year. We are again seeing a pattern of strong net migration into counties that are known as attractive and/or affordable retirement destinations, such as Mason, Jefferson, San Juan, Skagit, and Whatcom counties.
Figure 2 shows the size and growth rates for the largest cities in the three-county region.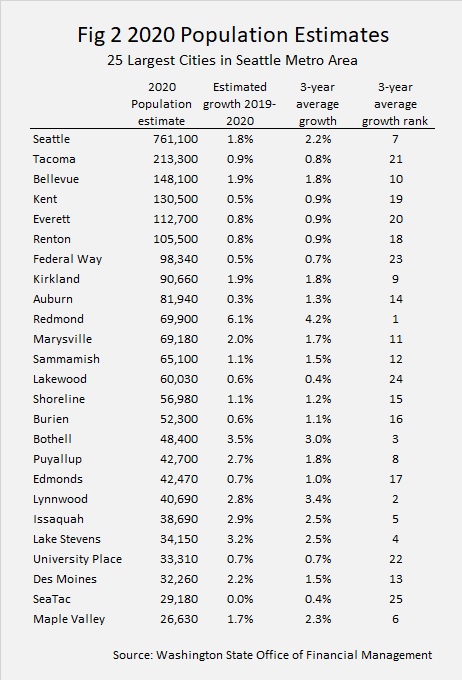 The strongest growth in the past three years has been in the cities of south Snohomish County and east King County. Growth in south King County and Pierce County cities slowed during this period.
Figures 3 and 4 show three-year average growth rates in the largest cities of King County for the past six years, in South King County and East King County, both compared to growth in Seattle.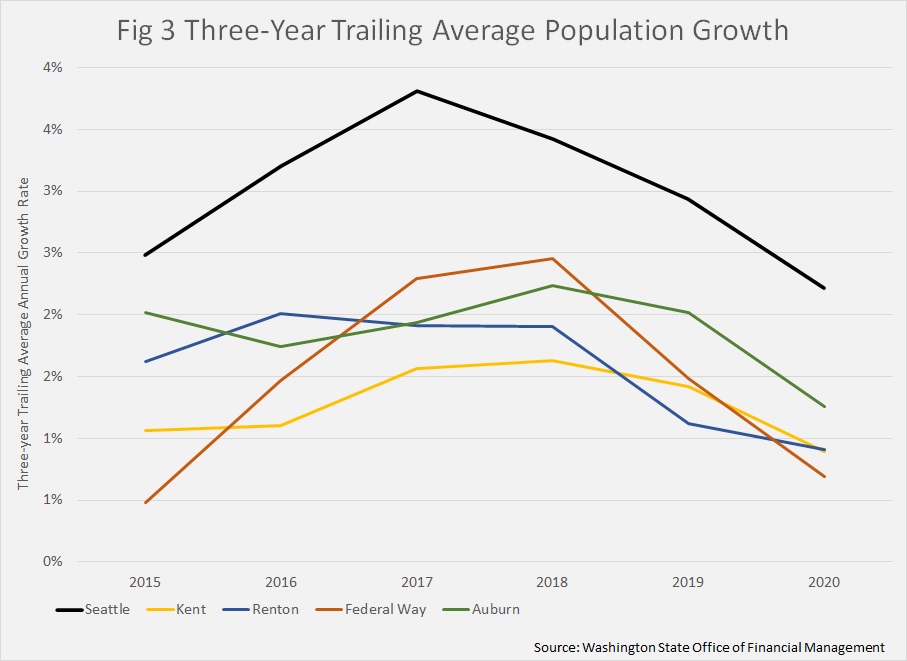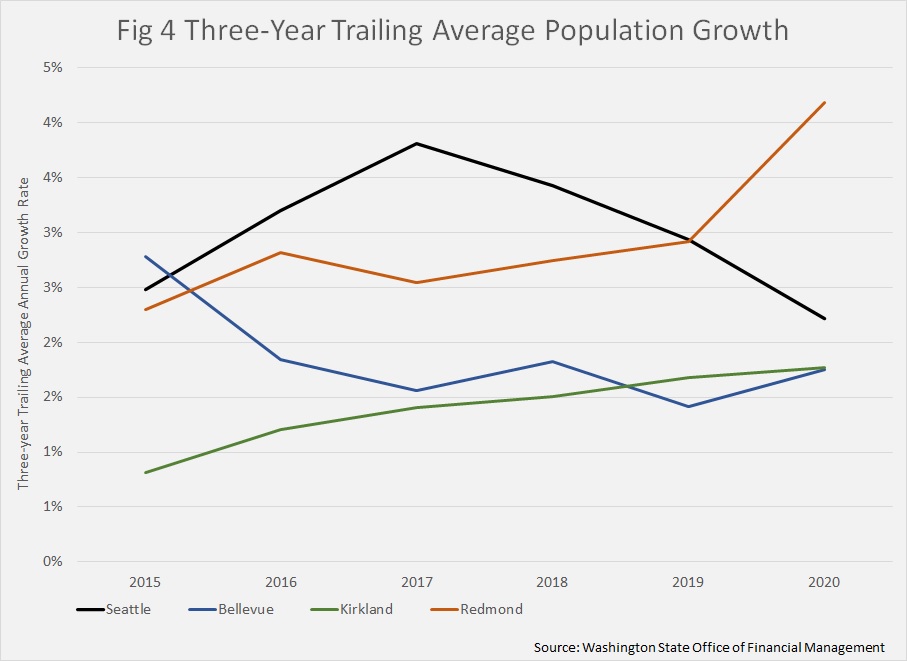 The south county cities saw a surge in growth in the middle part of the decade, and then tapered off toward the end. The Eastside cities were more mixed, with Bellevue relatively flat, Kirkland growing steadily and Redmond growing more sharply. Seattle also had a peak in the middle of the decade and has seen slower growth.
Looking Ahead
Over the past few years, King, Pierce and Snohomish counties settled into a moderate growth rate of around 2 percent, with continued strong in-migration. The coronavirus crisis will change things in ways that we cannot predict with any certainty. It seems most likely that growth in the more urbanized areas—Seattle, Bellevue, Redmond, Kirkland—will slow as fewer people are attracted to dense living. The magnitude of this shift, and the durability of it are unknown and will be related to the development of vaccines and treatments that make COVID a less frightening possibility. Key to keeping dense places attractive will be solving the problem of crowded conveyances such as transit and elevators.
Two more trends follow on the heels of the issue of contagion. First, if firms adopt more work-from-home practices, some residents will likely opt for longer, but less frequent commutes, and move to more outlying areas. Second, the Millennial generation is now in the prime age for family formation and will boost the market for single family homes.
These changes will start to become apparent when this same data exercise rolls out in 2021. By then the OFM demographers will have their hands on preliminary data from the 2020 census and will be starting from a better place as they try to figure out what is happening in the new coronavirus era.
Note on OFM Population Estimates
Demographers at the state Office of Financial Management produce these estimates for use in allocating resources for state programs and they are a key data source for tracking progress in planning under the State Growth Management Act. Following national standards, they key in on the date of April 1, and are released on July 1 of the same year.
Population counts can come from two sources: surveys or administrative data. The census is a survey and a very complete one, in that it tries to ask questions to every household in the country. But since it only takes place very ten years, and would be prohibitively expensive to do more often, demographers have to rely on a variety of administrative data to estimate population between censuses. This data includes homebuilding, housing vacancies and school enrollments.
Two key elements of the population equation, births and deaths, are very well documented, but the third element, migration, is not well documented. The principal source of migration data—address changes on federal tax returns—is not available in the tight timeframe that OFM has to produce the annual estimates, so migration figures must be used with caution. OFM does not update is previous estimates when new information becomes available, so the prudent thing to do is to use rolling averages over a few years. The Census Bureau's population estimates for cities and counties are updated as new information becomes available, but those estimates are always at least a year behind.