Total personal income in the U.S. remains high, but grew just 0.4 percent from June to July. Unemployment fell about 1 percent during that time and total wages paid grew by 1.4 percent. But unemployment compensation fell by 7 percent as people returned to work. Because of the supplemental unemployment payments of $600 per week, a large share of workers were getting more from unemployment compensation than from their jobs, so gains in total wages were almost entirely offset by the drop in total UI payments.
Figure 1 shows the sources of personal income from February through July.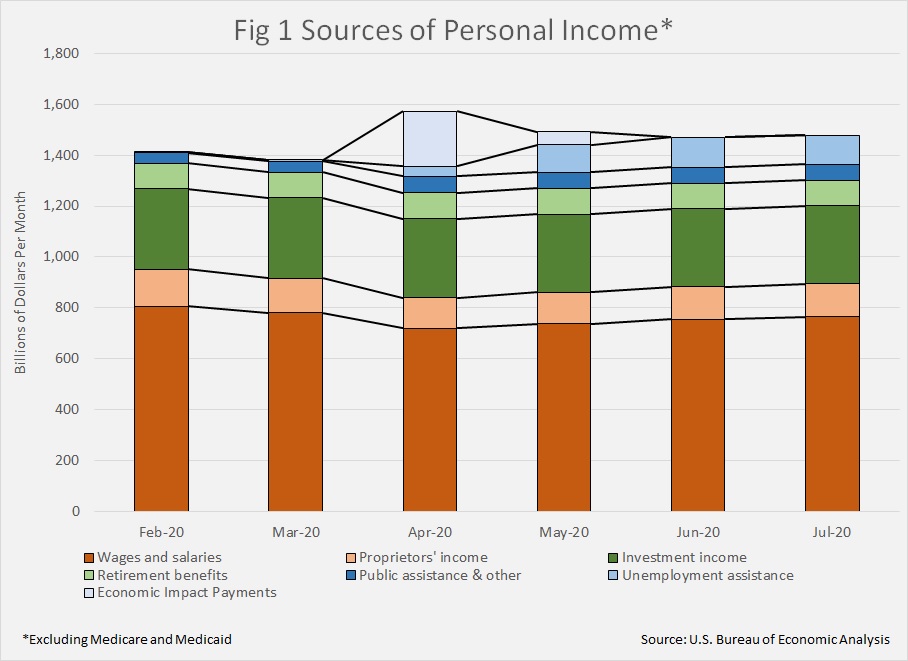 The picture has changed only slightly. Total personal income is still higher than in February, due to high UI payments. Those payments stopped on July 31. Assuming that unemployment drops another 1 percent in August, and all unemployed people were getting the extra $600 per week, total unemployment compensation will drop by about $35 billion in August. If wages grow only another 1.4 percent in August, we should expect to see total personal income fall for the month.
The question is, were those $600 payments acting as a disincentive for workers to return to work, as some argued? If so, August employment may rise more than 1 percent. We will see how this plays out when the national employment data for August is released on September 4.
Figure 2 shows how personal income was used each month.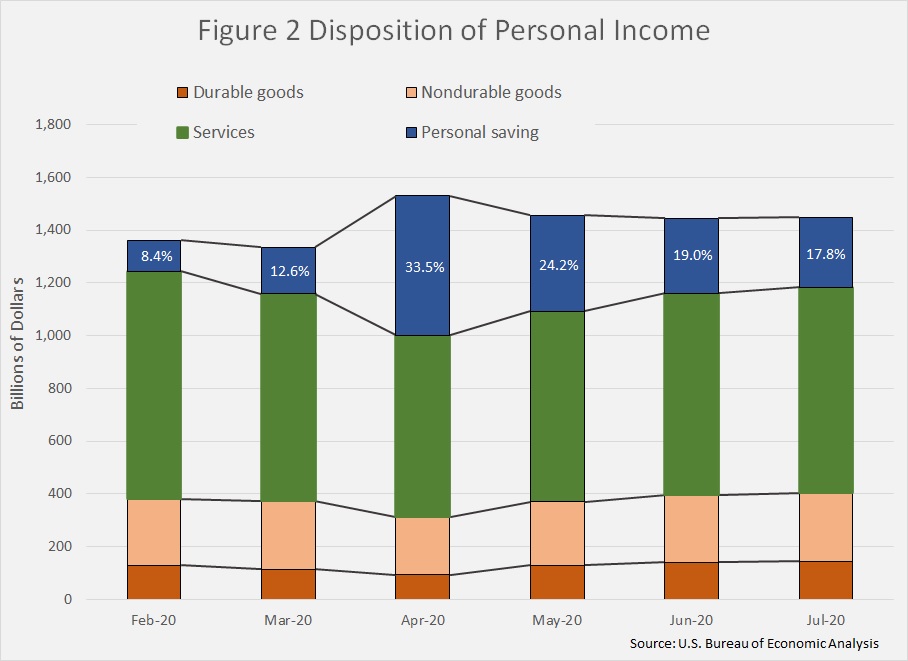 Spending rose slightly in all three categories, with spending on durable goods rising the most. The savings rate remains very high. Those households that remain economically insecure will be saving for an uncertain future. Households that are economically secure are still holding back, mostly on services. Overall, spending on durable goods is up 12 percent over February, and spending on non-durable goods is up 3 percent, while spending on services remains down 9 percent.
Looking Ahead
The loss of the extra unemployment payments will likely lower personal income in August, and since unemployed households were more likely to have been spending their income, consumption could fall as well. Lots will depend on the rate of reemployment in August and the degree to which economically secure households begin spending more of their income on services.