Among the many types of transit service available in the Puget Sound area, most struggle to get farebox revenues to contribute even a quarter of the cost of providing that service, with taxpayers picking up the rest. But there is one service that really does cover most of its costs: vanpools.
Figures 1 and 2 show the cost and revenue profiles of six vanpool services operating around Puget Sound.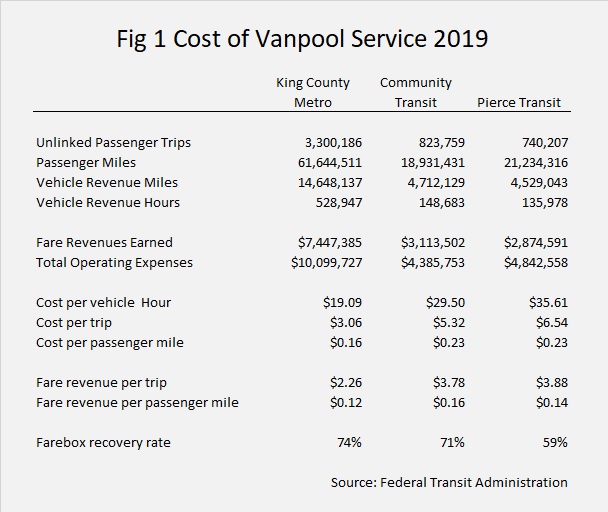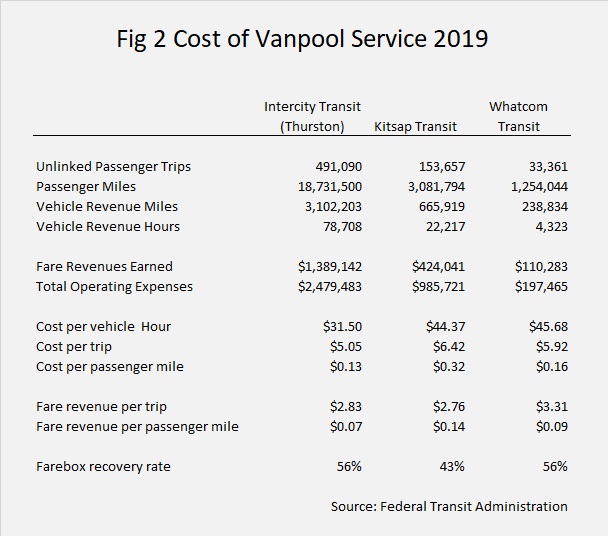 At a cost per passenger mile of between 13 cents and 32 cents, vanpool service is a fraction of the cost of conventional transit. Part of this comes from the lower cost of the vehicles, but most of the difference comes down to labor costs. Vanpools do not require operators, supervisors, cleaners and all the other people needed to run a scheduled service.
At the same time, just about every passenger will pay full fare, and the vans themselves will be mostly full with their regular passengers. The combination of lower costs and full fares makes the farebox recovery rate quite high.
But vanpools have been hit harder than regular transit by the pandemic.
Figure 3 shows ridership trends for the four largest vanpool services in the region. The position on the line indicates the number of trips for every 100 trips in January.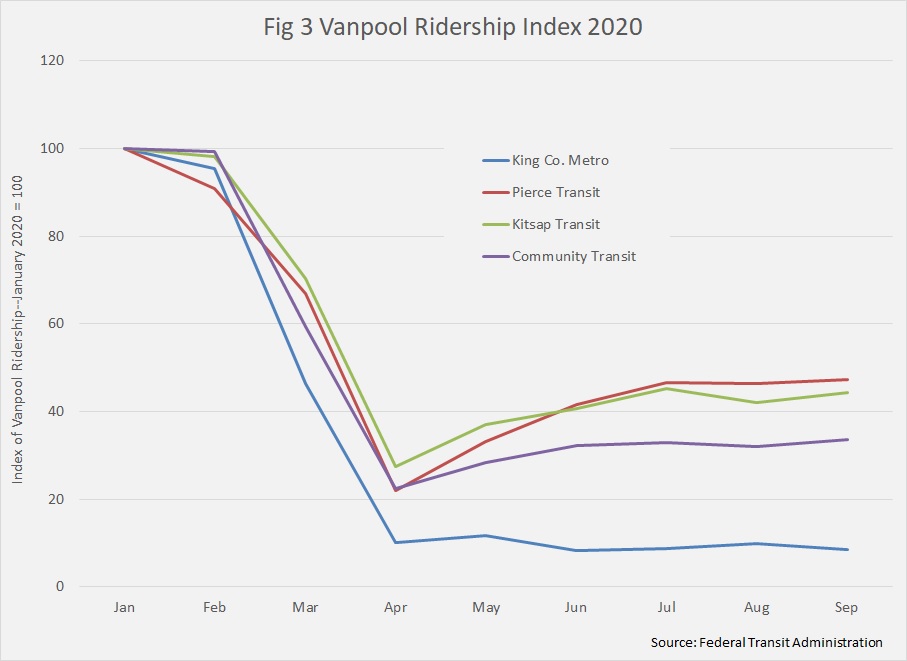 Vanpools are particularly effective moving people in and out of downtowns, but these are the exact places that have had the most work-from-home orders. The King County metro vanpools are running at only about 10 percent of their previous capacity.
Looking Ahead
Vanpools are the most cost effective and energy efficient of the major forms of public transit. The current drop in ridership should rebound to some degree once the pandemic eases. But there will be a major question about the viability of current vanpool programs if work-at-home becomes the norm for many people. If, as seems most likely, many workers spend part of their week at home and part in an office, coordinating vanpools becomes more challenging. Creative thinking will be in order.