When even a trip to the grocery store is fraught with risk and guilt, moving across the country is really a stretch. And with so much uncertainty about jobs and, in particular, job locations, settling into a new community has been quite an undertaking this year.
Real-time data on geographic mobility is not especially good: we get some anecdotal evidence from moving and truck rental companies, and we can see apartment vacancies rise and fall. An old standby is the data on driver's license trade-ins published by the Department of Licensing. This data, available through October, shows how many people traded in an out-of-state license in each county, and what state they came from. Unfortunately, this data does not tell us anything about people leaving the state.
Not surprisingly, migration into Washington has been down considerably during 2020. Figure 1 shows the change in the number of trade-ins by county for the first 10 months of 2020 versus the same period in 2019.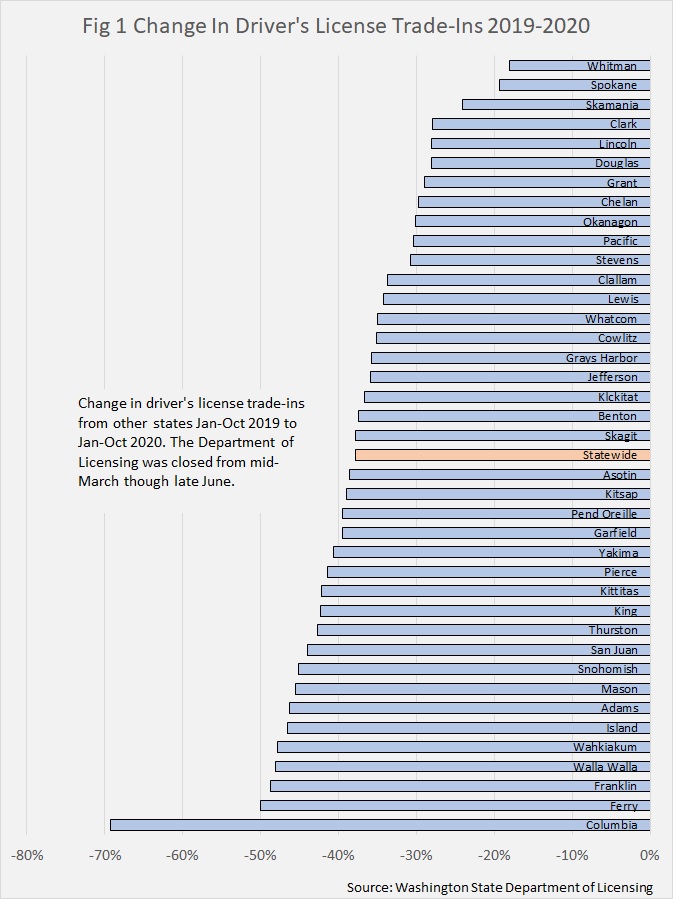 Statewide, driver's license trade ins were down 38 percent from last year. Licensing offices were closed from mid-March through most of June, but by October, people who had moved to the state in those months should have found their way into an office to get a Washington license.
By later in the year, though, migration activity was picking up. Figures 2 and 3 compare monthly license trade ins for 2019 and 2020 for the entire state and for the three-county Seattle area.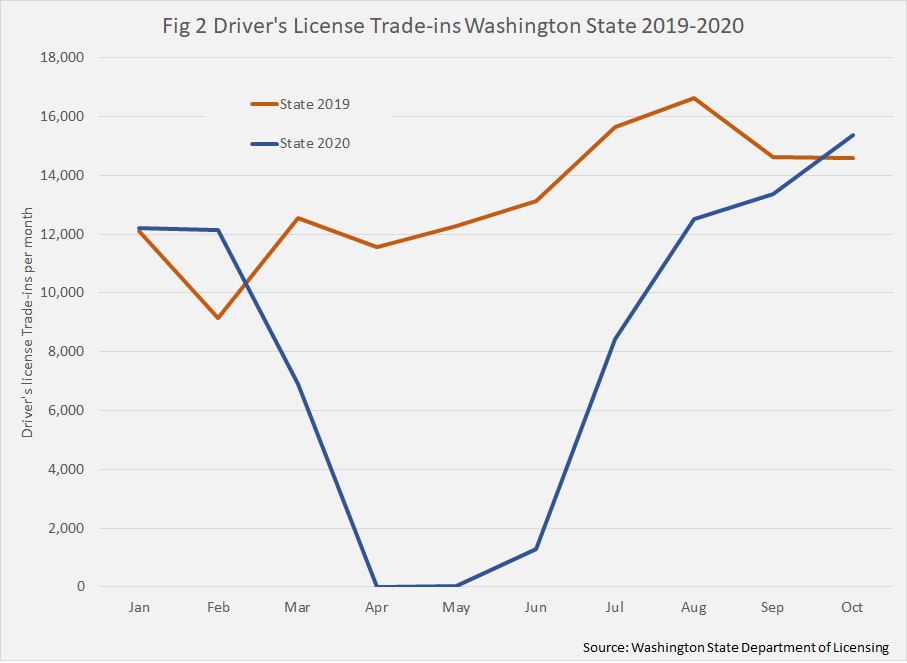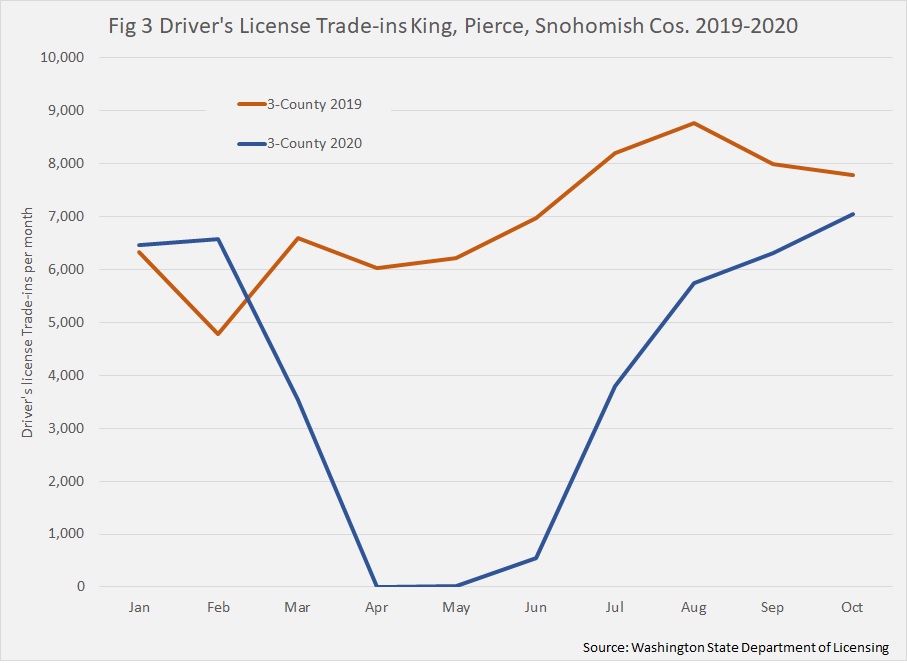 Statewide, by October, license trade-ins had exceeded those of October 2019. In the Seattle area, October 2020 activity was still a bit behind 2019, but not far. Interestingly, Spokane County had the largest role in pulling the state average up, with the second lowest drop in license trade ins. Trade-ins in Spokane County for August, September and October 2020 were 30 percent higher than for the same three month period in 2019.
The slowdown in migration this year has been relatively uniform in terms of the origins of in-migrants. Figure 4 shows the change in license trade ins for the 25 largest states of origin.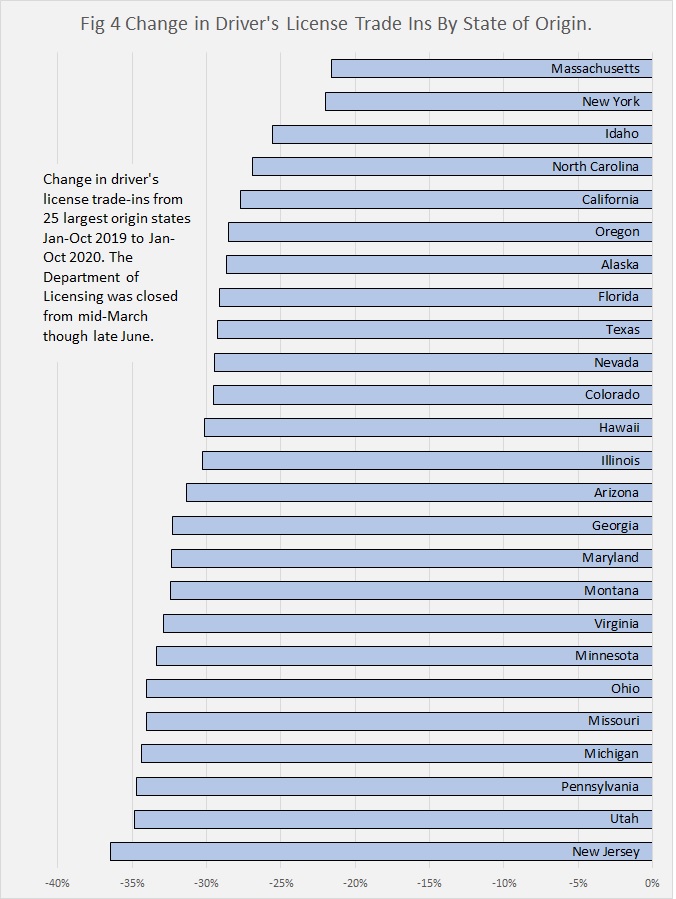 Nearly all of the states fall between a 25 and 35 percent drop in in-migrants. No particular pattern here, with both heavily impacted states (e.g. New Jersey) and lightly impacted states (Utah) seeing larger migration drops.
Looking Ahead
This is just a snapshot of migration in the past few months, and really does not tell us a lot about what will be happening in the near and mid-term. So many variables are in play that it will take some time to sort out the interplay of job locations, housing demand, service employment and overall economic recovery. And, crucially, we don't have much information yet on people moving out of the state. We'll check back in a few months to see if the recovery of in-migration continues, or whether the increase in license trade ins this fall was just catch-up from office closures in the spring.