We are approaching a year of empty offices. The work-from-home model that was so necessary during the pandemic has some inherent stickiness, with big implications for commercial real estate. Building owners and agents are anxiously watching trends to see just how much less space employers will need in the long term.
In most of the country, trends are not exactly moving in the right direction. Figure 1 shows the net absorption rate of office space, including sub-leases, in the top 25 office markets in the country for 2020. (Note that market areas for commercial real estate do not necessarily follow political boundaries or other ways of identifying cities or metro areas.)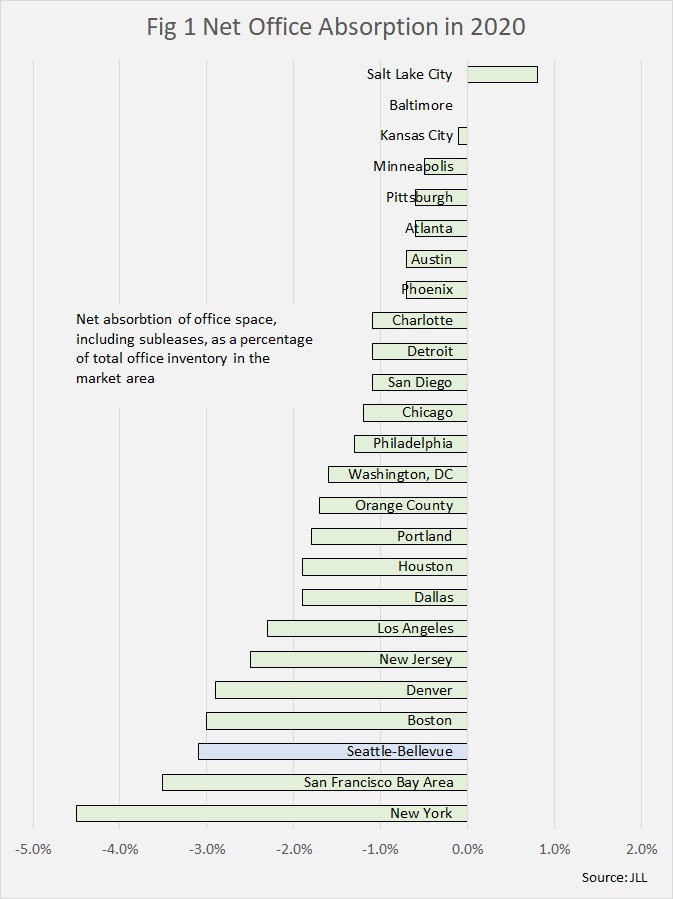 Only two of the areas, Salt Lake City and Baltimore, saw a gain in office use, and the Seattle-Bellevue market area had the third highest drop in office occupancy. But each market is starting from a different place in terms of occupancy. Figure 2 shows the vacancy rate for office space in the top 25 markets in the fourth quarter of 2020.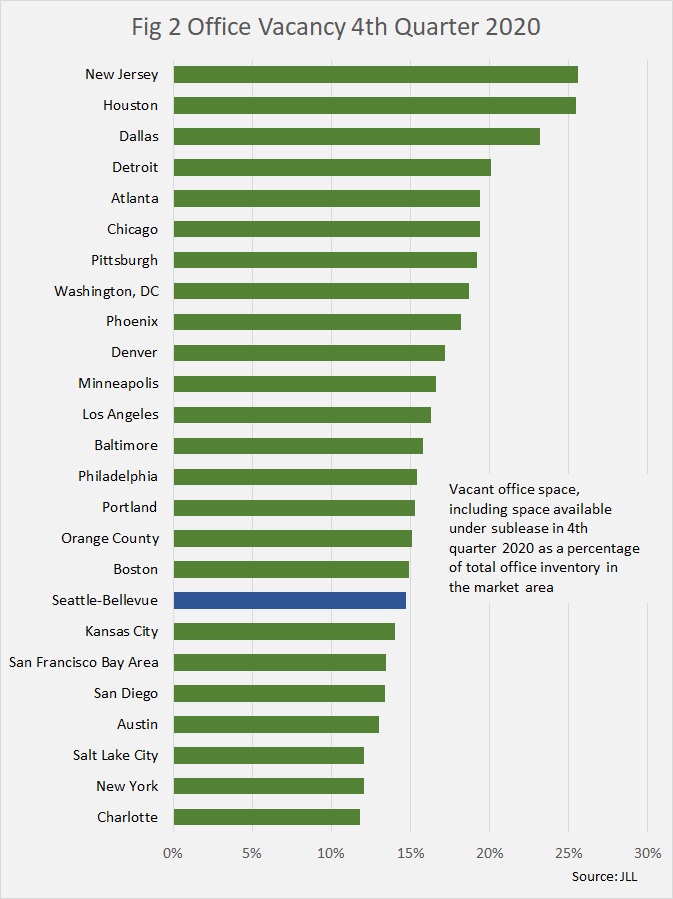 Even with negative absorption, the Seattle area vacancy rate of 15 percent is lower than most large markets. Seattle's rate is up sharply from around 9 percent a year ago, with much of the increase driven by sublease space put on the market by employers deciding that they need less space. Rents in the Seattle market, which were the fourth highest among the top 25, have been flat for direct space, and falling for sub-lease space.
And more space is on the way! General optimism about the Seattle area economy drove development of office space that came on the market in 2020 and that will appear in the next few years. Figure 3 shows office space delivered in 2020 as a share of the total inventory for the top 25 markets.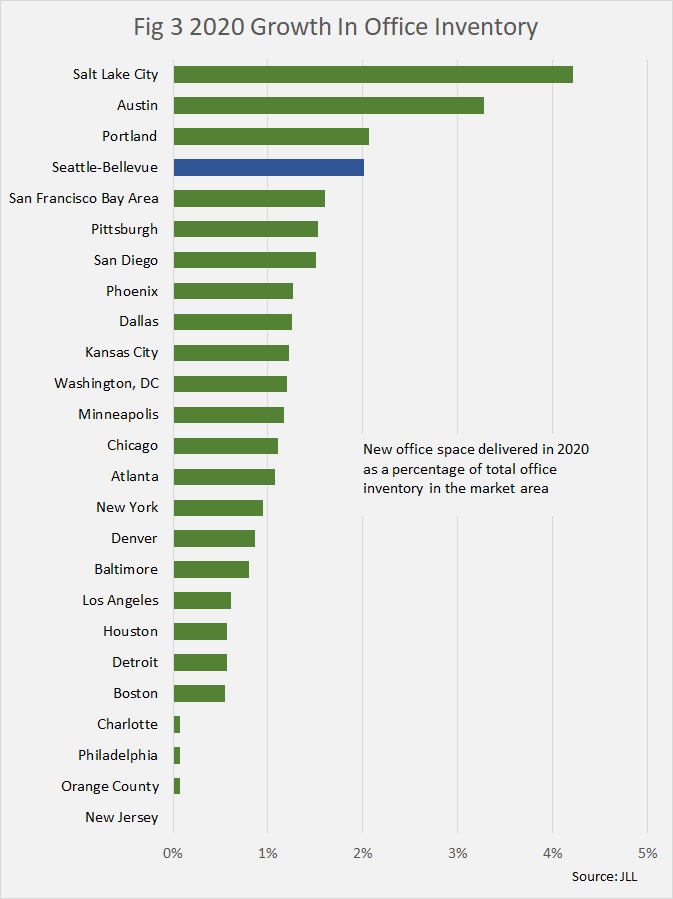 The Seattle market saw a 2 percent increase in office space in 2020, which would be quite reasonable in ordinary circumstances, as the economy and employment have been growing at least that fast. But with demand for space shrinking, and sublease space coming on the market, a portion of the newly-build space remains empty.
Figure 4 shows office space under construction at the end of 2020 as a share of existing inventory.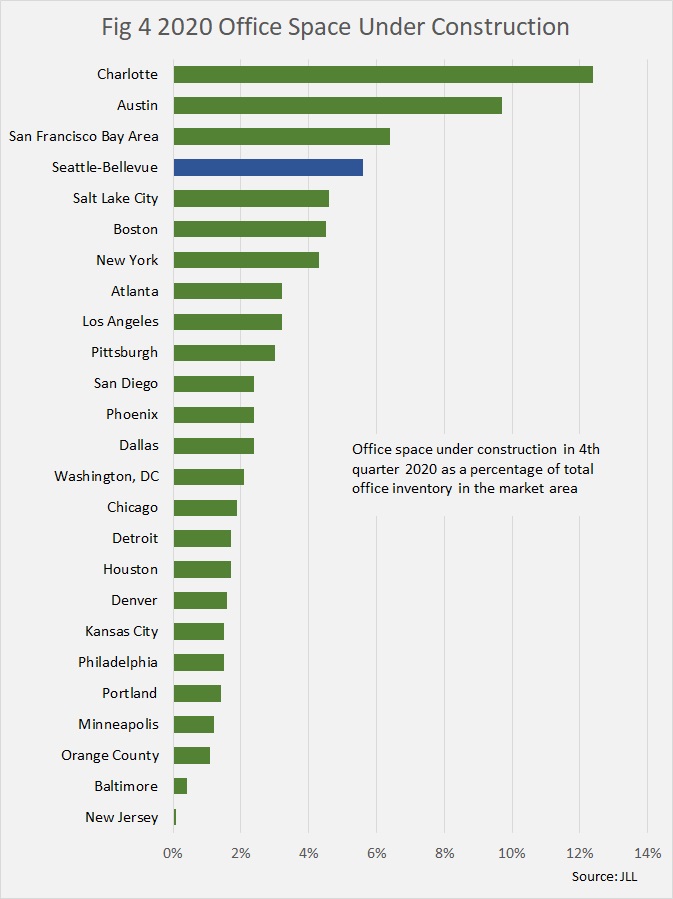 According to JLL, about 5.5 million square feet of space is in the pipeline for the Seattle market. Large office projects typically take two to three years to complete, so we can expect another 2 percent per year increase in the office inventory.
Looking Ahead
The world of office work is clearly not going back to pre-pandemic patterns, in which work-from-home was the exception and all office employees had a dedicated work space in a commercial building. It is also clear that many workers are anxious to return to the people-centered environments they were used to.
So, the question is how much snap-back we see in office occupancy? Will workers retain their own personal spaces, even if they occupy them only a few days a week? Or will we see more hoteling or hot-desking as workers share spaces? This will have huge implications for office demand, as employers whose staffs can easily work from home could cut their office footprint in half or less. If office cultures settle into higher rates of work-from home and lower rates of dedicated desks, it will take many years to absorb the newly vacant space and the space currently in the pipeline.