At least in most places
For its September revenue forecast, the State Economic and Revenue Forecast Council halved its projected revenue shortfall for the year from its June forecast. The bulk of the improvement comes from faster than expected recovery in retail sales tax collections. Statewide, retail sales in July were 3.5 percent higher than July 2019. The Council now expects total revenue for the biennium to be about 4.4 percent below its pre-pandemic forecast from February.
Bad, but not the devastation that had been predicted. So, how are things going at the local level? We are still a month behind the state in data, but we do have total sales tax collections for June for local governments. Taxable activities are very seasonal—summer construction, holiday shopping—so to get a picture of sales tax collections it is best to look over a 12 month period. Figure 1 shows the year-over-year difference in sales tax collections for the 12 months ending June 30, by cities in King County that get over $1million in sales tax revenue per year.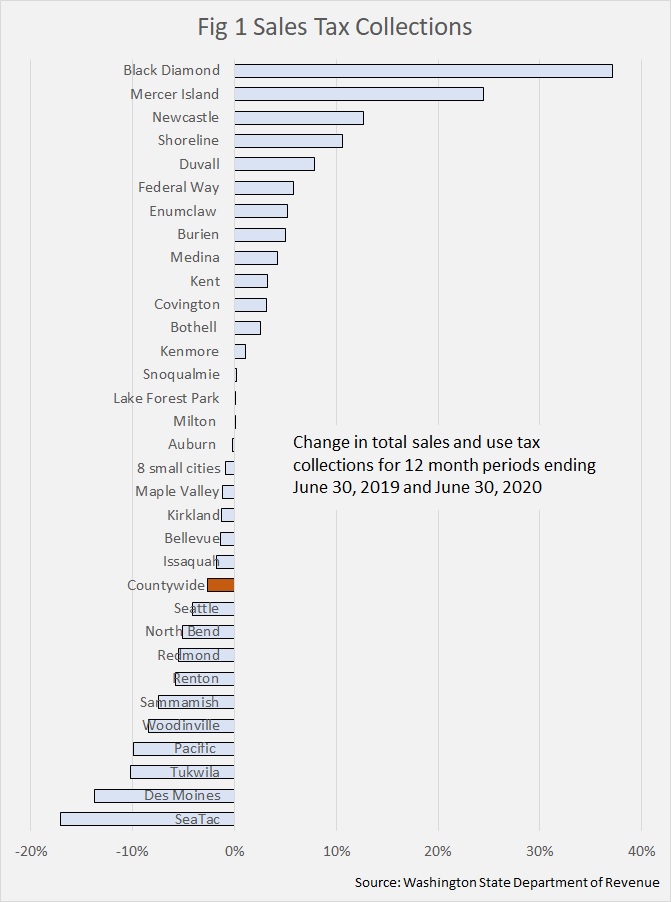 Lots of variation here. The big increases likely come from construction, which was only shut down for a short time and tends to vary from year to year, especially in smaller cities. Other cities that have gained are less dependent on visitor spending. The cities that have been hit hardest are around SeaTac airport, which has seen activity—hotels, restaurants, parking lots, car rentals—plummet.
What might we expect past June? For July, statewide taxable sales were up 3.5 percent over July, 2019. For August, national retail sales (not including construction and other taxable activity) plus food service were up 3.5 percent over August 2019. Narrowing the national picture, August retail sales, minus grocery stores and gas stations (which have mostly non-taxable sales) were up 6.8 percent over August 2019.
Note the countywide bar in Figure 1, which shows a 3 percent drop from the prior 12-month period. This is good news for Metro Transit, which gets most of its operating revenue from sales taxes. While its loss of farebox revenue will put a large hole in its budget, the relative stability of sales tax should keep the agency from falling too far into a hole.
Looking Ahead
There is no particular reason to believe that retail sales trends in the Seattle area will be markedly different from the national picture. There has been concern about the end of the enhanced unemployment compensation program in July, but August sales seem strong. At 7.4 percent, unemployment in the Seattle area is below the national average.
One question is the amount of catch-up spending that remains to be done by consumers who have been staying away from stores. Personal income is up, savings rates have been very high and consumer debt is down, so households have plenty of money to spend if they choose to. If national trends hold, the annual gap in taxable retail will continue to close.