Growth in the Puget Sound region has leveled off in the past three years after a couple of blistering years in 2016 and 2017. According to the estimates just released by the state Office of Financial Management, the three-county region grew by almost exactly 1.5 percent between April 2019 and April 2020. King County grew slightly faster while Pierce and Snohomish Counties grew slightly more slowly.
Although regional growth has slowed a bit, it is still three times the national growth rate of 0.5 percent. Moreover, growth has been well distributed around the entire state. Figure 1 shows the average growth rate for Washington counties over the past three years, along with the state and national rate. (OFM estimates are, well, estimates, so averaging out a few years is always a good idea.)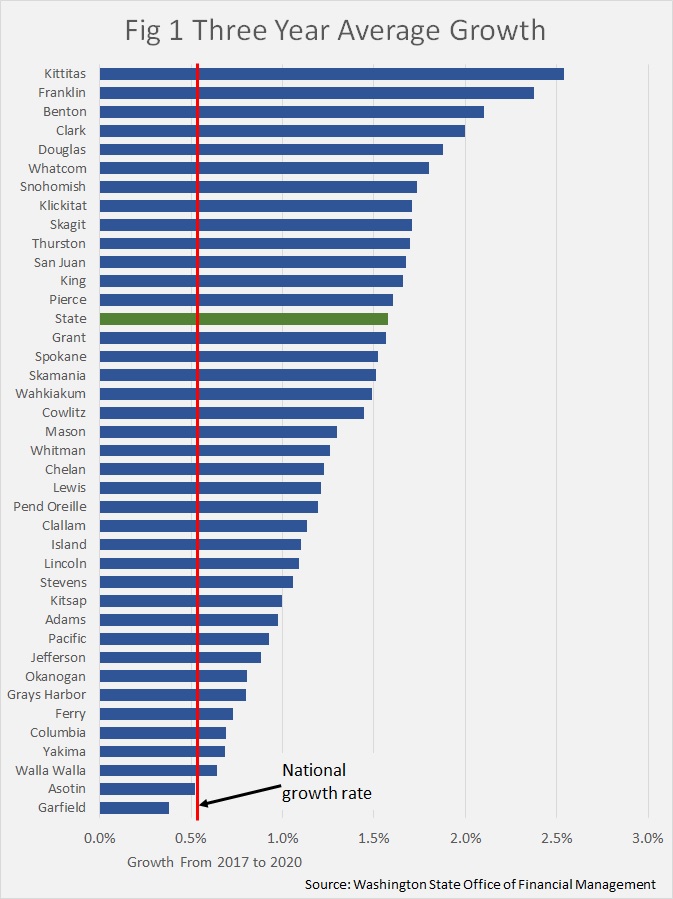 Only one county, Garfield, the state's smallest with an estimated population of 2,225, grew more slowly than the national average. From Asotin, which grew at exactly the national average, up to Kittitas, which grew at 5 times the national average, the state has seen strong growth. This is important, and a major change from the past. Back in the dark days of 1985, 17 of the state's 39 counties lost population, and as recently as 2014, half of the state's counties grew more slowly than the nation. In 2012 and 2013, Washington grew only slightly faster than the nation. But since 2016, the nation's growth rate has fallen by 33 percent and Washington's growth rate has grown by 33 percent. In 2019, Washington grew 2.5 times faster than the country.
Population growth comes from two sources. Natural growth is defined as births minus deaths, with both counted by the most recent residence of those concerned. Net migration is defined as people moving in minus people moving out.1 Over time, natural growth has accounted for about 40 percent of the state's growth, but that figure has fallen, and natural growth accounted for just 18 percent of state growth in the past three years. Figure 2 shows the two components of natural growth in counties in the state, with death rates on the left and birth rates on the right. The counties are ranked by their net natural growth rate, with those below the red line having a negative rate.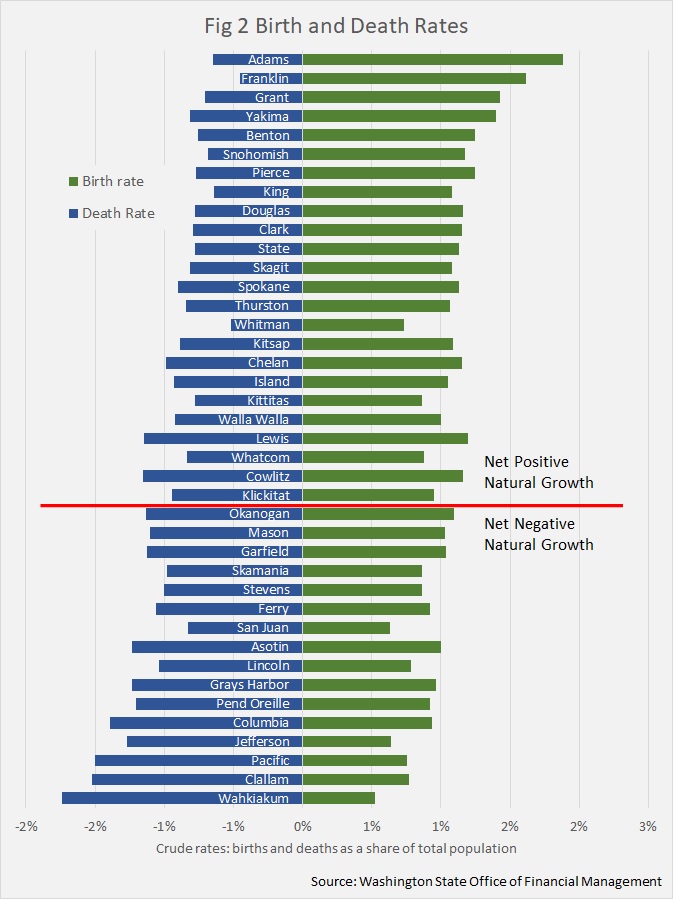 Sixteen of the state's counties had negative net natural growth rates, meaning that residents dying outnumbered births to resident parents. This is up from 10 counties in 2010. Net migration makes up the difference between natural growth and total growth, and Figure 3 shows net migration rates, averaged over the past three years.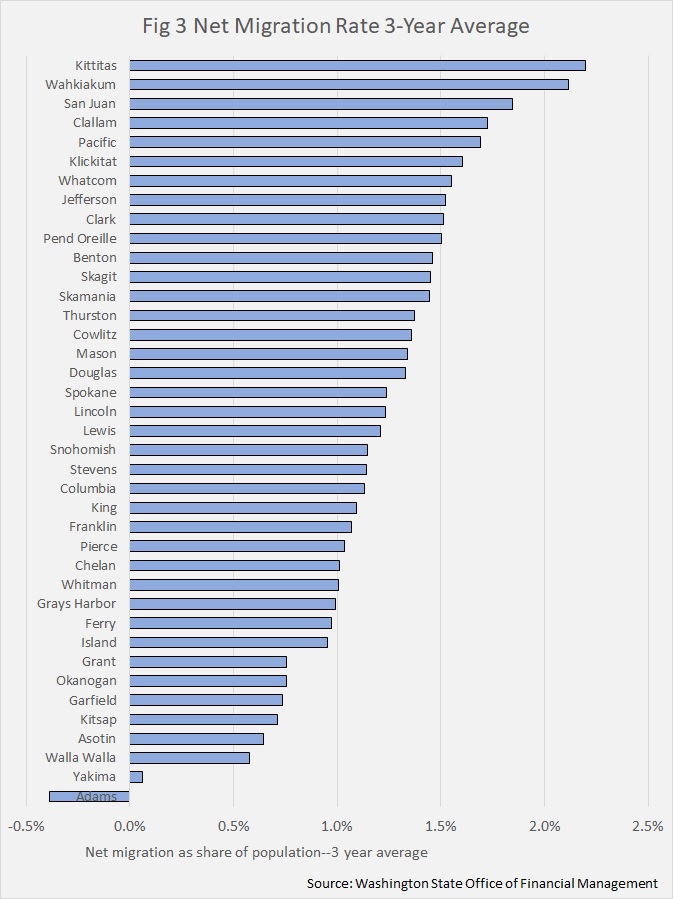 Every county in the state, except Adams (which , curiously, has the highest natural growth rate), has seen positive migration. Many of the counties, such as Pacific and Clallam, that had strongly negative natural growth had healthy net in-migration. What is also important to note is that migration within the state is a zero-sum process: one county's loss is another's gain. So, positive migration everywhere means that migrants from other states or countries are spreading themselves around a bit.
Looking Ahead
The coronavirus will, undoubtedly, influence migration patterns in the U.S. and within Washington. The combination of fear of crowds and the newly-embraced practices of remote work, will combine to change settlement patterns in ways that cannot be predicted. All parts of the state are already attracting people, from out-of-state as well as other parts of the state, so there will not be a great deal of slack in housing markets and absorbing new residents will be a challenge.
2020 will be the last year of state population estimates before data becomes available from the 2020 decennial census. In the meantime, the 2020 estimates will serve as the basis for state program funding and growth management planning. The Census Bureau will not be producing annual estimates, during 2020.
Migration is difficult to measure, since no one is required to register where and when they change residences. OFM uses a "residual" method to calculate net migration. After estimating total growth for a county, the natural rate is subtracted from the total, leaving a residual that is assumed to be the net result of migration in and out. This methodology is imprecise in any given year. Birth and death data are quite accurate, so all of the error in the growth estimate itself is contained in the net migration residual. OFM acknowledges this weakness and advises using rolling averages.