2020 has seen a spike in homicides in cities across the country, and Seattle is, tragically, very much part of that trend.
The Major Cities Chiefs Association reports that among its 65 member cities, representing the largest police departments in the country, homicides for the first nine months of 2020 increased 29 percent over the first nine months of 2019. During that same time period, reported rape fell by 16 percent and reported robberies fell by 11 percent. Aggravated assaults increased 10 percent.
Figure 1 shows the change in homicides for the first nine months of 2020 over the first nine months of 2019 for the central cities of the largest metro areas in the country. These figures represent just crimes that took place within the central city limits.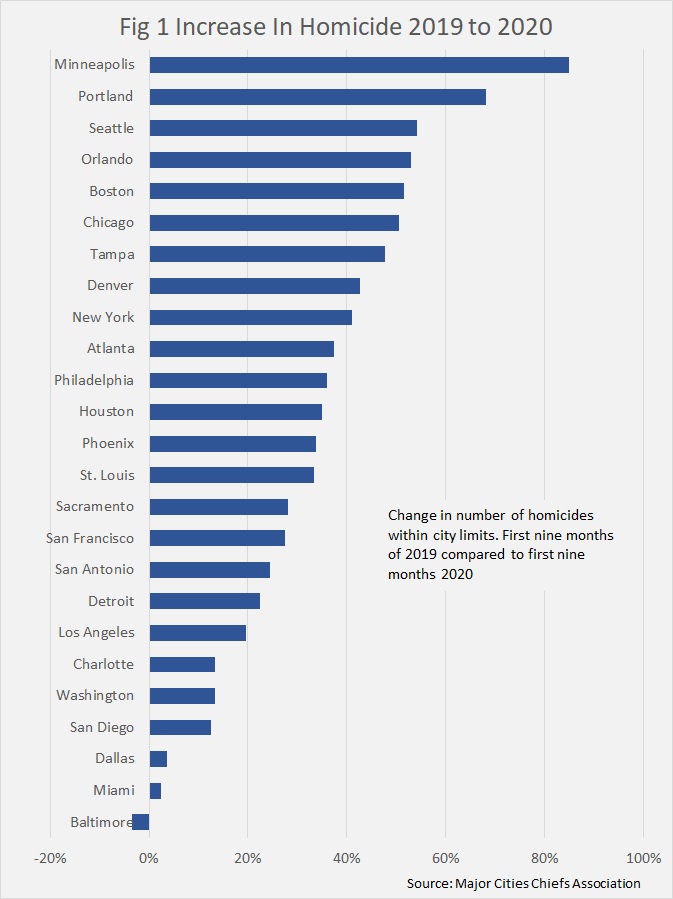 Figure 2 shows the homicide rate for the first nine months of 2020 for these cities, expressed as homicides per 100,000 residents of the central city.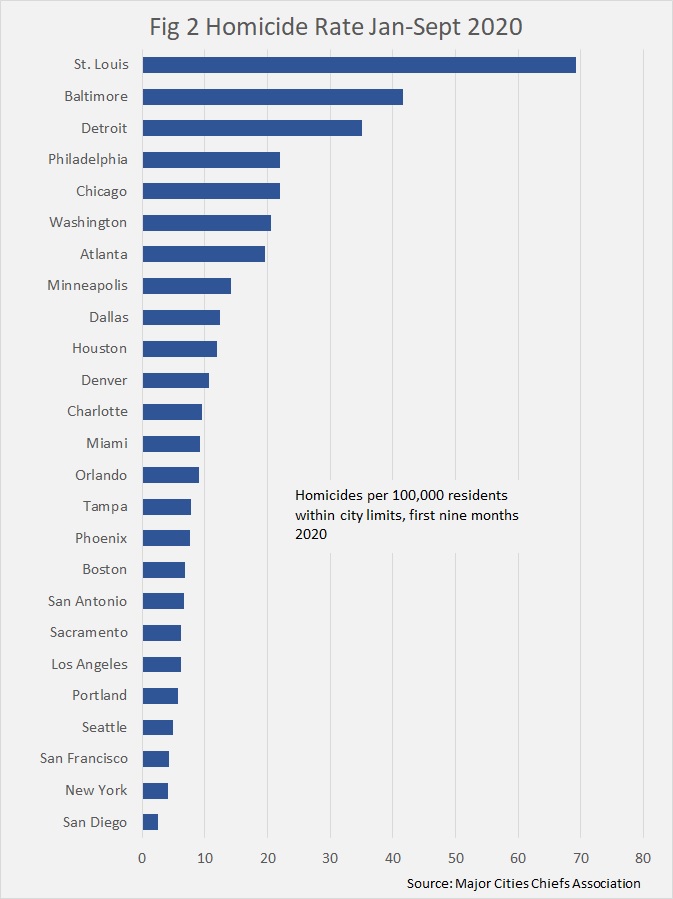 Seattle and Portland have relatively low rates of homicide, but two of the largest increases. Interestingly, the nation's two largest cities, New York and Los Angeles, have relatively low rates of homicide and the increase for Los Angeles was on the lower end. A resident of St. Louis is 17 times more likely to be a victim of homicide than a resident of New York City.
Figure 3 shows an index of violent crime rates for Seattle, with a base in 2008. The position on each line indicates the number of crimes per 100,000 people for every 100 crimes per 100,000 in 2008.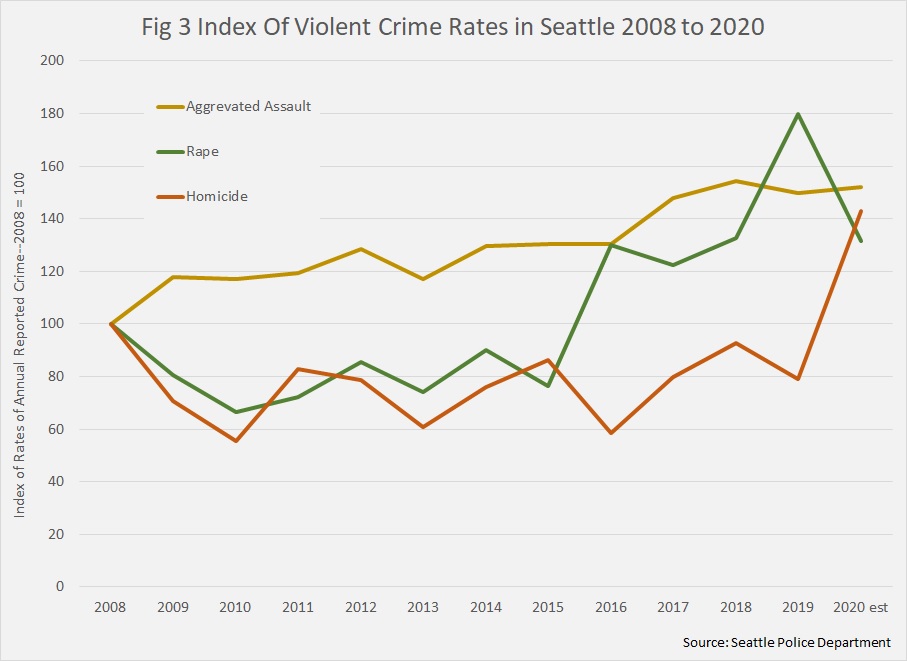 The rates for two of the three major violent crime categories, homicide and rape, actually dropped after 2008, with homicide staying lower until just this year, when the rate shot up. There were 3.7 homicides per 100,000 people in 2019, and it is projected that there will be 6.7 homicides per 100,000 people in 2020. Rape saw a major jump in 2016, and has stayed high.
Aggravated assault is defined by the FBI as: "an unlawful attack by one person upon another for the purpose of inflicting severe or aggravated bodily injury," usually involving a weapon. These crimes have been growing steadily in Seattle, from 244 crimes per 100,000 population in 2008 to a projected 320 per 100,000 residents in 2020. By year end there will have been over 2,800 aggravated assaults committed in Seattle.
Looking Ahead
Criminologists are puzzling over the very sharp increase in homicide this year. Societies tend to change relatively slowly, so a 30 percent increase in homicide is really abnormal. But this has been an abnormal year in so many respects that it is difficult to tease out relationships and correlations, let alone assign causation. In any case, the more gradual but alarming increase in aggravated assault in Seattle—thousands of vicious attacks on people—indicates that violent crime in the city is a real problem, and not just a statistical blip.