Last week we noted that Americans are moving from state to state at a lower rate than in past decades, but that Washington is among the top states for in-migration as a share of population. Washington ranks 12th highest for domestic migration rate, and seventh for international migration. Among the 30 largest metro areas in the country, Seattle has the eighth highest domestic in-migration rate.
Where the newcomers settle
Figure 1 shows the domestic in-migration rate for counties in the state, expressed as the number of residents who moved from another state in 2018 per 10,000 residents of the county. The data is based on address changes on federal tax returns.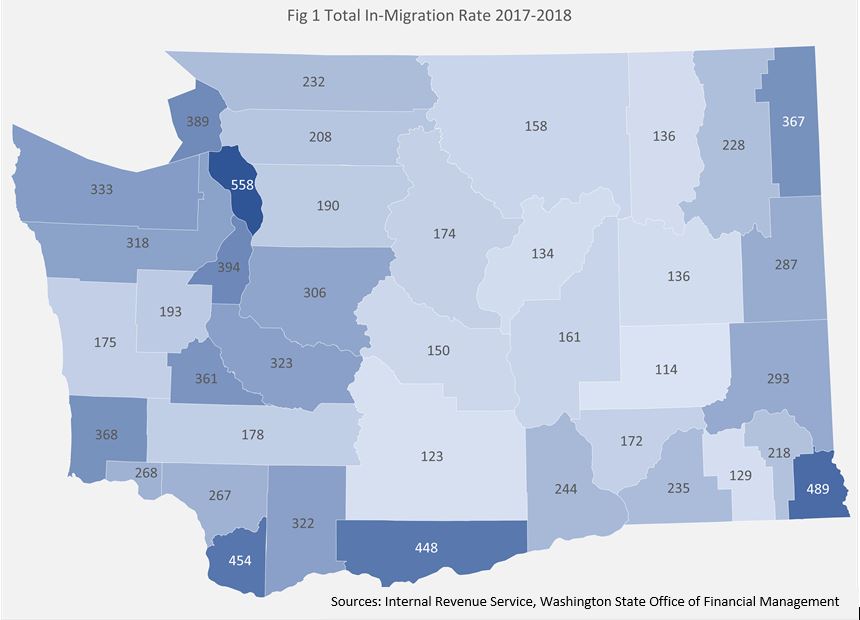 Island County has the highest rate of in-migration, pointing to two factors often overlooked in the Seattle metro area. First, Island County hosts a large military base, Naval Station Whidbey Island, and the regular turnover of personnel boosts in-migration. Second, Whidbey Island is a favored retirement destination, and retirees do move to Washington from other states.
High in-migration rates are seen along the Oregon and Idaho borders and in other retirement destinations like Jefferson, Clallam and San Juan counties. Kitsap and Pierce counties have large military bases, and Thurston County gets some spillover from JBLM.
The lowest rates of out-of-state migration are seen in Central Washington. Many of these counties are growing due to high birth rates and internal migration, but they have few attractions for people moving from out of state. Kittitas, Chelan and Douglas counties are retirement destinations, but mostly for in-state residents.
Age and migration
One thing we do know about interstate migration: It's mostly about young adults. The Indexer has covered this before, noting how a large influx of young adults has skewed the population structure of the Seattle area. But again, concentrating on the net flow masks the much larger flow both ways. Figure 2 shows migration in and out of King County by age groups. Because the age groups used by the Census Bureau for this data are not the same size, the migration rate is shown for each group.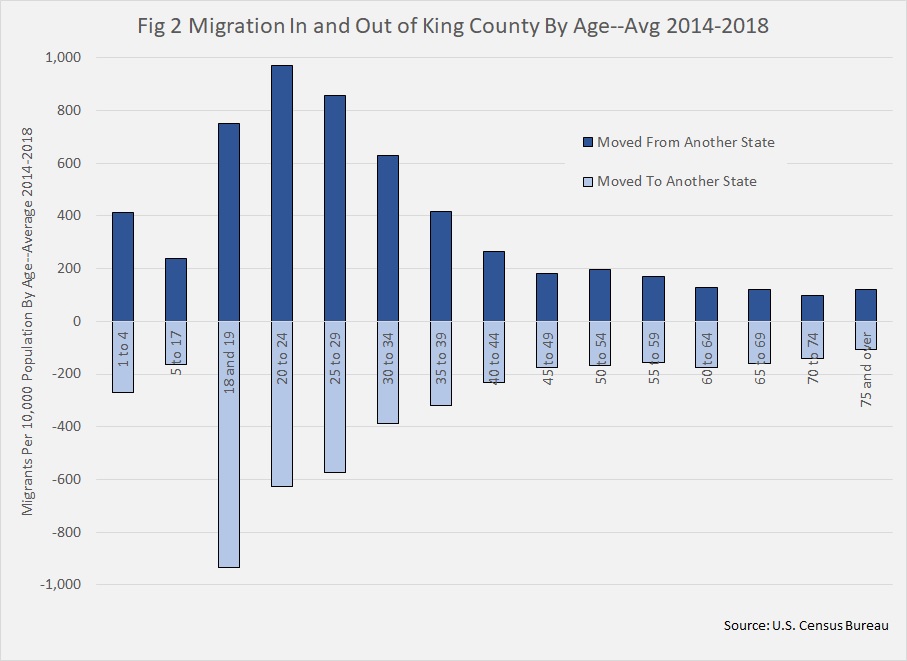 This data has a relatively high error margin, so it is safe to say that after age 40, migration is pretty much a wash: as many people moving into King County from other states as moving from King County to other states. There is also a noticeable negative migration rate for 18 and 19 year olds, as college students go out of state due to the state's undersized higher education system. But then young adults start moving into King County in large numbers, with fewer moving out.
This pattern, as the Indexer has noted before, is all about economic opportunity. The technology companies that have come to dominate economic growth in the region tend to hire right out of college, driving up the number of young in-migrants. But in the 20-24 age group we do have to make allowances for King County natives returning from out of state higher education institutions.
We can also presume that some share of the outmigrant young adults are people who had moved to the region and then, after a few years, relocated back to their original home or a headed to yet another destination. There has been some evidence that the return flow of young migrants has slowed (more young migrants are making their first move a permanent one) and that that slowing is responsible for some of the overall drop in national migration patterns.
Education
Migration rates are higher among those with higher levels of educational attainment. Figures 3 and 4 shows the education attainment of the total population and the population that moved from another state in the past year.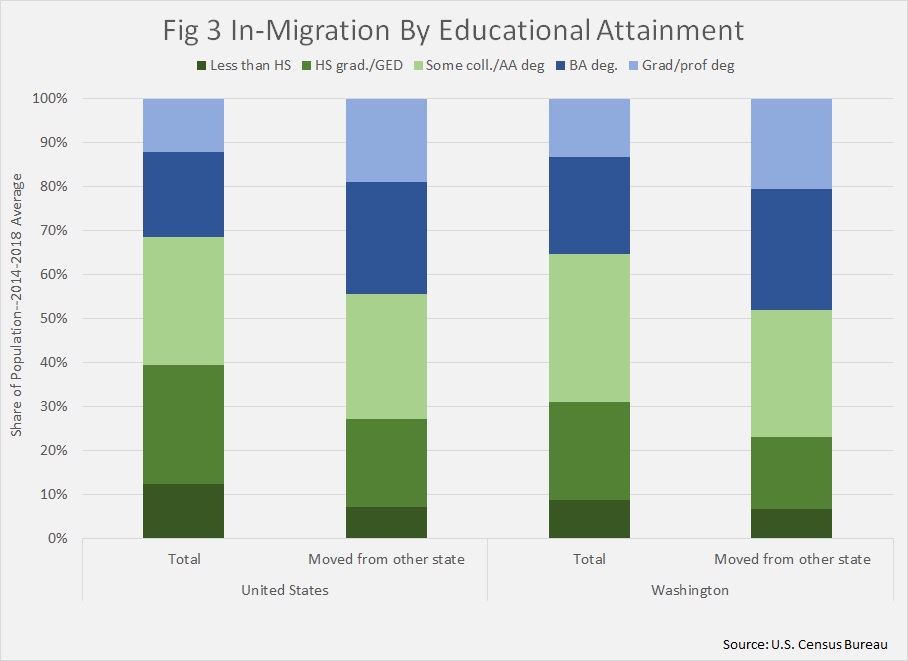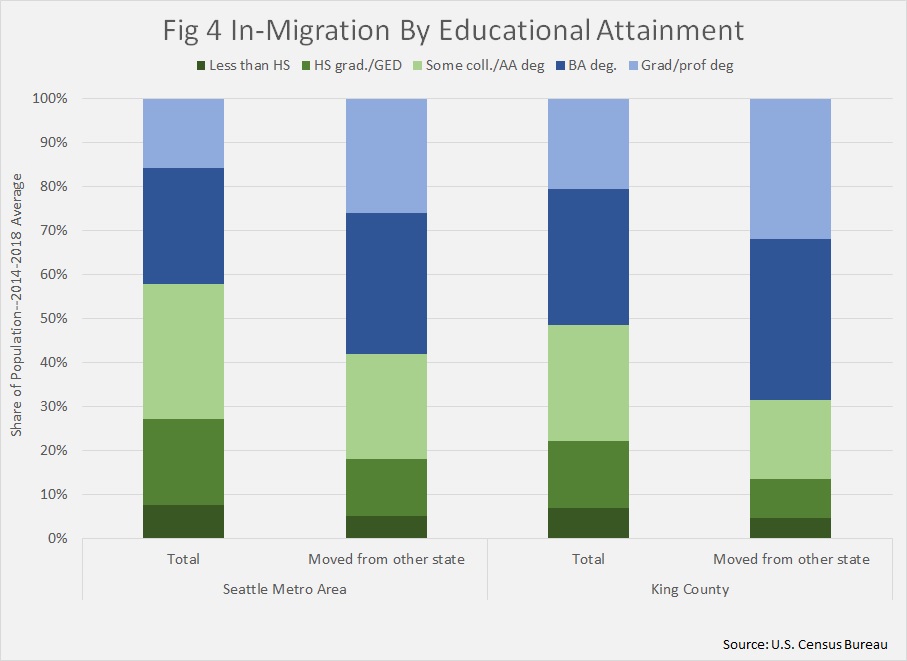 At each level, national, state, metro area and King County, people with college educations make up a larger share of movers than in the total population. Nationally, about 32 percent of the population has a bachelor's degree or higher, but nearly 70 percent of the people moving to King County have a college degree and over 30 percent have an advanced degree. (In-migrants with degrees will include those who have returned to the area having attended college out of state.)
Looking Ahead
Migration does appear to be getting back on track, if slowly. The most reliable near-term indicator of migration, driver's license trade-ins, was offline for several months, but the state is once again issuing licenses to new residents. In July, the Department of Licensing issued about 8,400 licenses to out-of-state movers, down from 15,600 in July of 2019. Some of these would be catch-up from months when DOL was closed. So migration to the state remains slow, and will likely remain slow for a while.
Next: the drivers of migration and how they might play out in Washington over the medium and long term.