The national July employment and unemployment numbers are out, and they show modest improvement on both fronts. This is somewhat surprising, given the re-imposition of service sector shutdowns in areas where coronavirus has surged. When the state and metro area figures come out later this month, we can expect wide variation within that overall national picture.
The Indexer recently reported on the variation in unemployment rates among states, and recently released June data on metro areas mirrors that variation. That data does show that the Seattle metro area is doing well compared to other large metro areas in the country.
Figure 1 shows June unemployment rates for the 30 largest metro areas in the country (as measured by workforce). It also show the June rates for the total population in these 30 metro areas and the total population living in metro areas.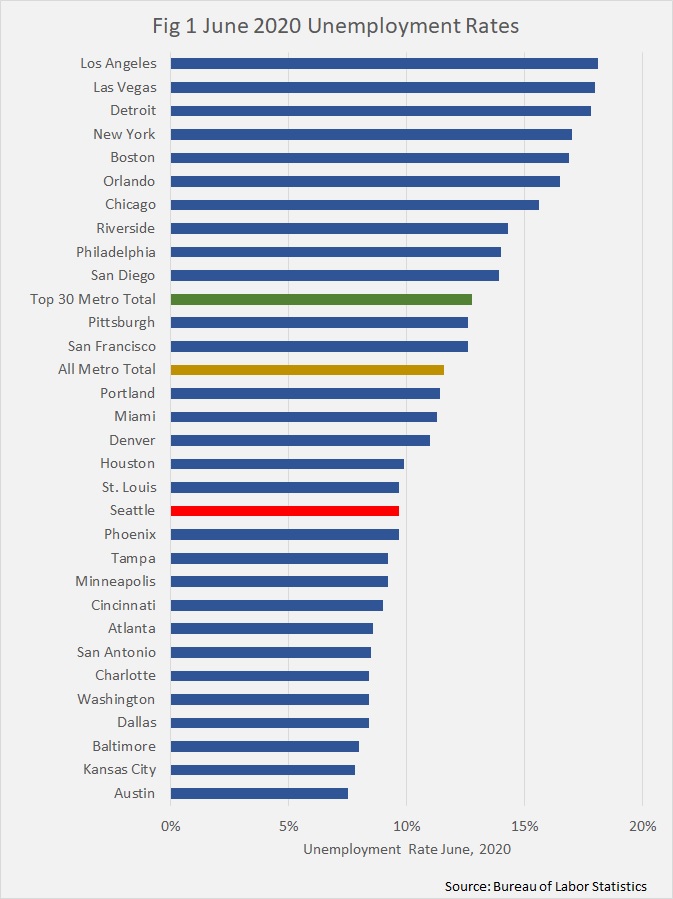 The Seattle metro area, with a June unemployment rate just below 10 percent, is doing better than most other large metro areas and better than either of the totals.
It is important to note that this data is based on a survey conducted during the week of June 8, before many area of the country had to reimpose restrictions on businesses and activities.
Seattle had among the strongest improvements in unemployment over May. Figure 2 shows the 15 metro areas with the most improved unemployment rates and the 15 metro areas with the largest increases in their unemployment rates between May and June. Figure 2 covers metro areas with more than 250,000 workers.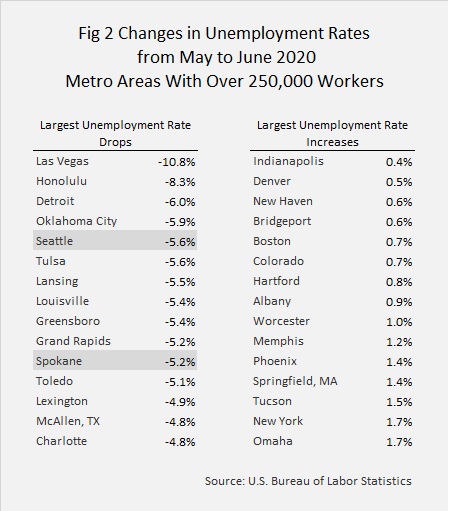 Looking Ahead
Recovery will continue to be uneven across the country and it is clear we will see backsliding: two steps forward, one step back. As far as Seattle is concerned, the relatively stringent regulation of activity in the state does not seem to have affected the pace of recovery. But now comes the hard part as we deal with the travel, visitor and entertainment industries that will struggle to come back. These sectors saw strong improvement nationally in July, and we will see if those improvements come to the Seattle area, where the critical cruiseship and convention businesses have ceased.