On June 17 we got a look at the employment and unemployment figures for the state and region for the month of May. The data are based on surveys of employers and households, respectively, conducted by the U.S. Department of Labor during the week of May 10. So bear in mind that these data are over a month old, and with the fast-changing reopening process, they do not reflect the reality of today. But they do give us a good sense of trends in getting people back to work.
Employment
Figure 1 shows an index of the trends in employment from mid-February, before the plague began, through mid-May. The positions of the lines in March, April and May reflect the number of jobs that month for every 100 jobs in February.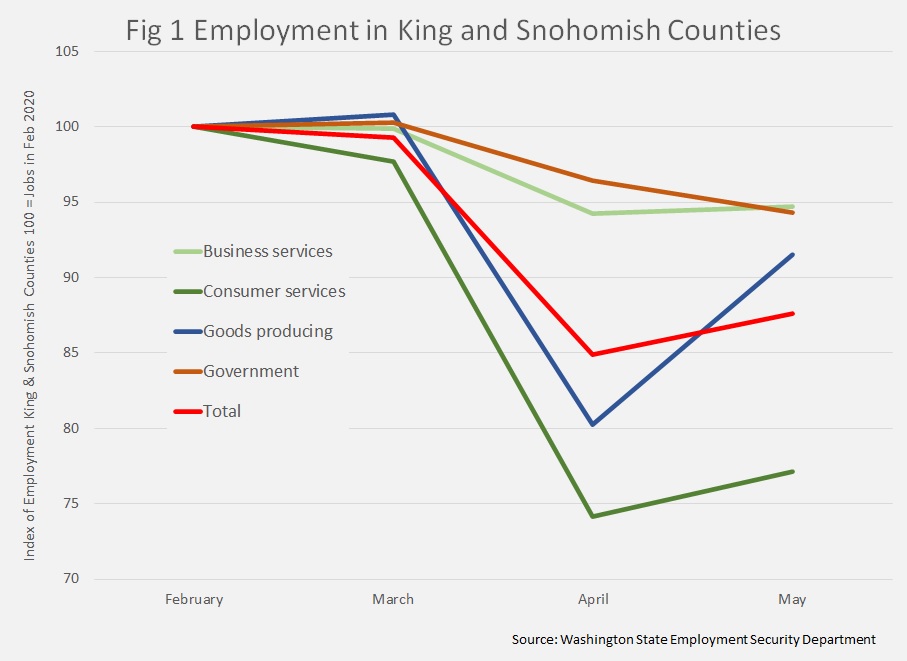 The survey in March took place the week of March 8, just before the major shutdowns began, so consumer services, like retail and restaurants, had not been hit quite yet. By April, three of the four categories dropped to their low point.
In May, the goods producing sectors had bounced back to nearly 92 percent of their February level, as construction sites and factories got back to work. About 2 percent of the remaining lost jobs in the goods producing sectors are at Boeing, and will not be coming back. Consumer service began its slow climb out of the depths, led by increases in the recreation and restaurant sectors. The gains in consumer services were modest, but these increases took place before most of the large population centers had reopened. Job losses in business service were spread across many sectors, and these jobs will not return until the demand for those services picks up along with the general economy.
Government employment has fallen steadily since March and did not see a rebound in May. Almost all of the job losses in state and local government have been in the education sector. With K-12 and higher education buildings closed, there is no need for the many staff that work in them, nor for bus drivers. About 12,000 jobs have been cut in the state at higher education institutions and 27,000 jobs have been cut in local school districts.
Figure 2 shows the detail on changes in employment between February and May in King and Snohomish counties.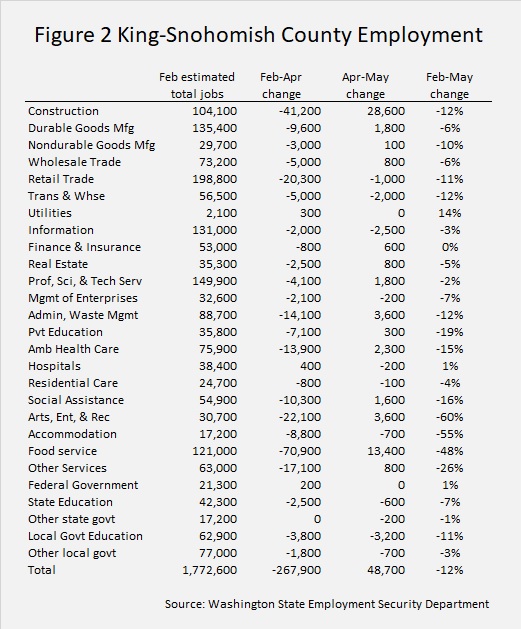 While the overall economy in the two counties saw a net gain of nearly 50,000 jobs from April to May, some sectors continued to see falling employment, as seen in the third column. Retail, which was having some major challenges before the crisis hit, saw continued drops. There should be large improvements in retail as stores reopen in June. Two sectors that supply services to business—transportation/warehousing and information (especially advertiser-supported media)—saw continued drops in employment. The final column shows the continued wide variation in the impact of the shutdown across sectors.
Unemployment
The unemployment survey of households shows an unemployment rate of 14.4 percent for the King and Snohomish county area. This would be consistent with a February unemployment rate of just under 3 percent, plus a 12 percent job loss from February through May. Employment and unemployment data come from two different sources, so will never line up exactly: employment data counts jobs and unemployment data counts people.
Figure 3 show the four measures of statewide job loss that are available.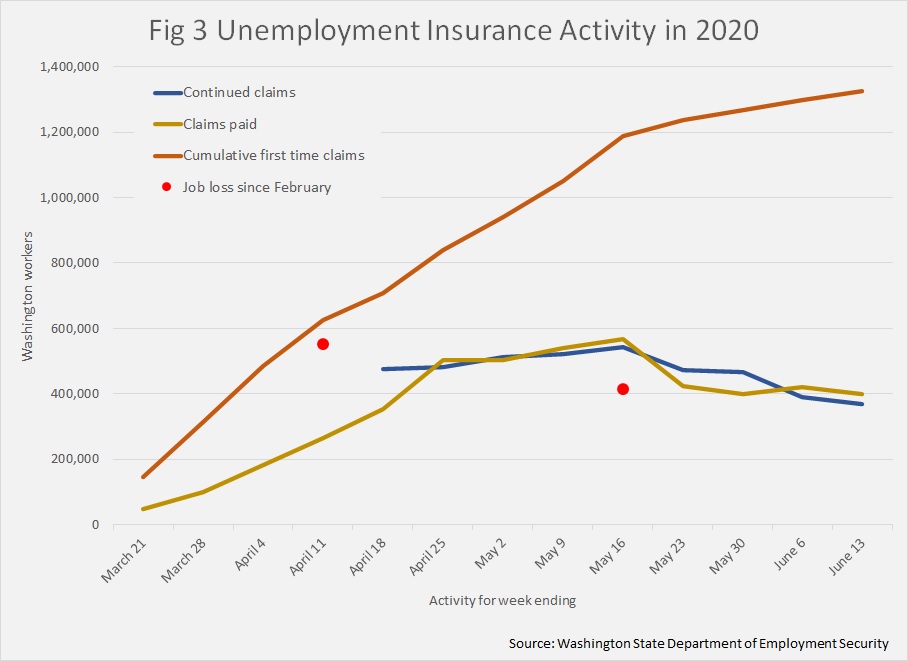 The figures for continued claims and for claims paid reflect active and valid claims for unemployment insurance benefits. These have been tracking closely, and are in the ballpark of the lost jobs, as seen in the red dots. The three measures all show a job loss in the range of 400,000 jobs in the state, or about 12 percent of jobs in the state in February. Although widely reported, data on first time claims (brown line) don't provide much useful information at this point.
Looking ahead
Service businesses began to open in large numbers in the Seattle area in early June. Most non-essential retail has not yet reopened. It will take several weeks before we know the extent to which the hard-hit leisure and hospitality sectors have begun to recover. It is doubtful that the visitor industry will recover strongly in 2020, so hospitality businesses in Seattle, where much of that industry is centered, will be slower to rebound.