The service sector may still be trying to dig out of the hole, but the goods producing part of the economy seems to have made nearly a full recovery after the crash of 2020. Construction in February was up 5 percent over February 2020, and manufacturing has mostly climbed back to recent historic levels.
One of the central threads of the pandemic economy narrative has been the partial shift in spending from services to goods: we can't fly in airplanes so let's buy a boat. Many of the products that benefitted from this trend are imported (bicycles, hiking boots), so U.S. manufacturers did not claim all the upside. But the U.S. manufacturing sector looks pretty good right now.
Figure 1 shows the trend in manufacturing new factory orders for the past five years by three main divisions.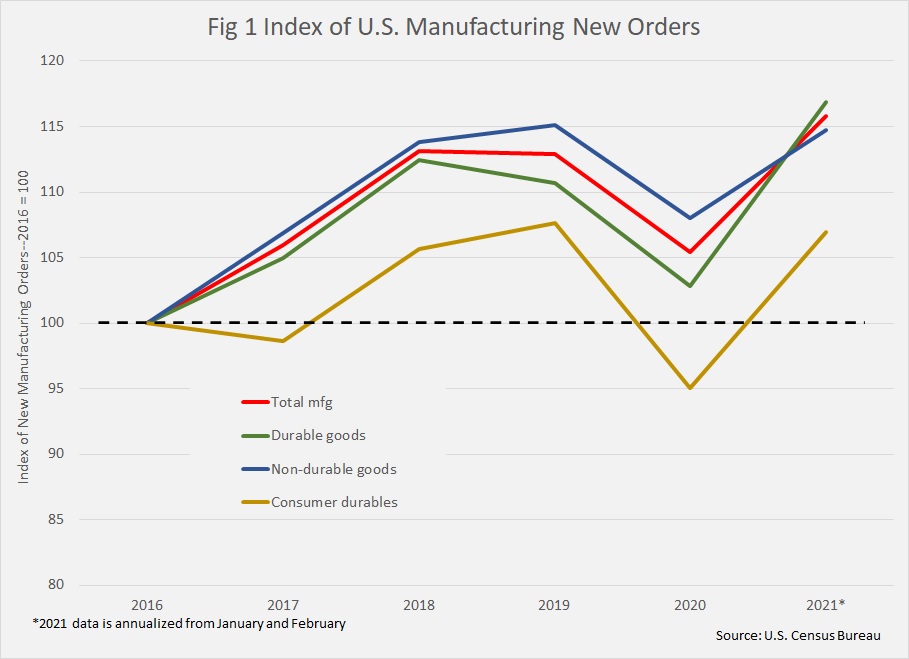 Manufacturing activity had grown sharply between 2016 and 2018, with the durable goods sector (defined as products that last more than three years) dragging the total down slightly in 2019. Then, the entire manufacturing sector fell by 7 percent in 2020. If current early trends for 2021 continue, manufacturing will be back to where it was a few years ago.
Figure 2 shows month-by-month detail for these four measures for the past 24 months.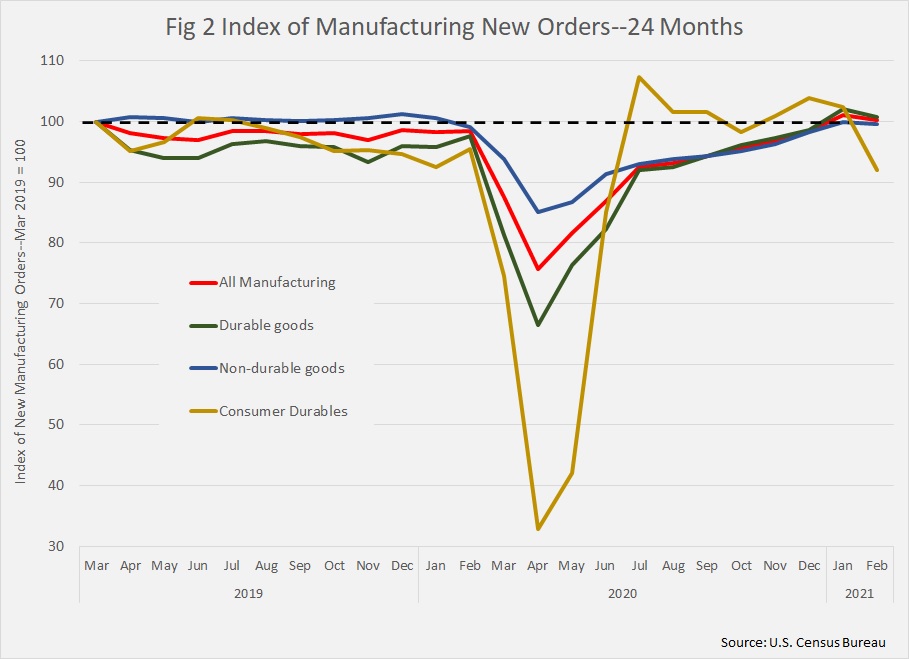 Here in the consumer durables sector might be the best example of a sharp "V" recovery. As the pandemic set in, wholesalers and retailers cut their factory orders by 65 percent, not wanting to get stuck with a lot of unsold inventory as consumers hunkered down. But the hunkering didn't last long. Consumers started spending again pretty quickly as most households regained financial stability and found fewer ways to spend money on services. The same process took place, to a lesser degree, in non-durables and in capital goods (the difference between all durables and consumer durables).
In January and February of this year, these manufacturing indices were just about where they were in early 2020, when adjusted for inflation. Rising employment and stimulus checks, combined with a still-slow service sector, should keep factories humming in the first half of the year.
Looking Ahead
A potential problem to watch for: a slump after accelerated spending. As households receive thousands of dollars in the latest round of recovery, many will be tempted to buy moderately expensive goods that they might have anticipated buying in the future. Because the new refrigerator planned for 2022 arrives a year earlier, will refrigerator sales drop next year? As with so many pandemic questions, we have no way to model this, so we will just wait and see how consumer behavior unfolds. How will the massive build-up of savings affect the composition and timing of purchases?