As we have seen in the past few weeks with other metrics of recovery, job growth slowed from mid-June to mid-July. From the low point of April, jobs in King and Snohomish counties increased 2.7 percent in May and 3.6 percent in June, but only 1.4 percent in July. The U.S. Department of Labor's survey was conducted during the week of July 13.
Figure 1 shows the change in major sectors from mid-June to mid-July.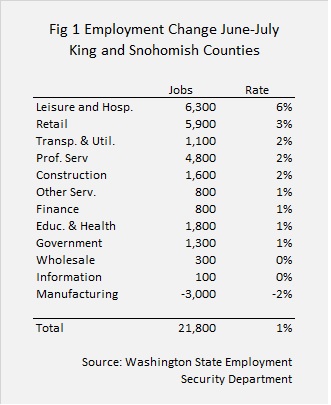 All sectors except manufacturing clawed back at least some of their earlier losses. But we have a long way to go: at the July rate it will be six months before we get back to February levels. Figure 2 shows the difference between jobs at their peak in February and their level in mid-July.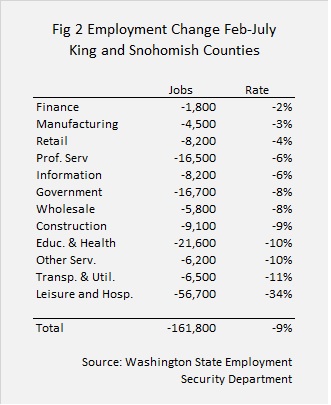 The Washington State Employment Security Department reports that the unemployment rate in the state actually rose from 10.0 percent in June to 10.3 percent in July. This is largely due to an increase in the labor force of 75,000 workers, which overwhelmed the statewide increase of 44,000 jobs. Many people who had been on the sidelines during the worst of the pandemic have returned to the workforce and are actively looking for jobs, and this drives up the unemployment rate.
(And remember, the monthly jobs and unemployment figures come from two separate surveys—one of employers and the other of households—so the data will not always match well. The surveys are conducted during the week that contains the 12th day of the month.)
In the King-Snohomish County area, the unemployment rate dropped from 9.7 percent in June to 8.3 percent in July. The two-county labor force fell by 2,200 people while jobs increased by nearly 22,000.
Looking Ahead
We can easily imagine why each sector remains stuck and it is hard to imagine how we might unstick them at this point. Further openings of the economy and institutions (e.g. schools) seem stalled, and some activities are moving backwards. We remain in the anomalous position of having lots of money in the pockets of consumers, but no really good tools to unleash discretionary spending.